Since 1995, Vanity Fair has been giving us a Hollywood Issue, usually around March or April. They usually feature a group of actors or actresses that they thought made a big impact in the world of film the year before. All covers have been shot by the popular and very good Annie Leibovitz. All covers show us the faces of great talent that has graced the silver or the small screen. You will notice that some of these faces are still relevant now while others have faded into obscurity. Which one of these group photos is your favorite?
---
1

1995 (Hollywood Highest - Class of 2000)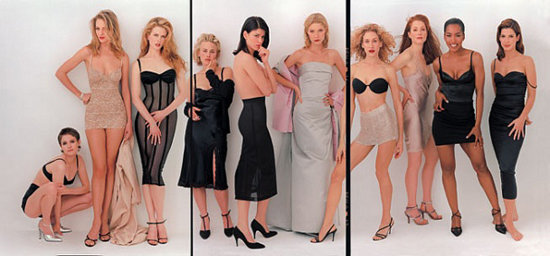 Jennifer Jason Leigh, Uma Thurman, Nicole Kidman, Patricia Arquette, Linda Fiorentino, Gwyneth Paltrow, Sarah Jessica Parker, Julianne Moore, Angela Bassett, and Sandra Bullock.
I thought it was a fitting tribute of some sorts to have this post becauseSandra just won her Oscars.
---
2

1996 (Boys' Town)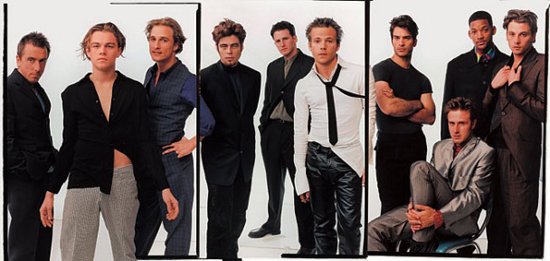 Tim Roth, Leonardo DiCaprio, Matthew McConaughey, Benicio Del Toro, Michael Rapaport, Stephen Dorff, Johnathon Schaech, David Arquette, Will Smith, and Skeet Ulrich.
Oh, there was a time when Stephen Dorf was so hot. I wonder where he is now. It's funny that only he and Leo are affected by the windy effect.
3

1997 (the Next Wave)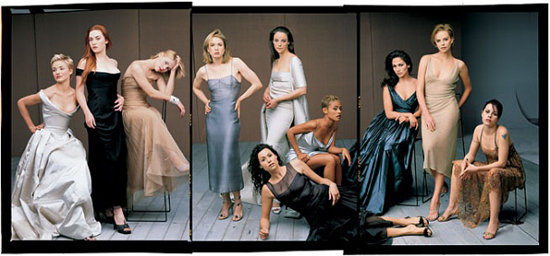 Cameron Diaz,Kate Winslet, Claire Danes, Renée Zellweger, Minnie Driver, Alison Elliott, Jada Pinkett, Jennifer Lopez, Charlize Theron, and Fairuza Balk.
Fairuza was fierce! I loved that witch movie with her.
---
4

1998 (the Hot Next Wave)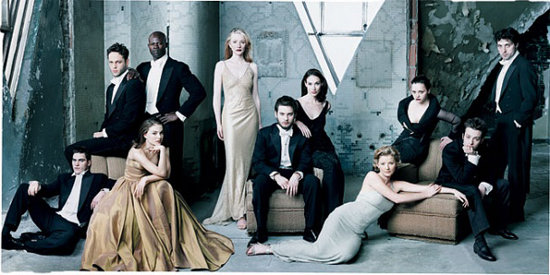 Joaquin Phoenix, Vince Vaughn,Natalie Portman, Djimon Hounsou, Cate Blanchett, Tobey Maguire, Claire Forlani, Gretchen Mol, Christina Ricci, Ed Furlong, and Rufus Sewell.
What a beautiful photo! Now if only we were able to see more of Ed Furlong in the years that followed.
---
5

1999 (New Kids on the Block)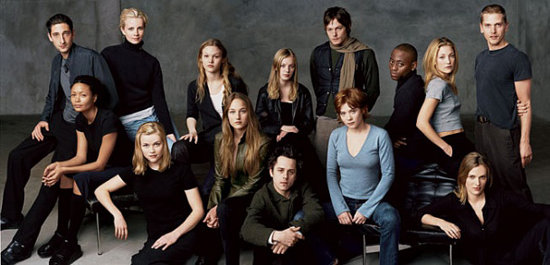 Adrien Brody, Thandie Newton, Monica Potter, Reese Witherspoon, Julia Stiles, Leelee Sobieski, Giovanni Ribisi, Sarah Polley, Norman Reedus, Anna Friel, Omar Epps, Kate Hudson, Vinessa Shaw, and Barry Pepper.
I can honestly say that I don't know some of these actors/actresses.
---
6

2000 (Splendor in the Grass)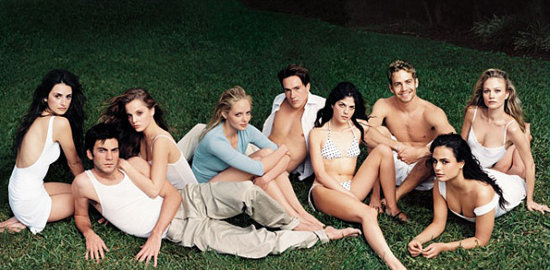 Penélope Cruz, Wes Bentley, Mena Suvari, Marley Shelton, Chris Klein, Selma Blair, Paul Walker, Jordana Brewster, and Sarah Wynter.
How very decadent and hot. I'm happy to report that after an encounter with drugs, Wes Bentley is back on track.
---
7

2001 (Master Class)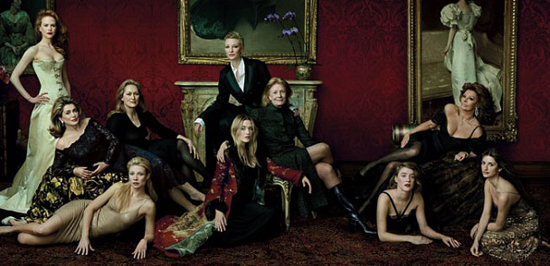 Nicole Kidman, Catherine Deneuve, Meryl Streep, Gwyneth Paltrow, Cate Blanchett, Kate Winslet, Vanessa Redgrave, Chloë Sevigny, Sophia Loren, and Penélope Cruz.
Great actressesand still so very relevant today.
---
8

2002 (Rhapsody in Blue)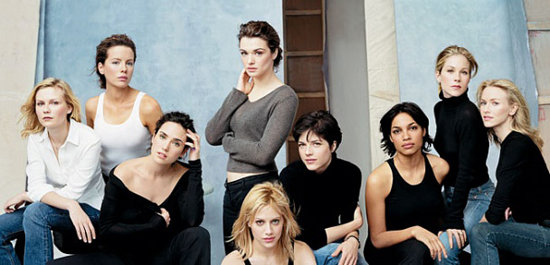 Kirsten Dunst, Kate Beckinsale, Jennifer Connelly, Rachel Weisz, Brittany Murphy, Selma Blair, Rosario Dawson, Christina Applegate, and Naomi Watts.
This may look like a Neutrogena ad but this is one of my favorites.
---
9

2003 (Alpha List)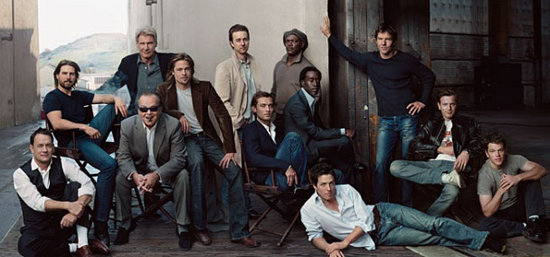 Tom Hanks, Tom Cruise, Harrison Ford, Jack Nicholson, Brad Pitt, Edward Norton, Jude Law, Samuel L. Jackson, Don Cheadle, Hugh Grant, Dennis Quaid, Ewan McGregor, and Matt Damon.
But this, of course, is my absolute favorite. VF should do another cover with the "male royalty" of Hollywood soon. John Hamm should be included.
---
10

2004 (Send in the Gowns)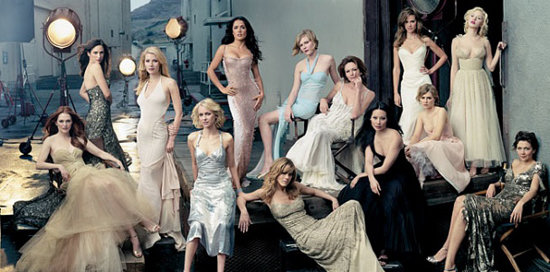 Julianne Moore, Jennifer Connelly, Gwyneth Paltrow, Naomi Watts, Salma Hayek, Jennifer Aniston, Kirsten Dunst, Diane Lane, Lucy Liu, Hilary Swank, Alison Lohman, Scarlett Johansson, and Maggie Gyllenhaal.
Julianne's gown is so lovely.
---
11

2005 (Not so Desperate Housewives)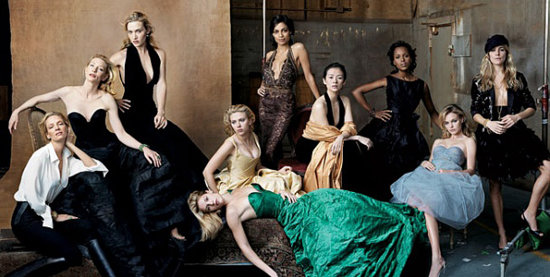 Uma Thurman, Cate Blanchett, Kate Winslet, Claire Danes, Scarlett Johansson, Rosario Dawson, Ziyi Zhang, Kerry Washington, Kate Bosworth, and Sienna Miller.
Another cover with Cate, Uma, Claire, Scarlett, and Kate.
---
12

2006 (Ford's Foundation)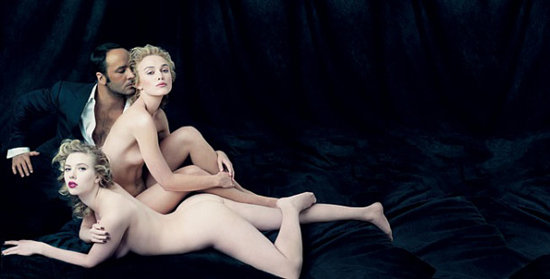 Scarlett Johansson, Tom Ford, Keira Knightley.
This was the most interesting of all the covers. I admit, though, that I am curious about Tom Ford's movie.
---
13

2007 (Men in Black)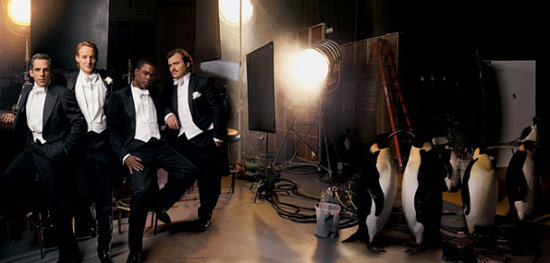 Ben Stiller, Owen Wilson, Chris Rock, and Jack Black.
Funny men and penguins. Brilliant.
---
14

2008 (Fresh Faces)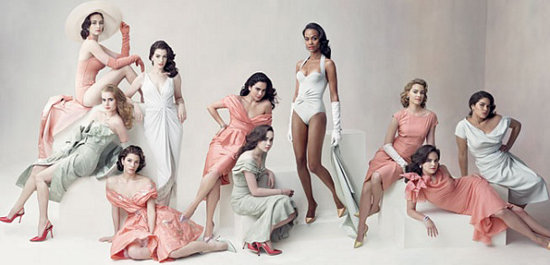 Emily Blunt, Amy Adams, Jessica Biel, Anne Hathaway, Alice Braga, Ellen Page, Zoë Saldana, Elizabeth Banks, Ginnifer Goodwin, and America Ferrera.
This looks like a wedding photo shoot. Well, except for the one-piece bathing suits.
---
15

2010 ()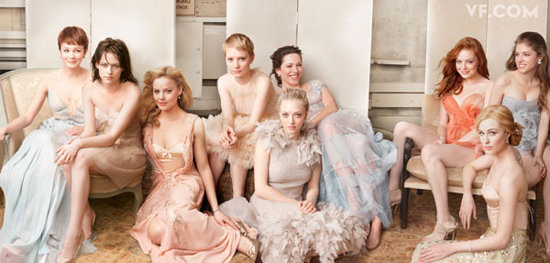 Carey Mulligan, Kristen Stewart, Abbie Cornish, Mia Wasikowska, Amanda Seyfried, Rebecca Hall, Emma Stone, Evan Rachel Wood, and Anna Kendrick.
Unfortunately, VF did not feature a centerfold cover for 2009. They opted to feature President Obama instead. This year's cover, however, features the new Hollywood "It Girls." Familiar faces, familiar names; may their careers bloom for many years to come.
---
Comments
Popular
Related
Recent