I am obsessed with magazines (among other things) and of course the first thing that attracts anyone to a magazine is its cover. Professional models are great and all that but there's nothing like a good Celebrity Magazine Cover to go ooh-ah over and nitpick! There were some amazing Celebrity Magazine Covers for October but some definitely outshone others. Here are my picks for the** Best Celebrity Magazine Covers for October**...
---
1

Lady Gaga for Harper's Bazaar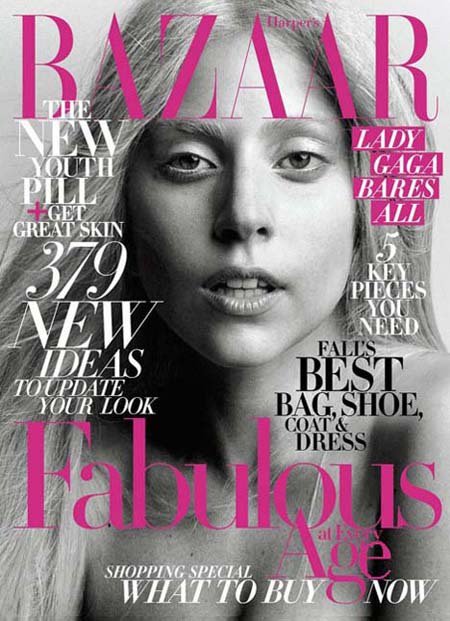 This one was such a treat for fans of Mother Monster. A far cry from her usual outrageous looks, Lady Gaga certainly took both admirers and haters by surprise with this stripped down, au natural cover. Photographed by Inez & Vinoodh, this happens to be Harper's first black and white cover in over 20 years and I think it's wonderful that they picked Lady Gaga for it. That's the most serene and ethereal Mother Monster has ever looked and I love it! What did you think of her look? Don't forget to stop byLyndsie's poston the cover.
2

Reese Witherspoon for Marie Claire

Looking pretty in a rosy hue, this cover for Marie Claire certainly embodies the "girly girl" quality we all associate with Reese Witherspoon. She looks fresh, happy and downright beautiful and that's what makes this one of the best celebrity magazine covers for October. I also absolutely love the black and white pictorial on the inside. Who knew oversized sweaters could be this sexy!
---
3

Kate Winslet for V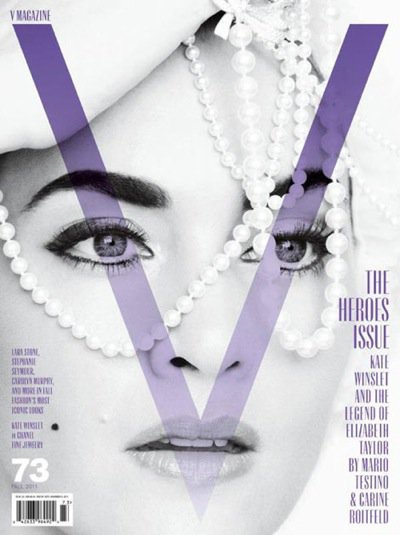 This isn't so much an October cover as it is a Fall cover but it is way too gorgeous to be left out. As they say, imitation is the sincerest form of flattery and Kate does a mighty good job of channeling the timelessness of Elizabeth Taylor. With the pearls, dramatic eyebrows, heavy eyeliner and the trademark beauty spot, Kate Winslet is mesmerizing! Check out more pictures of the photoshoot,here.
---
4

Diane Kruger for Instyle UK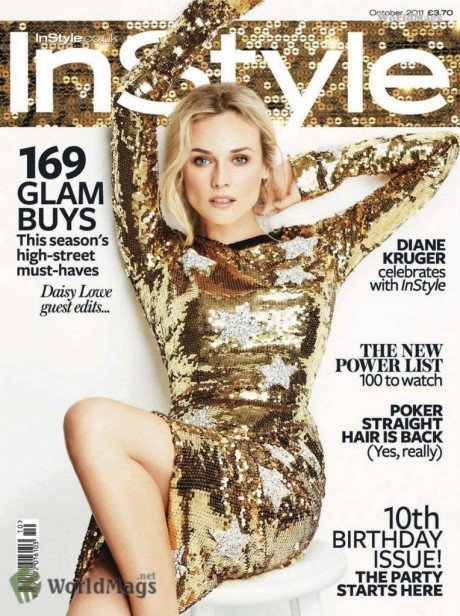 Now here's a cover that you certainly cannot miss on the newsstands. Diane Kruger looks like a glittering goddess in gold in this stunning Dolce & Gabbana long sleeve dress photographed by Ben Watts. Not a lot of women can carry off all that glitter but hey, it's Diane and she certainly rocks that dress. I love how she says that fashion is all about NOT playing it safe. Amen!
---
5

Angelina Jolie for Vanity Fair

I'm not a Jolie fan but God does she look spectacular on the cover of Vanity Fair! That striking face, the hypnotizing eyes, the larger than life pout...ah I could stare at her forever. This Vanity Fair cover photographed by Mert and Marcus is her fourth in six years and I can certainly see why they choose to feature her again and again. Btw, are you excited about her screenwriting and behind-the-camera debut: "In the Land of Blood and Honey"?
---
6

Adele for British Vogue

This is my personal favorite in this list of best celebrity magazine covers for October partly because I believe that she is one of the greatest things to have ever happened to music but mostly, because she looks stunning! She is who she is and doesn't make any apologies and I'm pretty sure they were talking about Adele when they coined the term "voice of an angel".
---
7

Taylor Lautner for VMan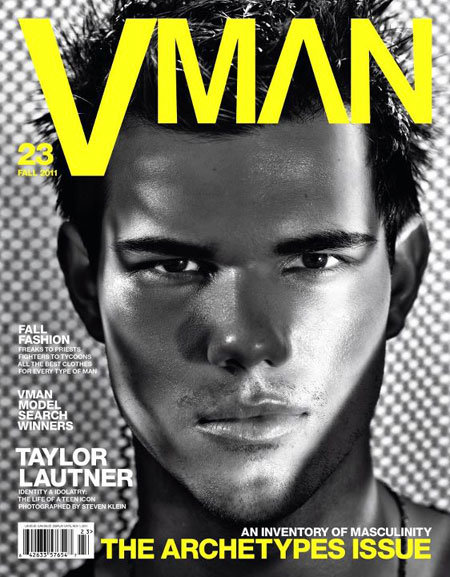 I know this may be a little too..umm..greasy for some of you but I figure Taylor fans would definitely approve. I love that this is so unlike his usual grinny pictures. Don't get me wrong, he's adorable when he flashes his pearly whites but this is sexy! The shadows and the angles they create on his face...Ah! Fine, I'll stop with the geometry lessons. What do you think of this celebrity magazine cover? Yay or Nay?
---
8

Michelle Williams for Vogue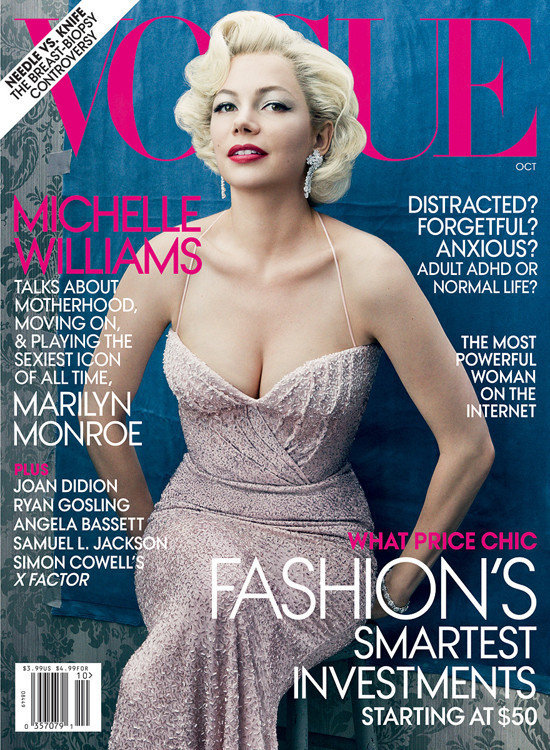 Here's the fabulous Michelle Williams proving that she can certainly play the part of Marilyn Monroe in her upcoming movie,"My week with Marilyn". Shot by the super talented Annie Leibovitz and dressed in Oscar de la Renta, Michelle looks ravishing! A lot of people however are skeptical about her playing the sultry Monroe. Do you think she can carry it off?
Those were my picks for the Best Celebrity Magazine Covers for October. Pity there weren't any men besides Lautner, unless I missed some Celebrity Magazine Covers. So go ahead, pick your favorite Celebrity Magazine Cover for October!
---
Popular
Related
Recent