Is it just me or has Kristen Stewart finally found a type of red carpet look that actually flatters her body? Sure she can still use a few pointers on appearing more comfortable while on the red carpet but the actual awkwardness borne out of an ill-fitting dress is gone. I have to say, Kristen and pencil-cut mini dresses make for one good red carpet marriage. I have a question for Kristen fans, what is that black bracelet she wears often?
---
1

2010 MTV Movie Awards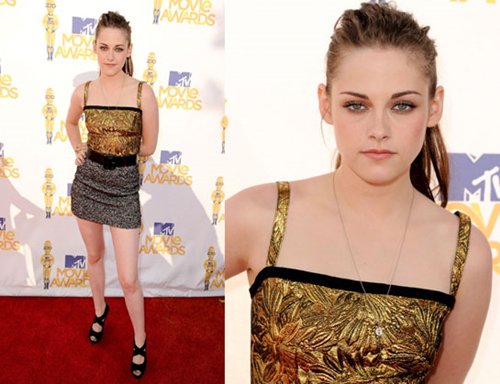 This is a cute combo of a dress in brocade and tweed. I say it's perfect for the MTV atmosphere. The crisscross straps of her shoes make this a totally cute look.
2

Love Ranch Premiere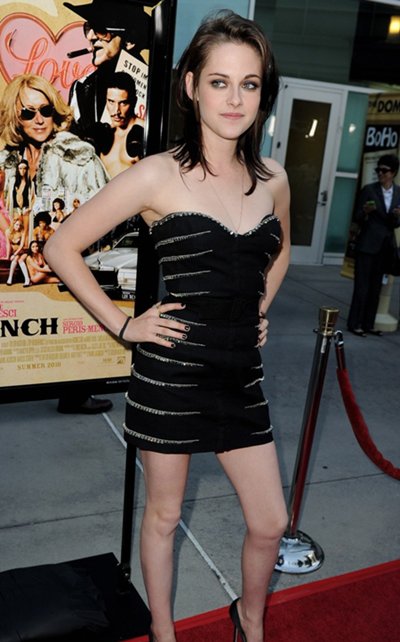 I believe I have mentioned this look here but it's worth including in this collection. She makes me want to polish my nails black NOW. She wore an Azzaro dress with Sergio Rossi pumps.
---
3

Eclipse in Stockholm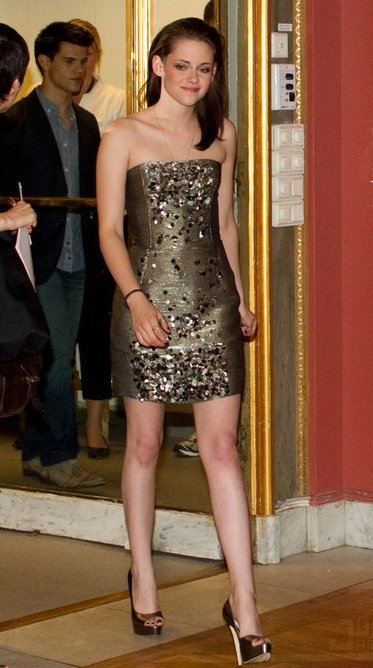 This Oscar dela Renta shiny dress is just beyond sexy. She definitely has the legs to pull them off. I am also jealous of the fact that she can walk in super high heels. That is one life skill that I seriously lack.
---
4

Eclipse Berlin Photo Call

This is one sexy look that seems to be a favorite among fashion bloggers. She wore a Versace hot mini dress paired with gorgeous wrap heels.
---
5

Eclipse South Korea Premiere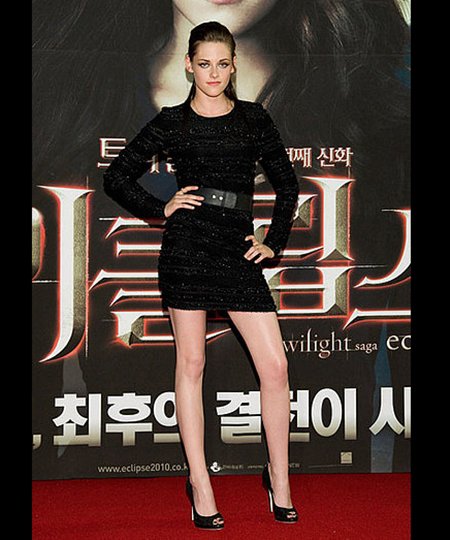 An LBD showing just how serious she is about showing off them gorgeous legs. The dress is by Prabal Gurung. Her sexy peep toe pumps are Jimmy Choos.
6

Eclipse in Australia

If she is pointing to the way where you can get legs as nice as hers, I am following. That skirt is by Jenni Kayne.
---
7

Eclipse LA Premiere

She wore a one-shoulder Eli Saab little white dress paired with ivory pumps. I am not so sure I like this look. One-shoulder dresses are a bit hard to pull off, in my opinion. Robert looked yummy, though, didn't he?
---
8

The Late Show with David Letterman

The one-shoulder dress is, again, a tad strange but the bottom part of the look is sexy. I like her lighter hair, too; makes her appear less severe.
---
9

Today Show

Aww look at her, so pretty! This is definitely the hair color for her. She rocked a simple but sexy Helmut Lang dress.
---
10

Runaways NY Premiere

A look that would have been ten times better with a less angry face but that's another issue altogether. She had on a Pucci dress that looked like it was specially tailored for her body.
---
Comments
Popular
Related
Recent