Okay, so everyone makes a slight wardrobe mistake from time to time, but most people don't have personal stylists everywhere, and someone around just to check that their nail varnish is still chipfree and fantastic. I mean, everyone was shocked when it was revealed that a certain someone has an assistant to ice their nipples, and keep them looking perky... Yeah, with their lifestyles, celebrities have no excuse to get things this wrong. Learn from these horrendous mistakes...
---
1

Sarah Jessica Parker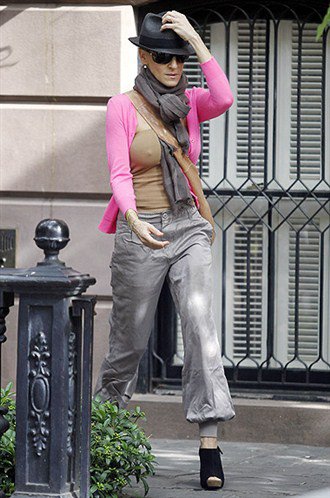 This is a woman who has made fashion look fantastic in the Sex and The City movies...only she looks pretty dreadful. I mean, those trousers are a little odd, and the outfit doesn't really match...but the biggest mistake? No bra. Come on Sarah, there is no excuse for that!
---
2

Katherine Heigl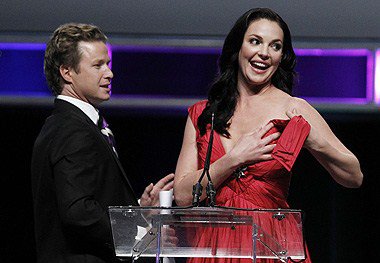 There's no denying that Katherine looked amazing in that dress, but clearly it was a little bit too tight...the strap pinged itself off the back of her dress during her acceptance speech, and if it wasn't for a very attentive host, Billy Bush, she'd have flashed everything. Like a true gent, he held her strap for her so she could finish her speech, and helped her off stage. The lesson? If you've had to squeeze yourself in, don't count on it holding!
---
3

Beth Ditto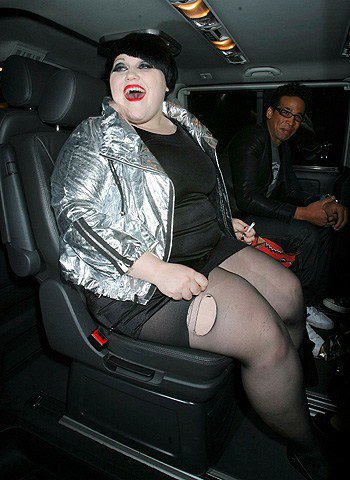 Okay, this one was probably an accident. I mean, Beth probably didn't leave the house with that huge hole in her tights, and in such a tiny dress she couldn't pull it down to conceal any of the damage. It looks DREADFUL, though. If your tights have even the tiniest hole, throw them away, and stay away from sharp things once you've got them on!
---
4

Cate Blanchett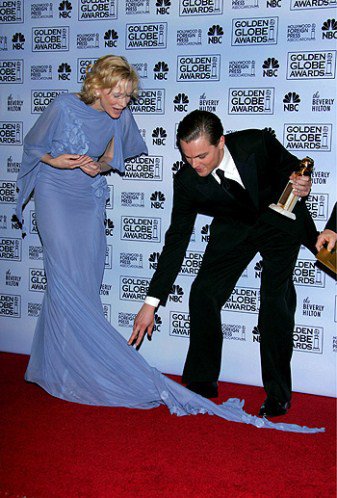 Remember what you are wearing...if your dress has a long train, and you aren't getting married, make sure you give yourself enough space to walk or hold it up. Cate's stunning a-little-see-through purple gown looked fantastic until Leonardo Dicaprio stepped on the train, and it tore. Trains = brides, or big events, where you can take a train-guarding assistant.
---
5

Liz Hurley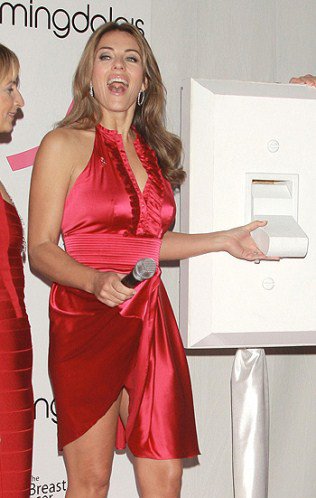 Oh no. You just can't see this one ending well....Liz was so enjoying her speech, and turning Bloomingdales pink, that she doesn't think about what her other hand is doing. Which is pulling up her skirt, and flashing more and more of Liz...Luckily, the lady to her left saved her embarrassment, but if you feel a sudden breeze, check your dress. Nobody wants to be a flasher!
---
6

Emma Watson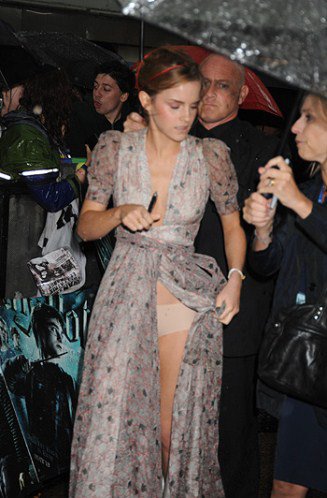 Emma looked fantastic in this light chiffon dress, but delicate fabrics don't mix well with thunder, rain and wind, and it took her a long time to live down this flashing....she's rather lucky the other side stayed put, too! If you choose something light and floaty, keep your eye on it, especially if there is a wind. Position yourself so that it can't expose you!
---
7

Holly Willoughby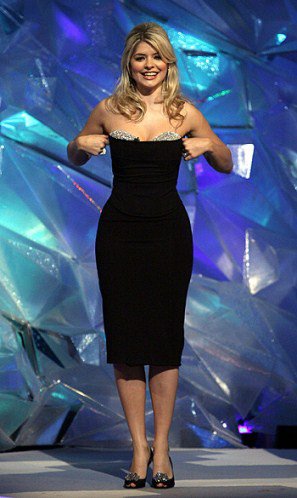 Holly was saved from dress-falling-down-disaster by a rather fantastic sparkly bra, but it didn't save her from receiving complaints about her low cut wardrobe choices. Strapless dresses are a little difficult, so make sure it fits perfectly, and keep your eye on it throughout the night. While you don't want to be constantly pulling it up, making sure it's in the right position at toilet-breaks is a good idea.
---
8

Janet Jackson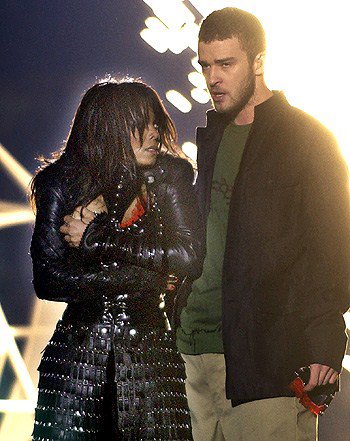 Okay, everyone will have seen this one. Janet and Justin's vigorous dance routine meant Janet's top disappeared, exposing her breast, accessorize with a rather ugly nipple ring. Justin looked a strange mixture of bemused and annoyed, and the nation found it hilarious. The lesson? Check your clothes will live up to your activity. No one wants to see that!
---
9

Kate Moss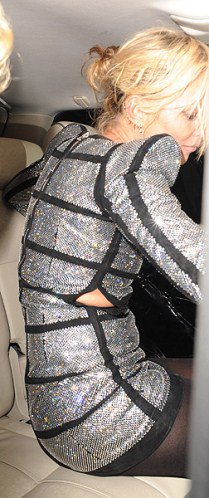 Let this one be a lesson to us all. Even a svelte size six will look less then skinny if your clothes are too tight and the seam splits! Kates gorgeous dress was caught giving way by a very attentive snapper, but Kate took it in her stride and covered the split with her arm until she could get changed. Dress feeling the strain? Don't take the risk!
---
10

Naomi Watts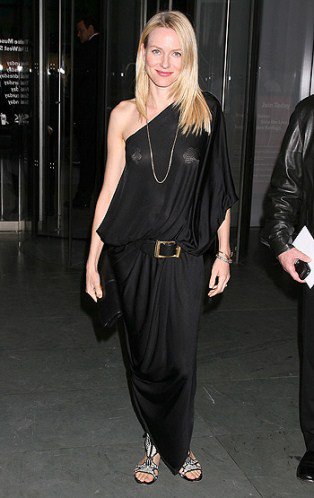 Naomi did the sensible thing by ensuring her lightweight black dress would stay put, and cover her where it mattered most. Unfortunately, she choose a white bust tape, which was instantly detectable under her dress. Worried? Take a few pictures of yourself with the flash on before you leave, and check you can't see anything unsightly. Problem solved!
Well, I've certainly learnt a few new fashion rules, and laughed pretty hard at some of the fashion faux-pas...after all, where were their stylists?! Have you spotted a wardrobe malfunction that you couldn't believe, or had a problem outfit yourself? Please tell me about it!
Top Photo Credit: cauchy09
More
---
Comments
Popular
Recent