I admit that The Bounty Hunter is one movie that I will not watch in the movie house. I'll be contented to wait several months until the DVD comes out. Because, seriously, when is Jennifer going to land a good role that is not very similar to Rachel Green? Don't get me wrong, she was an amazing Rachel but methinks she needs to do more non-chick flick films. Perhaps an action movie? Nonetheless I have enjoyed the many photos of her out and about promoting The Bounty Hunter. From the red carpet to photo calls to TV interviews, here are some photos of Jen doing her thing.
---
1

Britain Premiere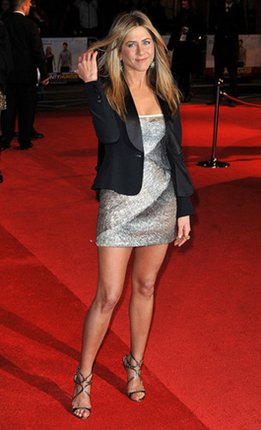 Whew, look at them legs! She can always get away with micro dresses because she has the legs to carry them. I am loving the sexy, strappy sandals and cropped blazer.
---
2

Paris Premiere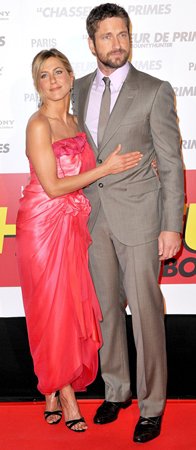 Are you feeling this LaCroix couture gown? The color is fine. It's nice to see her in a non-neutral/non-black dress but I am not feeling the length of the "busy-ness." I love the earrings and hair, though. Still very pretty. And what do you think of her hot male accessory she's wearing?
---
3

GMA Appearance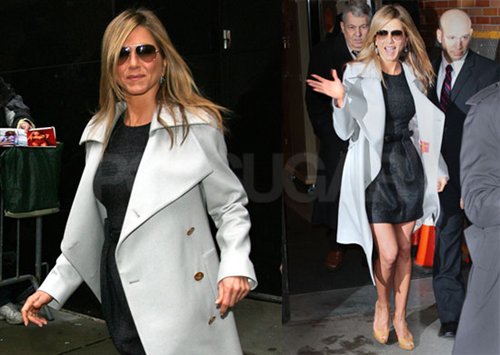 Look at her showing off her gorgeous gams again. She has been photographed many times wearing that coat. Can't blame her for wearing it often; it's beautiful. What I am interested in is the little black, structured dress. From what I can see, it's lovely.
---
4

Berlin Photocall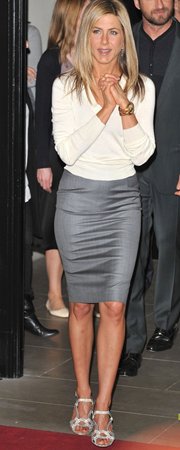 How delightfully casual. This is her usual choice of colors. They work for her, right? I have also noticed that she loves wearing large/men's watches. Do you sport them, too?
---
5

Berlin Premiere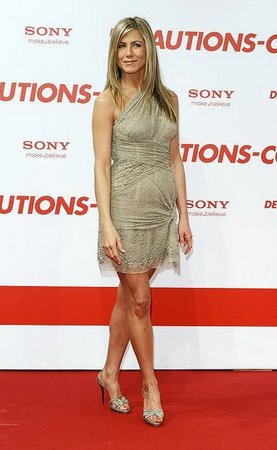 This look is a winner, in my opinion. It's not as "busy" as the LaCroix gown and the shape and length is perfect on her. It's nice that she did not go accessories-crazy, too. All she needed was her Rachel 'do.
---
6

NYC Premiere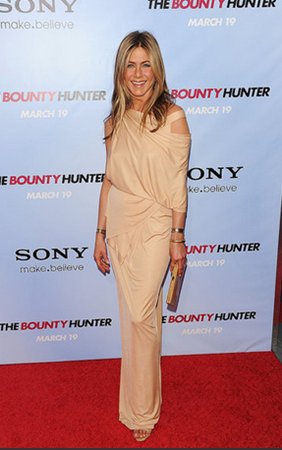 Jennifer wore a Donna Karan dress to their big NYC Premiere. I say Grecian and gorgeous. I'm wondering if the sleeves made using her left arm a hassle, though.
7

Letterman Appearance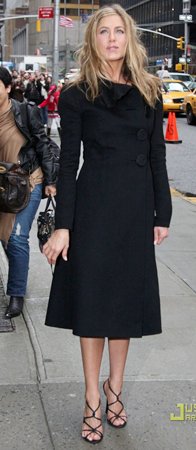 I think I need a coat this pretty in my closet. Nevermind if I will not be able to use it. Lucky Jennifer, though, can have her fill of pretty coats and funny men.
---
8

NYC Afterparty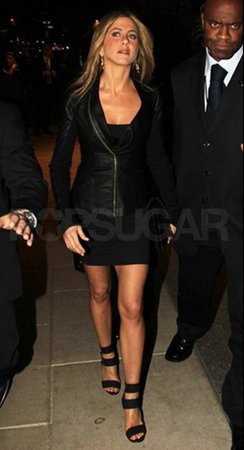 Nothing exciting about this look. It's your usual Jennifer Aniston LBD outfit. But hello there, sexy shoes. Tell me which of these looks do you like? Do you like her in daring couture or in her usual tiny dresses?
---
Comments
Popular
Related
Recent