Whether you're heading back to school after a two-week vacation, or after the long summer break, you're sure to want a little something to help you get back in the mood for learning. A cute new guy in one of your classes will help, but that's not always possible, so here's my list of the ten best back-to-school supplies, just in case…
---
1

It Takes Two Laptop Bag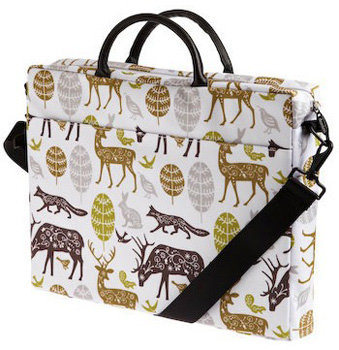 Price: $54.99 at modcloth.com
Enjoy the flora and fauna as this laptop bag keeps your computer safe as can be. I love the graphic design, with the curlicues and such on the animals and trees… the palette is soft, organic naturals in tame greens and olive drabs, perfect for camouflaging this handy, cushy laptop bag. It's PVC-coated to be waterproof, and measures 10" tall by 14" wide by 1.5" deep.
---
2

Paperchase Candy Cupcakes Ball Pen, Candy Cupcakes Design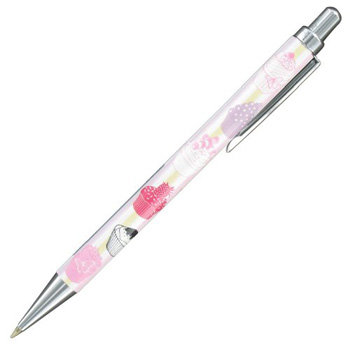 Price: £2.00 at amazon.co.uk
If you have to use an ink pen, why not make it achingly sweet and cute as can be? This pretty-in-pink pen is just the thing for jotting notes, making dates in your planner or even scribbling a quick love letter. I wonder if there's a matching notebook or pencil case? So sweet!
---
3

Smiling Sweets Notepad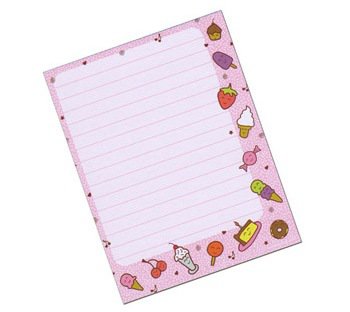 Price: $4.00 at shanalogic.com
Ah-ha! This ought to match that pen just fine! Stash this in your school bag or in your locker, or keep it on your desk for doodling or, perhaps better, taking notes or perhaps that cute guy's phone number! It measures 4" by 5.5 inches and contains 25 pages. I love the super-adorable, yummy-looking treats along the edges…
---
4

Octopus to-do List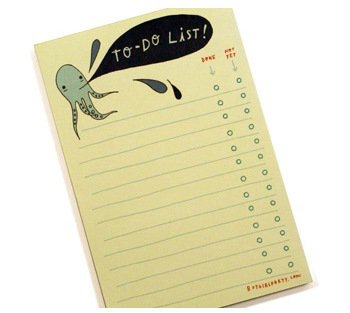 Price: $8.00 at shanalogic.com
Balance bankbook, check. Homework, check. Pay cell phone bill, check. Now what to do next? Consult your list on this handsome little notepad, printed on earth-friendly recycled paper. The to-do list measures 4" by 6" with 50 sheets, and has plenty of lines for all of your important tasks. I'm sure it would come in very handy to learn sometime management skills.
---
5

Pink Meletta Tokidoki USB Flash Drive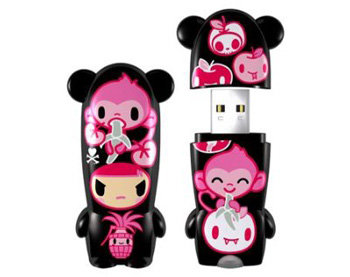 Price: $30.00 at girlzlyfe.com
Yes, you have a hard, paper copy of your report, but what if your dog eats it? Back it up to this flash drive featuring Italian artist Simone Legno's Tokidoki Meletta in pretty pink and black. The flash drive has plenty of room for all of your homework and presentations and it would justlook cute on your desk…
---
6

Hello Kitty File Folders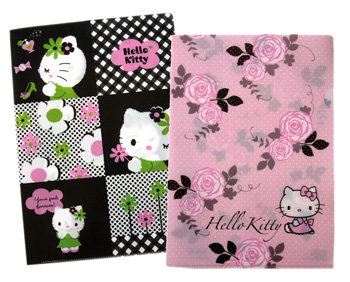 Price: $5.50 at cartoonfansclub.com
Keep your important papers and homework safe in these adorable Hello Kitty file folders! They're made of soft PVC and measure 12" by 9" and feature Hello Kitty at her cutest and most helpful! Use one for each class, and you'll never lose track of your papers again!
7

Coming Write up Notebook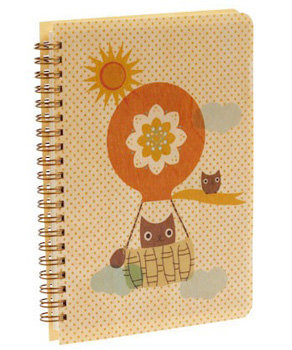 Price: $19.99 at modcloth.com
Woo needs a place to keep notes? Why, I do! Keep all your notes in this sweet little spiral notebook made of 100% recycled paper and with eco-friendly wood covers. The polka-dot cover features two friendly owls on a mission, and inside there are 75 unlined pages. If you love all things owl like me, you're sure to adore this one!
---
8

Block Scheduling Highlighter Set
Price: $8.99 at modcloth.com
Studies have shown that highlighting text is better for memory than underlining, so grab this stylish, sleek little set of four bright highlighters and get to it! The markers come in a handy little tin, and contains one each of neon blue, pink, orange and green.
---
9

Chickadee Paper Clips

Price: $7.99 at modcloth.com
Why settle for drab conventional paper clips when you could be using these chirpy little cuties? These charming little chickadees come in a pretty slide-open box, 30 in all. The box is made to slip into your handbag or school bag, measuring a tiny 3" by 1.5" …
---
10

Worst Case Scenario Survival Handbook: College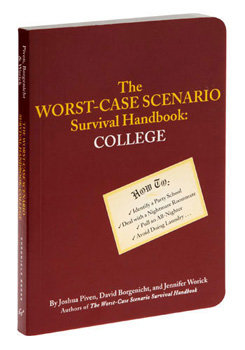 Price: $14.99 at modcloth.com
What's the worst than can happen at college? Don't ask! Just read this how-to book and be prepared to deal with pesky suite-mates and write last-minute papers. Also learn how to avoid doing laundry, ask your parents for money, and pull an all-nighter. Perfect!
Now you're prepared to get back to learning, and if that gorgeous new guy does end up sitting in on one of your classes, and needs a pencil… well, you're all set! Which of these back to school goodies do you like best? Or is there something else you've found that you want to share? Please let me know!
---
Comments
Popular
Related
Recent