If you have to be at work, why not make it fun? Your desk can be your own personal space, an extension of who you are and what you love! Whether you're an indie girl, an anime cutie, or a retro junkie, here are some cute desktop accessories to keep your workspace workable! The best part? All of them are less than $25 each!
---
1

Hello Kitty Teddy Bear USB Flash Drive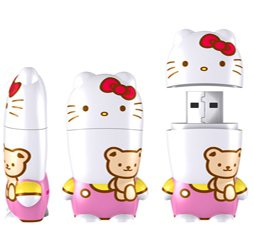 Price: $24.99 at girlzlyfe.com
If you have to have a device for data storage, it doesn't have to be beige and boring! It can be downright adorable, like this sweet little Hello Kitty USB jump drive. She can hold 2 GB worth of very business-like Word and Excel files, or just your favorite tunes and photos of you and your sweetie!
2

Hummingbird to-do List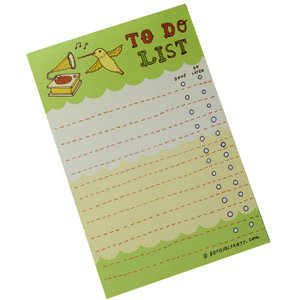 Price: $8 at shanalogic.com
For those who are organizationally-impaired, this cute 50-page notepad can help you make order of the chaos on your desk. It's made of recycled paper, measures 4 by 6 inches, and features an adorable hummingbird listening to an old-fashioned record player (or an inky octopus). The OCD part of me loves the little check-list boxes… so cute!
---
3

Walking Robot Sharpener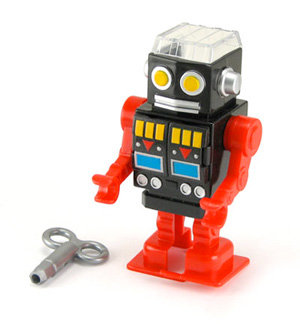 Price: $6.99 at girlzlyfe.com
Sure, you could use that noisy, obnoxious electric pencil sharpener in the copy room, but this is so much more fun! Wind him up and he walks, but he's also a very functional pencil sharpener. He's stands four inches tall, and would also make a great gift for your boyfriend!
---
4

Legos Landmark Towers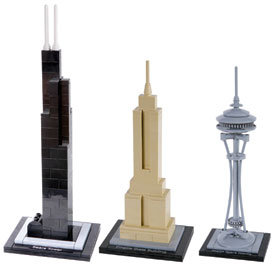 Price: $22 at signals.com
Are you a fan of Seattle's Space Needle? Do you love the Empire State Building? Do you adore the Sears Tower? Then build them from the toys you loved as a child and display them proudly on your desk! Each is roughly 60 pieces, and stands about nine inches tall.
---
5

Eggling Crack & Grow Flowers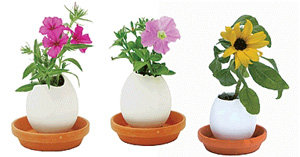 Price: $9.00 at uncommongoods.com
Just because you work indoors doesn't mean you can't grow a tiny garden of pretty flowers! Simply crack the egg, add water, and watch as a variety of flowers sprout and grow. Choose phlox, petunia, or sunflower.
6

USB Retro Lamp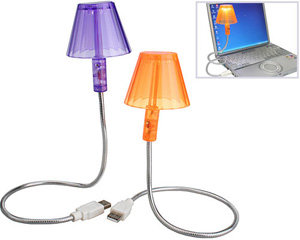 Price: $7.95 at perpetualkid.com
Looking for a bit more light, but hate those hinky desk lamps? Opt for one of these little LED lamps instead! Choose from purple, orange, green, or blue. Plug it into your computer's USB port, and bask in the gentle, retro glow!
---
7

Chirping Bird Paper Clip Holder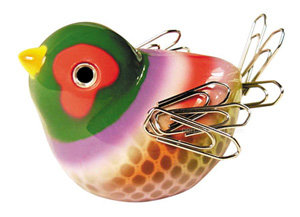 Price: $14.99 at perpetualkid.com
She chirps prettily when you touch her, and she holds your paper clips. She's a little more than two inches wide, two inches tall, and is colorful, chubby, and oh-so-cute! The paper-clips are sold separately, but I'm sure you can find some in the supply closet in a boring cardboard box…
---
8

Flexible Chromatic USB Hub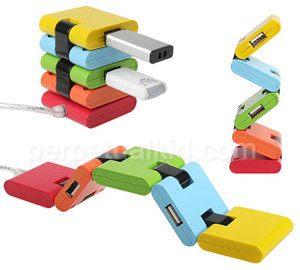 Price: $12.99 at perpetualkid.com
Colorful, quirky, and eye-catching! Why use a dull, boring USB port when there's this rainbow-hued cutie? Fold it, stack it, stretch it out… any way you use it, it turns one lonely USB port into four. Love it!
---
9

Talk Bubble Clips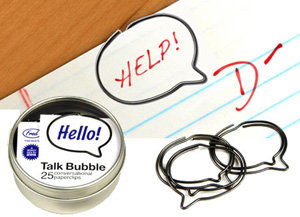 Price: $6.99 at perpetualkid.com
Why bother with post-it notes when you can write a small message in the space created using one of these clever little clips? Each tin contains 25 reusable 2-inch wide clips, perfect for clipping with clarity.
---
10

USB Hub Cassette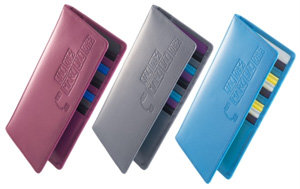 Price: $15.00 at marcjacobs.com
Though these are only available at Marc Jacobs stores, they're well worth the trip! Choose from one of four hip designs (I like the one with the little red hearts, "Melt Me") and go from one USB port to three, just like that.
I didn't realize it until I put this list together, but many of these are accessories that plug into a USB port on your computer! Interesting! Which of these little items do you like best? What do you have on your desk right now? Please let me know!
Top Photo Credit: ***claire***
---
Comments
Popular
Related
Recent