When I was growing up, my mother collected owls. She said she loved them because they were wise, and I love them now because they're so cute! I wear an owl accessory now and again to be reminded of my mother, and to add a unique piece to an outfit. Here are my favorite cute owl accessories, and suggestions on how to wear them!
---
1

Owl Be Yours Necklace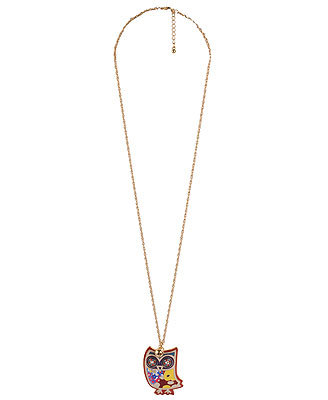 Price: $5.80 at forever21.com
What a cute way to show a little love and affection! This cute little owl charm dangles from a 28" gold-tone chain and boasts a tiny bell. Choose from yellow and cream or blue and brown, either way, you'll add a little style to your wardrobe, or maybe your BFF's wardrobe!
---
2

Transcendent-owlism Change Purse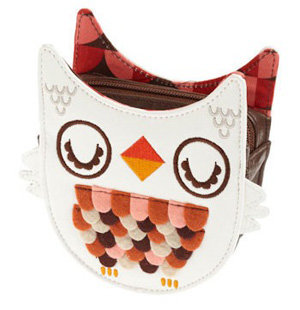 Price: $19.99 at modcloth.com
Oh so adorable, this trendy little owl is ahead of his time, meditating and pondering the get his focus. On the front, he's a white vegan-friendly pleather pouch with red and brown embroidery and felt feathers, and on the back, you can see his serene, leafy green perch. Stash your coins and other worldly goods securely with the zipper at the top.
---
3

Owl Contact You Card Holder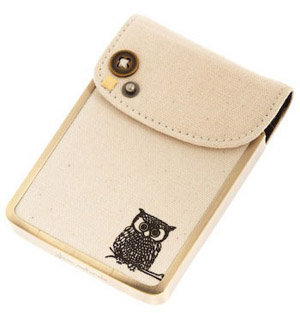 Price: $19.99 at modcloth.com
Why settle for a boring, bland business card holder, when this wise little owl stands guard over a stack of them, keeping them crisp and official-looking? The whimsical snap closure and ecru finish add a touch of style to what's usually a lackluster transaction, the exchange of a business card. I love it!
---
4

Nature Retreat Dream Tee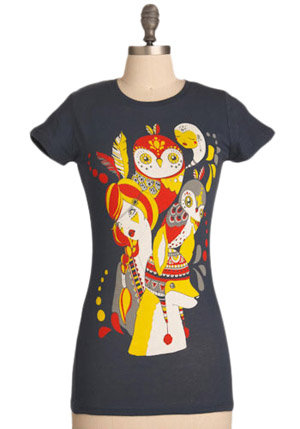 Price: $29.99 at modcloth.com
Technically, this isn't an accessory, it's a versatile piece of clothing, but it's so gorgeous and so unique, I had to include it! Wear it with leggings and flats with a boho bag, or wear it as a thought-provoking sleep shirt. The colors are bright, almost trippy, and the image is marvelous, with two owls, a cap-wearing coyote, and two lovely ladies…
---
5

Nocturnal Tights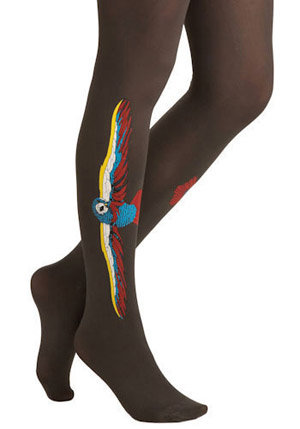 Price: $31.99 at modcloth.com
Are you looking for a unique, eye-catching way to spice up an outfit? As long as the outfit isn't patterned, this might be the owl accessory for you! Along the outside of each leg is a bright owl, wings outstretched, ready for a night on the town! Remember, wear with a mono-chrome outfit for maximum impact!
---
6

Tiny Vintage Glass Owl Earrings
Price: $18.00 at shanalogic.com
Look closely, or you might miss these sweet cotton-candy pink glass owls altogether! They're attached to sterling silver posts and measure a modest 1/8" … best of all, they'd make the perfect addition to any outfit, from punker-chic to summer floral goddess…
---
7

Snowy Owls Necklace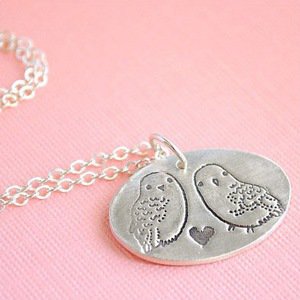 Price: $49.50 at shanalogic.com
Artist Susie Ghahremani has teamed with Chocolate & Steele to create this darling sterling silver necklace featuring two snowy owls in love (you can tell by the heart!). The oval pendant hangs from a delicate 18" sterling silver chain. You can wear this with anything in your closet!
---
8

Gold but Wise Owl Vintage Necklace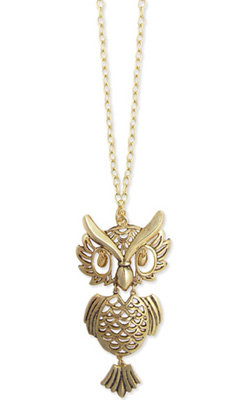 Price: $24.00 at girlzlyfe.com
This gorgeous gold owl is articulated to move when you do, anything but plain, everything wise and worldly. He measures three inches long, and dangles elegantly from a 28" gold-tone chain. He's unusual, to say the least, and will be a great conversation-starter at work or out of the town!
---
9

Owl Ring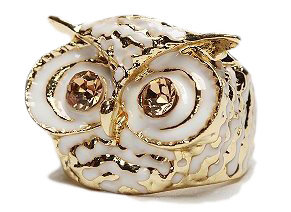 Price: $16.00 at urbanoutfitters.com
A statement ring is a great addition to your wardrobe, and what better statement ring than this one? This charming owl is white and gold-tone, with sparkling rhinestone eyes for a little extra glitter. He's chunky, not gaudy… I love it!
---
10

Owl Invasion Apron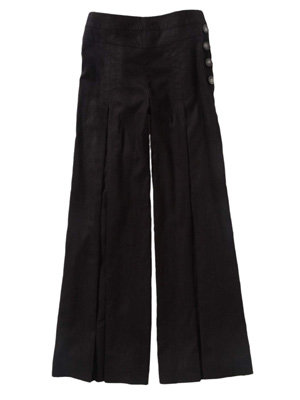 Price: $38.00 at anthropologie.com
Are you hosting a cook-out of dinner party in the not-too-distant future? Wear this over your rock-a-billy outfit and add instant retro glam. It's cream cotton with a kitschy black owl print, and a pretty pea green collar. It's also got front pockets… perfect!
Aren't these owl accessories great? I especially love the tiny vintage earrings and the apron is so unique! I wonder if there are potholders or tea towels to match… hmm… which of these cute owl accessories have stolen your heart? Or is there another wise little owl accessory you've found that's even better? Please share with me!
More
Comments
Popular
Recent