Since the 1970's, Japanese "cuteness" has been popular around the world, and has been huge here in the States for some time. This cuteness, called "kawaii," is everywhere, from our favorite Sanrio characters, like Hello Kitty to Tare Panda. Are you looking to add a little kawaii cuteness to your wardrobe, but aren't sure how? Here's my list of 8 cute kawaii accessories… note the absence of Hello Kitty… that would have been too easy!
---
1

Bunny Ice Cream Cone Necklace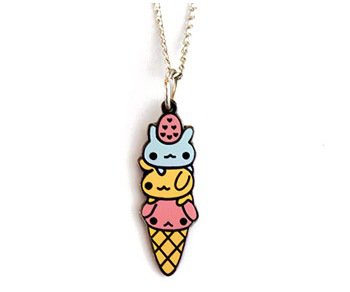 Price: $12.00 at shanalogic.com
I scream, you scream, we all scream for… bunnies? This necklace is triple-cute, with three bunny scoops on a cute ice cream cone… and a berry on top! The pendant hangs from an 18" silver-tone chain, and is sure to get a lot of smiles… so cute!
---
2

Happy Mushroom Cell Phone Charm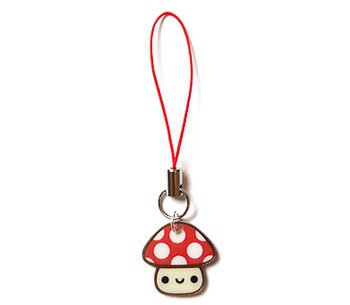 Price: $5.00 at shanalogic.com
Cell phone charms are all the rage in Japan, and they're just starting to catch on here, too. Be ahead of the trend and add a little kawaii to your electronics with this cute smiling mushroom charm! I love the red-and-white polka dots, don't you?
3

Kawaii Clouds Shoulder Bag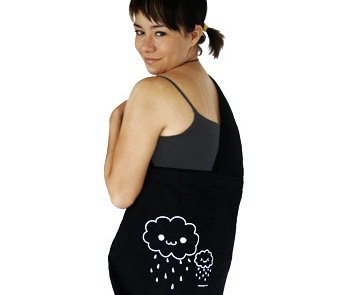 Price: $25.00 at shanalogic.com
Leave it to the craftsmen and artists at ShanaLogic and Dead Worry to create this roomy, adorable shoulder bag! It's made of sturdy black canvas and features two sweet rain clouds with big smiles and tiny raindrops… use it as a tote for books and groceries, or as an everyday bag.
---
4

Hamster Belt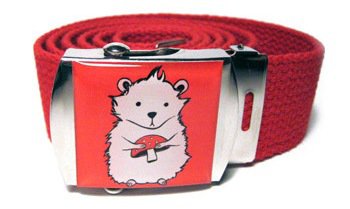 Price: $16.00 at shanalogic.com
Belts are for more than just holding up your pants — they can make a great kawaii fashion statement too, one that says, "I'm too cute to ignore!" This sweet little hamster is no different, holding a red mushroom, attached to a red canvas belt…
---
5

Purple Octopus Necklace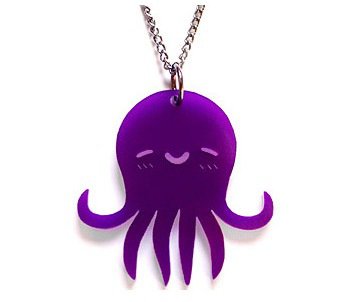 Price: $14.00 at shanalogic.com
Yet another cute kawaii necklace by artists Claire Belton, this adorable purple octopus is sure to warm hearts and win smiles. He hangs from an 18" silver-tone chain, and even though he only has six legs, instead of eight, he's my tiny purple hero…
---
6

Ninja Bunnies Tote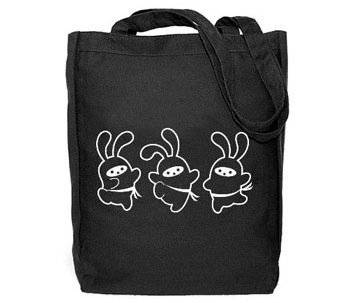 Price: $16.00 at shanalogic.com
Hi-YAH! These three karate-chopping ninja bunnies are stealthy, silent… and so cute! I love their tiny floppy ears and their ninja costumes! They're printed in white on a sturdy black canvas tote, perfect for groceries, school books, and so much more… maybe your karate gear?
---
7

Ninja Pirate Bunny! Pin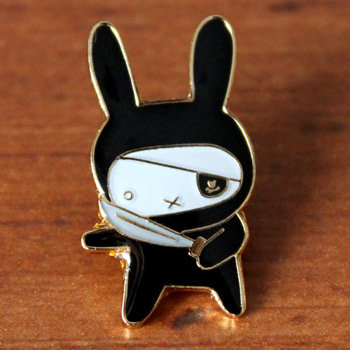 Price: $7.00 at shanalogic.com
I know that pirates and ninjas are not supposed to be cute, but when a bunny is a pirate ninja, how could he NOT be adorable? This one's holding a sword and wearing an eye-patch, but his black suit gives him away as a ninja, no doubt. He's perfect for adding a little kawaii cuteness anywhere, on a bag, belt, lapel…
---
8

Happy Cup Earrings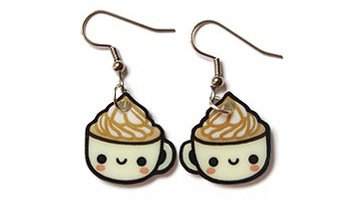 Price: $10.00 at shanalogic.com
Perfect for wearing on a chilly winter day, or anytime you want to show off some kawaii style! These smiling little cups of hot chocolate (with whipped cream, of course) will look darling dangling from your ears… or they'd make a great gift, too!
So much cuteness, how will you bear to wear it all? I am such a fan of kawaii and of all of these super-adorable goodies! And if you want to see more, ShanaLogic.com is loaded with tons of kawaii cuties! Which of these kawaii accessories makes you squeak with joy? Or have you found another source of cuteness that you love more? Please share!
---
Comments
Popular
Related
Recent