My very favorite color in the whole world is pink — hot pink, pale pink, bright pink, you name it. And since most of my wardrobe staples are black, white, and grey, I love pink accessories, too! This season, pink is an on-trend color, so I'm in heaven! Here's a list of my eight favorite pink accessories…
---
1

Twinkle Toes T-Strap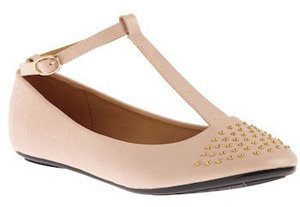 Price: $27.99 at modcloth.com
These sweet pale pink flats combine so many hot trends all in one place! The t-strap is sexy, the gold studs are right on trend, and the color is perfect for celebrating spring! Pair with a pale blue denim romper, a flowy peasant skirt, or anything else in your closet that could use a pop of pretty petal pink!
---
2

That's the Way Love Goes Jacket in Musician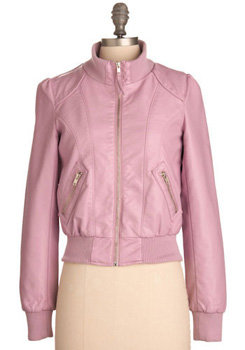 Price: $59.99 at modcloth.com
This modified bomber is all sleek femininity with in a lush pink hue! I love the stretchy banded waist and cuffs, and of course, the sweet cotton-candy pink! I'd wear this on chilly spring days (or chilly summer nights) over a pretty floral-print dress… or I'd try this with a pair of light skinny jeans and bamboo wedges…
---
3

Bitty Button Earrings

Price: $8.00 at shanalogic.com
Are you looking for a tiny pop of color? Wear these sweet, tiny pink buttons and dazzle with demure subtlety and distinct indie style. They're dinky, delicate, measuring approximately 6mm with silver-plated posts and butterfly-style backings. Wear your hair in pretty loose waves and let these peek through when you toss your head and smile…
---
4

New York Minute Watch in Pink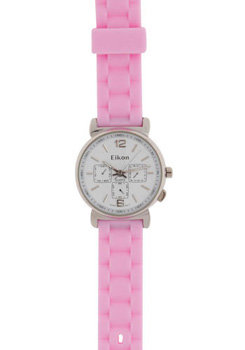 Price: $17.99 at modcloth.com
I've noticed that I rarely wear a wrist-watch anymore, now that I carry a cell phone everywhere. But this watch might just make me start wearing one again! I love the bling-y row of crystals around the face, and of course, the pretty pink band!
---
5

Fuchsia Fugato Necklace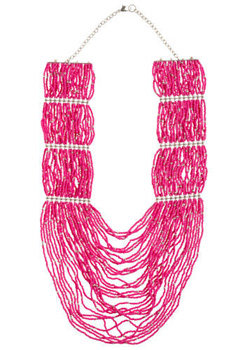 Price: $25.99 at modcloth.com
I love this necklace! It's millions of tiny hot pink beads all strung together for two feet of glittery, sparkly splendor! I'd wear this to add oomph to a Little Black Dress of to help pop a floral one. Or how about these rows of sparkly beads peeking out from a stark white button-down blouse and black pinstripe pants for work? Perfect!
---
6

Selloana Cloche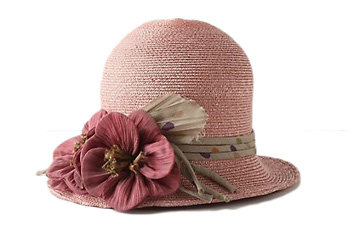 Price: $218.00 at anthropologie.com
For me, summer means straw hats, not just for keeping the sun off my face, but also for keeping me stylish when I'm having a bad hair day. This one's divine, too, slouchy and pretty in pink. I love the big chiffon flower and the subtle polka-dot trim.
7

Brushstroke Tartan Hobo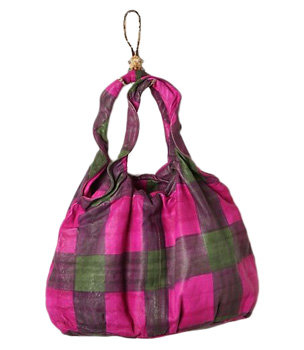 Price: $688.00 at anthropologie.com
This bag is the perfect boho intersection, where pink and plaid meet! It's made of soft leather with a plaid print in dark pink and green, with a cotton liner. There are three handy pockets inside, too, for stashing your cell phone, wallet, and lip balm…
---
8

Vivienne Westwood Winged Heart Valentine Pendant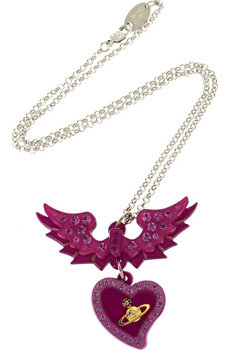 Price: $120.00 at netaporter.com
Celebrate love with this gorgeous necklace every day, not just on February 14th! This would look smashing with a pair of skinny jeans, tall heels, and a slouchy, sexy top, adding just a slight edgy feel. Don't you just love it?
It's so hard to choose which of these pink accessories I love best, but I'm going to have to say it's the pink jacket from item two or the necklace from item 5… what do you think? Which do you like best? And how would you wear it? Please share!
---
Popular
Related
Recent