I love sushi... it's so delicious, and it's been proven to be healthful to eat, too! If you're a fan of sushi too, why not show it proudly by wearing a necklace or bracelet or by carrying a cute sushi tote? Not sure where to find cute sushi accessories to let everyone know you're a fan of California Rolls? Keep reading! Here's my list of 7 cute sushi-inspired accessories, with links to where you can find them online!
---
1

Kitten & Sushi Necklace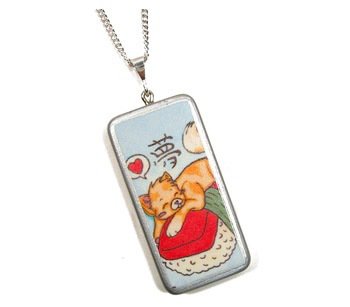 Price: $30.00 at shanalogic.com
Artist Heather LeMay uses a real domino and lots of sterling silver to fashion these adorable, one-of-a kind necklaces, showing a super-cute kitten in love with his sushi! If you like the necklace, you're in luck, too — there are matching earrings!
2

Kitten & Sushi Tote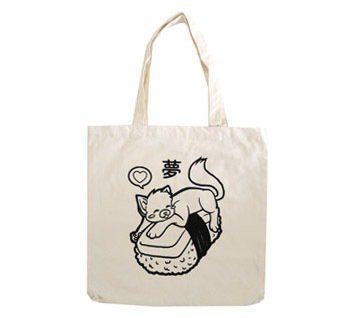 Price: $15.00 at shanalogic.com
Tote your records, books, and more in this adorable kitten-and-sushi bag! It's made of creamy cotton with generous proportions, big enough to carry your best books (15 by 15 inches) with two sturdy handles. And who could resist the sweet kitty and his favorite sushi screen-printed on the front?
---
3

Happy Sushi Pin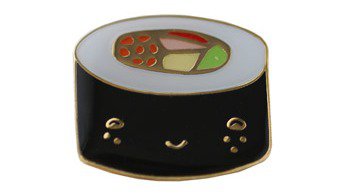 Price: $7.00 at shanalogic.com
Why not declare your love of sushi on anything you already own? Pin this smiling roll on your favorite tote, purse, belt, or bracelet… it's made of sturdy metal and features a lapel-style pin. I love it!
---
4

Kawaii Sushi Tee

Price: $25.00 at shanalogic.com
I'm not entirely sure that a tee counts as an accessory, but this one's so cute I just had to include it on my list! It's made of super-soft black cotton and will let everyone know you love Japanese food (that's what the writing says). Sushi, yum!
---
5

Happy Sushi Earrings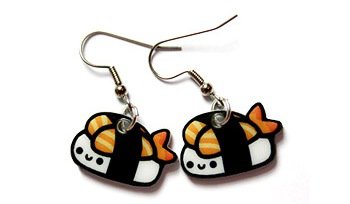 Price: $10.00 at shanalogic.com
Shrimp and rice sushi (otherwise known as ebi) is one of my favorites, and if you love it too, then you might want to take a peek at these super-cute earrings! They're made of enameled metal, protected with a layer of acrylic, and dangle a perfect 1½" long.
6

Happy Sushi Cell Phone Charm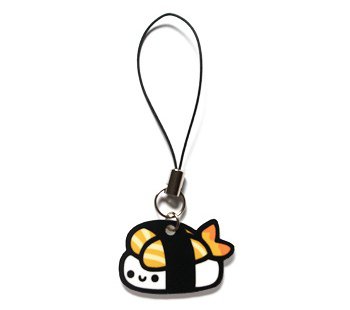 Price: $ at shanalogic.com
Maybe the earrings are just a little too much for you… so why not try a smiling ebi cell phone charm instead? It's made by the same genius artist, Claire Belton, and will add just the right touch of Kawaii to your cell phone… cute!
---
7

Sushi Charm Bracelet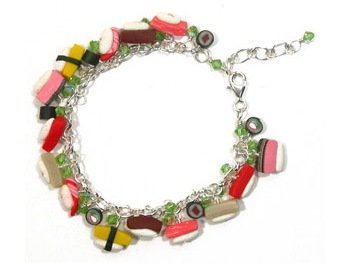 Price: $60.00 at shanalogic.com
Oh, so cute! And so detailed! This bracelet features sushi charms so realistic, you might be tempted to give one a test munch to be sure they're not real! Resist the urge though, since they're made of cystal, beads, and sterling silver, not tasty fish and rice…
So whether you're a California Roll girl, or you prefer tuna rolls, there's an accessory that will let you advertise your love of sushi! Which of these cute sushi accessories do you like best? Please let me know!
---
Comments
Popular
Related
Recent