Who doesn't love fruit? Strawberries, bananas, cherries… they're all so sweet and tasty! Why not show your love of your favorite sweet treat by wearing it? Wearing the real thing can get sticky and messy, so thankfully there are make-believe jewels and more that can be the next best thing, like these 8 cute fruity-inspired accessories!
---
1

Knit Strawberry Hat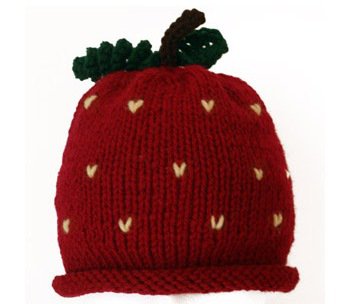 Price: $32.00 at shanalogic.com
In the middle of winter, it's almost impossible to remember the sweet little strawberries of early summer… unless you have this hand-knit, adorable hat! It's so cute, and fits most noggins… I love the tin white seeds and the twisty little vines and stem…
---
2

Apple Necklace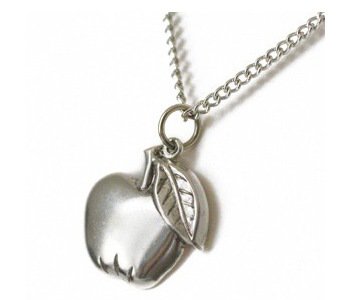 Price: $12.00 at shanalogic.com
This shiny silver-tone necklace is just right for wearing with a v-neck work shirt… your co-workers may not notice your subtle "I love apples" declaration right away, but you'll know it's there! The sweet little pendant measures less than an inch across, and dangles from an 18" chain.
---
3

Banana Bunny Necklace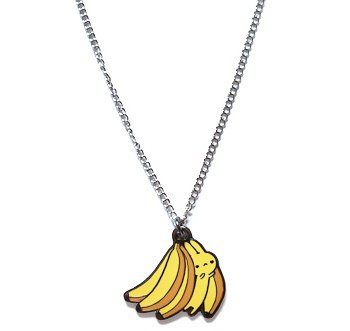 Price: $12.00 at shanalogic.com
No matter how hard he tries to fit in, this charming little yellow bunny just isn't a banana. But don't send him away! He's so cute and persistent, you can PRETEND you didn't see him lurking in the bunch of bananas!
---
4

Ukiyo5 Cherry & Bow Hairclip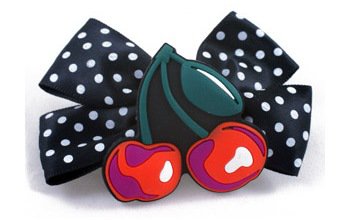 Price: $8.00 at shanalogic.com
A little sass, a little punk, and a lot of cute white polka dots! This cute hair clip features an adorable black and white bow with (what else!) a cherry on top!
---
5

Silver Pear Stacking Ring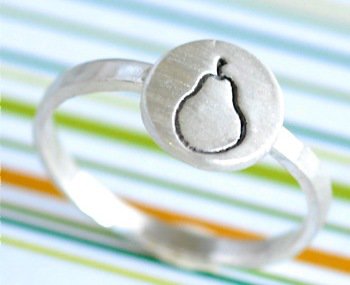 Price: $40.00 at shanalogic.com
This pretty silver ring, made by Chocolate and Steel, is gorgeous on its own or stacked with any of their other rings. It's subtle, but sweet, and definitely desirable. I wonder if they make a pomegranate one to match?
---
6

Serve Chilled Wrist Warmers in Strawberry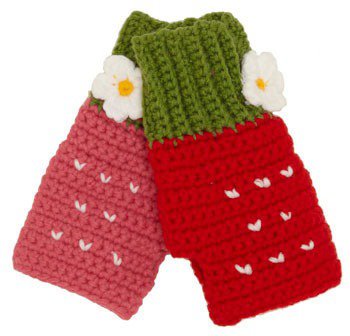 Price: $31.99 at modcloth.com
Wouldn't these look darling with the strawberry knit hat? Or maybe that's a little too much… either way, they're cute and will keep your hands nice and warm this fall. I love that they don't match exactly, and the sweet little strawberry blossoms on the wrists are so adorable!
---
7

Watermelon Stud Earrings

Price: $18.00 at shanalogic.com
Perfect for wearing all summer long! These tiny little watermelon studs are the ideal way to celebrate your love of everything the season has to offer — including sweet, juicy watermelon!
---
8

Care Pear Wallet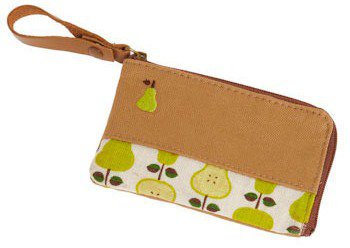 Price: $17.99 at modcloth.com
Why settle for a basic brown or boring black wallet or card case when there's this sweet little pear one you could use instead? It's roomy enough to accommodate all of your ID, charge cards, cash, and more… and the handy wrist strap ensures you can keep everything close by.
Which of these fruity little treats will you choose? Myself, I'm partial to the strawberry mittens… or maybe the banana bunny necklace… or maybe both? Please let me know what you think!
More
---
Comments
Popular
Recent