Fall means a change of colors, hot cider and donuts, and chilly nights and mornings. What better way to enjoy them all with a cozy new scarf? They're great for adding warmth and style this fall, and there are so many gorgeous ones out at the shops right now! I can't seem to stop from buying them, either… here's my list of 7 pretty scarves!
1

Teresa's Tea Biscuit Brown Scarf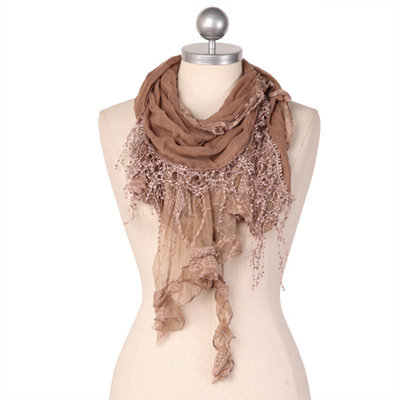 Price: $18.99 at shopruche.com
Such a delicate, pretty scarf, in such a lush fall color! I'd wear this with any of my cozy fall sweaters, the softer, the better, and a pair of curvy cords. Isn't it gorgeous?
2

Chenin Grape Scarf in Plum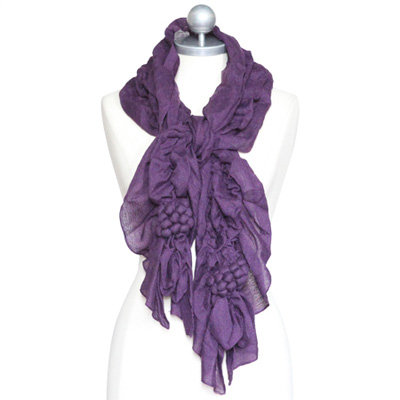 Price: $22.99 at shopruche.com
This scarf may be light, but it's also quite warm, perfect for a stroll through the vineyard or cider mill. It's available in a variety of jewel-tone hues, but with the grapes motif, I think it looks best in purple. It's also made with a bit of elastic, to give it a scrunchy look… I love it!
3

Not Your Grandma's Embroidered Scarf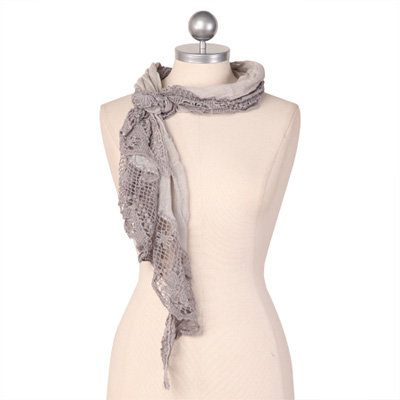 Price: $18.99 at shopruche.com
There will be a few times this fall when all you really want is the look of a scarf for style, not necessarily for warmth! This one is ideal for such a situation, perhaps with a black swing coat or a big v-neck sweater and leggings.
4

Nautical Stripes Scarf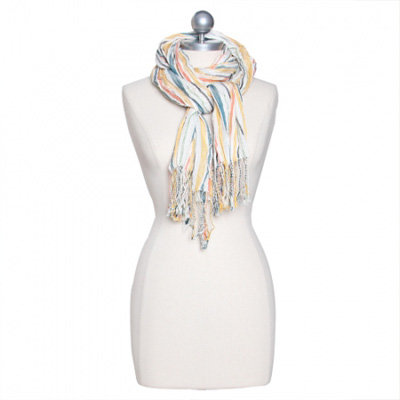 Price: $16.99 at shopruche.com
Fall may be in the air, but there's still time for one last afternoon on the lake. You'll just need a light scarf to keep you warm as you boat about. This one's perfect, made of light rayon with a pretty striped pattern in sun-washed nautical colors.
5

Verdure Rapids Scarf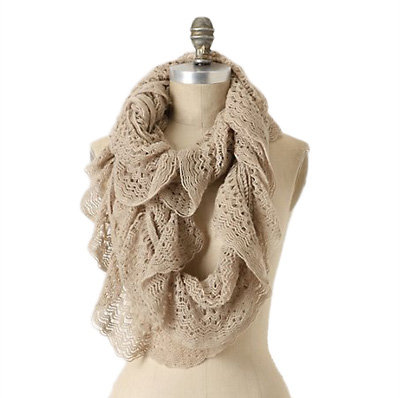 Price: $38.00 at anthropologie.com
Turn any of your tops or dresses into a fall piece with this pretty scarf, wound round and round in layers of delicate but cozy acrylic knit. Choose from three versatile colors: pink, green, and cream.
6

Fair in the Park Scarf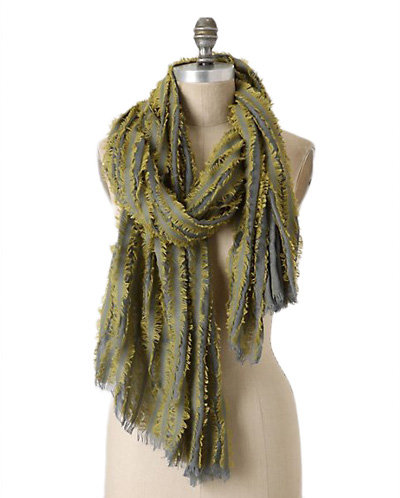 Price: $42.00 at anthropologie.com
The texture of this scarf is what makes it so eye-catching. What color is it, exactly? Everyone will want a closer look. Choose from green (with gold?), rust (with cream?) or purple. Wear with something denim and prepare for some extra attention.
7

Dappled Islet Scarf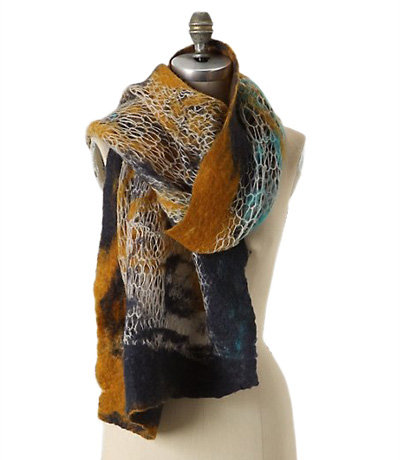 Price: $138.00 at anthropologie.com
Proudly wear the colors of fall with this gorgeous scarf, big and warm and comfortable. Wrap it around your shoulders like a pashmina, or around your neck with a favorite jacket all season long!
These are just a few of the dozens and dozens of gorgeous scarves I've found this season, and I can't get enough of them! Which of these scarves do you like best, and how would you wear it? Or have you spied another that's a must-have? Please let me know!