It's said that because I'm a Taurus, that I should be highly conscious of my neck. I have a feeling this is why I seemingly have regular sore throats in the winter and turtlenecks make me wholly claustrophobic.
But scarves don't restrict me so much, as I can tie in variations that provide warmth and will not suffocate. I think, just behind shoes, scarves are my obsession – and I have a stack of 'em in several colors, patterns and materials to show for it. And the sidewalk Pashmina lady might know me by first name…
Here are seven scarves to get you through the plummeting temps of fall.
1

A Sprinkle of Shine Scarf in Cosmos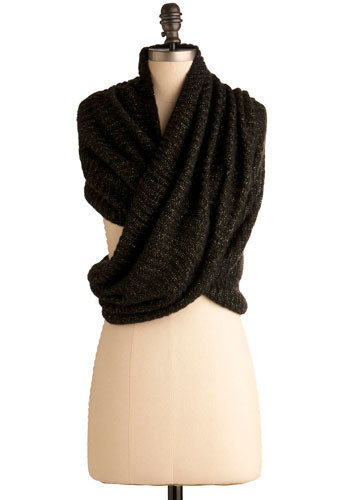 Price: $27.99 at modcloth.com
Large knit circle scarves are by far my favorite accessories for fall. The Sprinkle of Shine in Cosmos from ModCloth, makes me warm and toasty just looking at it. With its soft and snuggable yarn, I only hope the gold glimmer material of this cozy Cosmos outerwear is not itchy.
2

Love Quotes Hand Knotted Fringe Scarf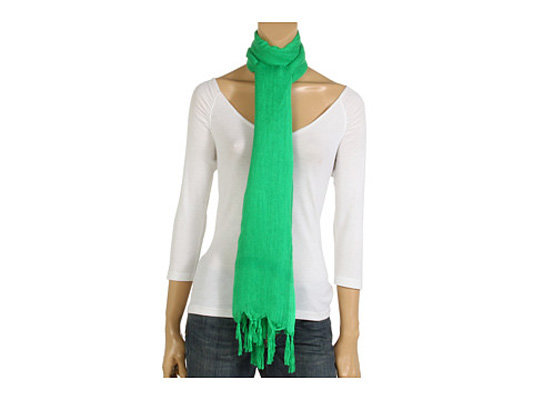 Price: $92.00 at zappos.com
What's not to love (pun intended) about this Love Quotes hand knotted fringe scarf? Made of fine Italian linen – and available in all of our favorite colors – this fall accessory features an inspirational love quote on the tag. "To thee I wear: hopelessly devoted through fall and winter."
3

Ornate Ruffle Scarf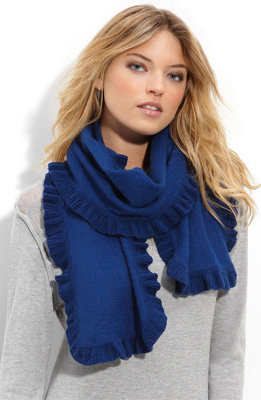 Price: $48.00 at shop.nordstrom.com
No feathers to ruffle here – only a delicate blend of wool and cashmere. The Ornate Ruffle Scarf is decorated in frilly femininity, and I think will make friends easily with your cold-weather wardrobe. The luxurious element of outerwear from Nordstrom cannot be denied. I want, I want, I want!
4

UGG Australia Shearling Scarf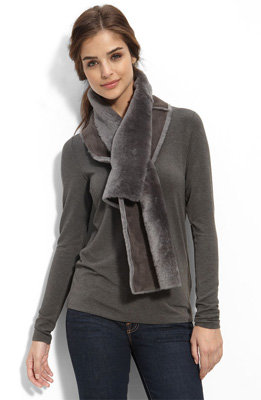 Price: $175.00 at shop.nordstrom.com
I'm not a fan of UGG and its ridiculously furry footwear; however, this genuine shearling scarf is super soft (and super stylish). I imagine that the cozy feeling of this scarf would be much like wrapping myself up in a bear rug in front of a fireplace. Or I suppose, more appropriately, cuddling up with a herd of sheep in front of a campfire in the Australian Outback.
5

Juicy Couture Sequin Ribbed Circle Scarf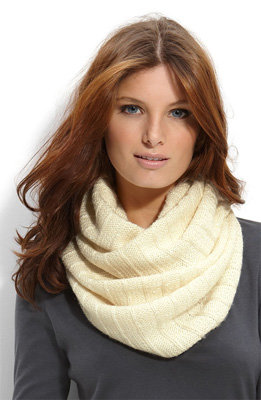 Price: $95.00 at shop.nordstrom.com
With the cooler months upon us, it's easy to get drab with our wardrobe choices – especially on a particularly grey day. This rib-textured continuous loop scarf from Juicy Couture is subtly decorated with tonal sequins (in black, cream or blush) that will add a little sparkly perk to your fall and winter outerwear.
6

Tarnish Oversized Fringe Scarf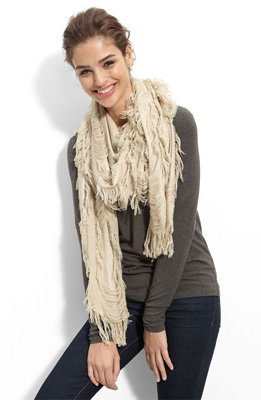 Price: $78.00 at shop.nordstrom.com
I am in total overdrive at this oversized fringe scarf from Tarnish. While completely adorable with its looped and dangling trim, the length is perfect to tie or wrap in a variety of creative manners. This accessory makes for an easy fit to many looks, and the feel of the fabric is positively divine.
7

Echo Color Play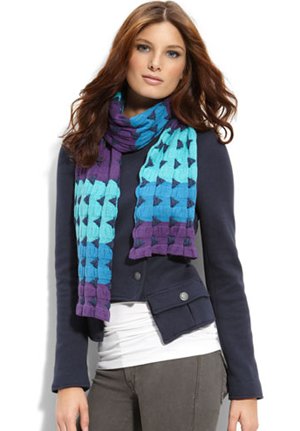 Price: $48.00 atshop.nordstrom.com
Aptly named, this scarf will certainly make those cold and dreary winter days more bearable. Aren't the colors just beautiful?
I know, I know, it's difficult to imagine that with November upon us that we are only at the beginning of a long tenure of cooler temperatures. I mean, except for you Floridians and Arizonians. *jealous* Which scarf styles will you add to your fall wardrobe?