Since I've cut my hair from waist-length locks into a chic bob, I can't seem to keep warm in the winter. My neck's always cold, so I've collected quite an assortment of scarves. But my poor ears! I've gotten tired of wearing earmuffs, so now I need to find some new hats… and I've found so many adorable ones at ModCloth, one of my favorite online shops. Here are 7 adorable winter hats…
---
1

Trail Mix Hat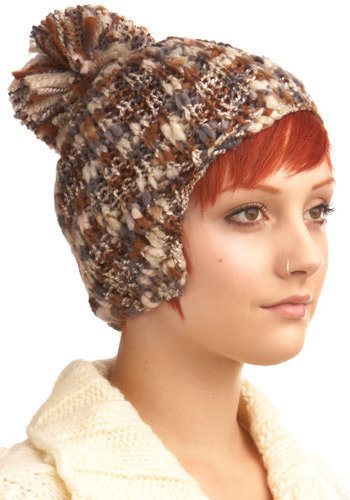 Price: $26.99 at modcloth.com
I love this hat! It's so cute! I adore the big pom-pom on the top and the extra-cozy ear flaps. And the slub yarn is multi-colored so I can wear this hat with just about anything and I'll still look stylish. I'd wear this with my big fuzzy boots and a puffy vest.
2

Amber Aura Hat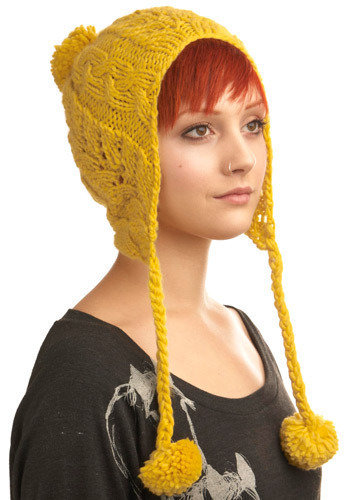 Price: $27.99 at modcloth.com
If you're a fan of anything lemony yellow, then this is the hat for you, whether you need one or not! It's cheery enough to add your own spot of sunshine to even the greyest winter day, and warm enough to make-believe spring is on the way.
---
3

Warm Thoughts Headscarf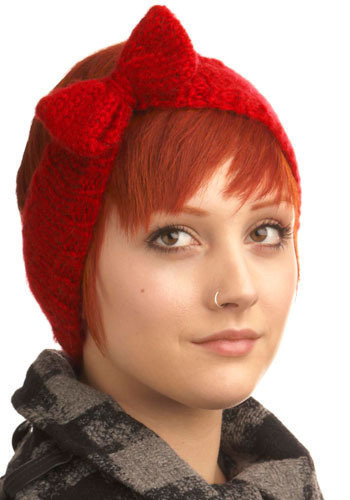 Price: $19.99 at modcloth.com
Sometimes my hair gets so dry and fly-away, I can't imagine wearing a hat… I could probably power a small town with my static! That's when I'd rather wear something like this, a soft, pretty ear-warming scarf. I adore the Valentine's Red color and the perky bow.
---
4

In the News Hat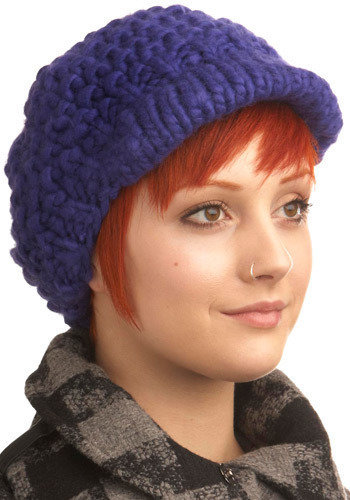 Price: $26.99 at modcloth.com
I look really good in a newsboy hat, but most of them are plain black or brown. Not this one! It's a brilliant blue, to match my eyes, and it's knit of chunky funky yarn. Now, do I wear m bangs down or pulled back with this hat?
---
5

Miss Lady Hat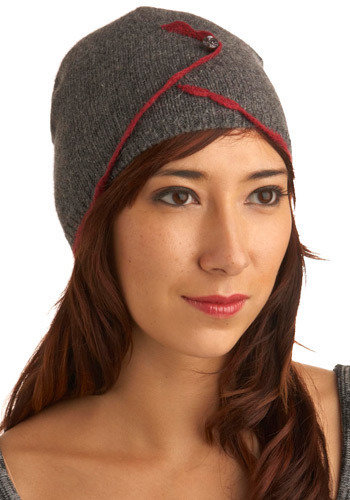 Price: $24.99 at modcloth.com
One look at this hat and I wonder — is it more style than substance? For surely a hat this pretty and ladylike can't also be warm, can it? Oh, but it is. I plan to wear this with my vintage-inspired lace-up boots and I know I'll be getting all sorts of sideways glances and perhaps a new suitor or two.
---
6

All Season Long Hat in Transition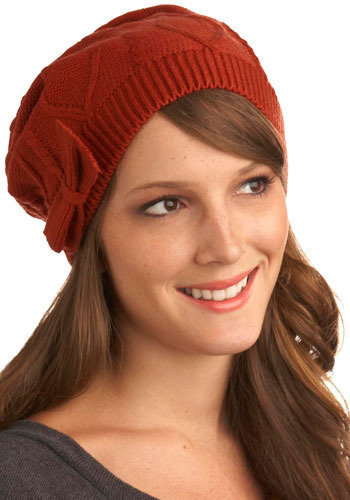 Price: $22.99 at modcloth.com
This gorgeous autumn red-orange hat is inspired by the chicest berets, shaped to cap your tresses and keep your ears warm. The cable knit design is pretty, and the little bow at the side adds definition.
---
7

Blueberry Pilot Hat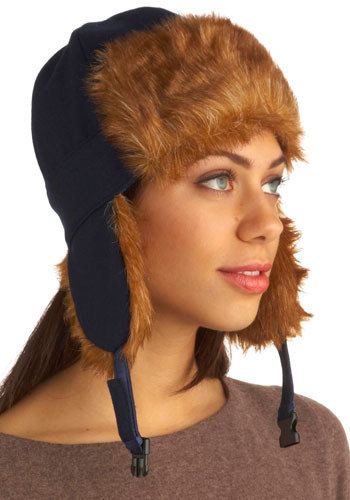 Price: $37.99 at modcloth.com
I want this hat for the coldest of Michigan winter days, due any day now. The tawny faux fur lining is gorgeous, and will look great with any complexion, and the deep blue-green shell is sure to flatter any eye color. See? It's perfect for anyone who has to battle the chill!
Those are just a few of the adorable hats I've found at ModCloth, and there are so many more in every style and color you can imagine! There's bound to be one (or three!) that you'll love! Which of these do you like best, and which of your coats or sweaters would you wear it with? Please let me know!
---
Comments
Popular
Related
Recent