Who says you have to give up looking stylish just because this winter has turned out to be a darn cold one? Huh? Maybe you're not a fan of cold weather? Well neither am I but I can still give you at least one good to love winter – sweaters! In, fact, I'll give you 10 good reasons to love this winter – 10 great sweaters that will keep you warm, stylish and won't break your bank either…
---
1

Ruffle Tier Cardigan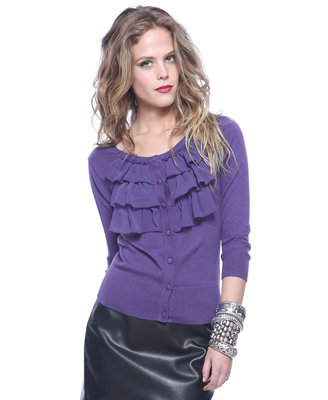 Price: $19.80 at forever21.com
I love everything about this cardigan! I mean, this is my favorite color, how could I not love it. Plus it has those cute, girly ruffles, which make it ideal to wear in any occasion. Let's say you're going to meet his parents, for example. Now, wouldn't this cardigan just scream, "Yes, I'm just perfect for your son, aren't I?"
2

Striped V-neck Sweater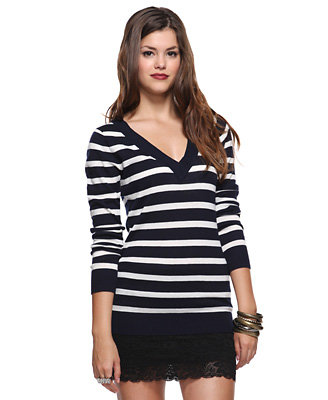 Price: $11.50 at forever21.com
Simple classic style you can wear anytime and with anything! If you have one of these neutral colored sweaters in your wardrobe, you're pretty much covered for the season. Right? You can wear it on its own or over a shirt, it goes good with both pants and skirts and I definitely don't see a reason why it wouldn't look great with both heels and flats.
---
3

Angelina Sweater Dress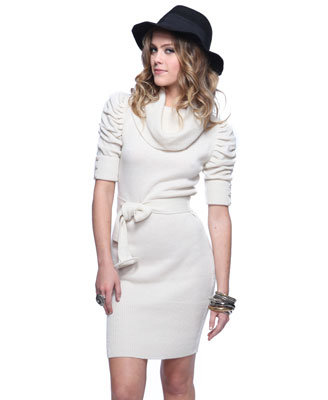 Price: $27.80 at forever21.com
Sweater dresses are, undoubtedly, the best, most versatile pieces of winter wardrobe. Why? Because you can wear them on their own if you want to be sexy or match them with a pair of leggings and puffy snow boots for a girly and, yet, winter appropriate look. I have a gray sweater dress identical to this one and I must tell you it's one of my favorite pieces!
---
4

Embellished Sweater Cardigan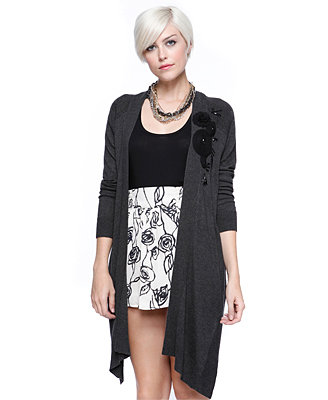 Price: $24.80 at forever21.com
Wow and double wow! I desperately need something like this to wear with my dresses and stop freezing my butt off for the sake of looking good every time we go out to a restaurant. Seriously, I'm always sitting half naked wishing they would just turn on the heating. What am I supposed to do? You know how hard it is to find a good, elegant cover up these days! Everything that looks good has short sleeves!
---
5

Striped Yoke Cardigan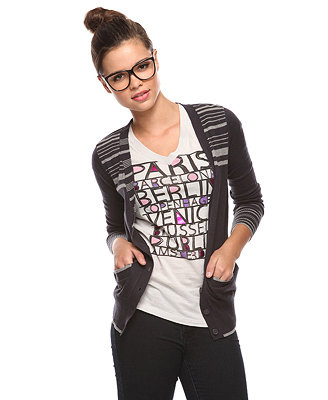 Price:$ 24.90 at forever21.com
I'm loving this vintage sweater and the way it can make a simple T shirt and jeans look trendy. Add a pair of these hip Clark Kent glasses and you've just got yourself a casual, comfy, stylish look ideal for school, chilling with friends and casual walks and outings.
---
6

Sequin Cardigan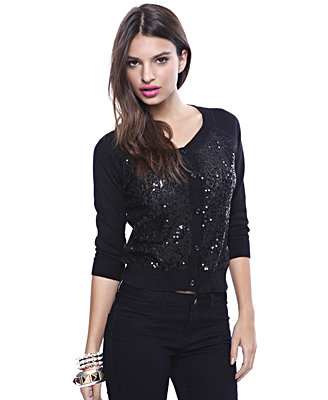 Price: $22.80 at forever21.com
You can wear it over a shirt, with a pair of jeans or use it to create your own Carrie Bradshaw "Puffy skirt + a sparkly sweater" outfit. I especially like this second idea, but, you know me, I'm a Carrie fan! Now, isn't this glam cardigan a must have? You tell me!
---
7

Striped Prep Cardigan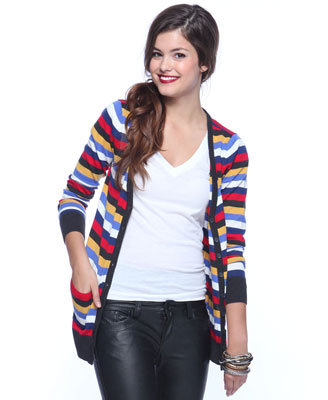 Price: $19.80 at forever21.com
Colors, colors and more colors! I'm definitely in love with this sweater! This is the time of the year when people usually opt for darker colors, so if you want to stand out, this is your chance to do so. The best thing about it is that it's not fancy or anything so you don't have to get all dressed up in order to wear it. So, isn't this a nice, useful, playful garment?
---
8

Dolman Sweater Cardigan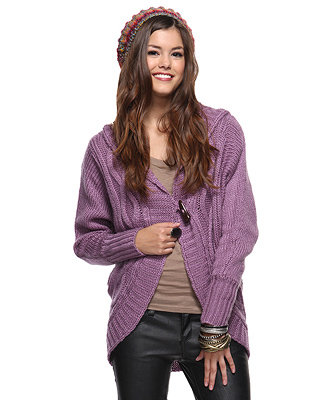 Price: $24.80 at forever21.com
Yes, purple… and a lot of it! Chunky sweater is a must have, girls! Imagine this – it's snowing outside and you're sitting in a coffee shop drinking hot chocolate when somebody opens the door allowing a breath of cold air to come inside. Everybody start getting chills… everybody EXCEPT you. You just wrap yourself into your huge sweater, smile and continue to sip on your tasty treat.
---
9

Bicycle Print Sweater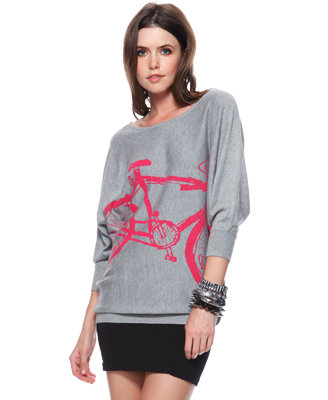 Price: $22.80 at forever21.com
This one reminds me of childhood and those cute bicycle printed sweaters my mom used to dress me in. It does look kind of retro – doesn't it? You can say I'm weird or whatever but old habits die hard – I loved these when I was 4 and I love them now, when I'm 24.
---
10

Striped ¾ Sleeve Sweater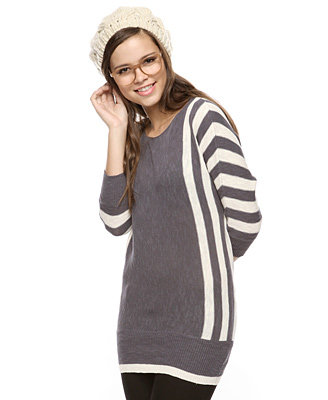 Price: $24.80 at forever21.com
This retro style sweater doesn't look like much but it's a multi purpose garment, I tell you. All you have to have is a good idea on how to wear it and you'll see... you'll start wondering how could you ever survive all those winters without it. I suggest belting it and wearing it with a pair of leggings and over-the-knee boots for a more elegant look or, if you like to keep it casual, jeans would work great too!
How do you like these warm winter suggestions? Do you even like to wear sweaters or prefer to use the "layering" strategy to keep yourself warm in the winter? What are you favorite colors and sweater styles?
---
Comments
Popular
Related
Recent