Winter season is here, Girls, and so are the most fabulous winter coats!
Top designers came up with the most beautiful cuts for this fashion season. So, we had a looot to choose from to create this** 10 Most Fashionable Winter Coats** list!
---
10

Frosted Wool Blend Coat

Price: $847 at MyTheresa.com

I absolutely adore the vintage silhouette of this coat! The color is a true classic too, so if you are looking for an elegant coat, no other will compare! I'd pair it up with high heel black boots and long black leather gloves. A wide black leather belt could also be a great addition!
---
9

Marc by Marc Jacobs Checked Wool-Blend Long Coat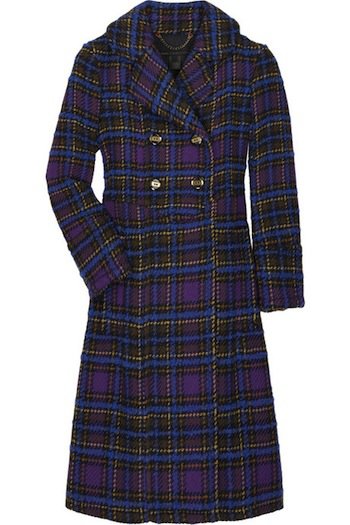 Price: $660 at Net-a-Porter.com
Marc Jacobs is one of my favorite designers! In one of his interviews he said that he likes to take ordinary things and turn them into luxurious and fun pieces. Well, I think this coat is one of them!!! It looks very fun, very "school girl" and it'll absolutely spice up your look and will keep you warm!
---
8

Vivienne Westood Anglomania Wrap Coat

Price: $1.438 at LaGarconne.com

This coat comes to you with the perfect harmony between chic and comfort. It will look great with both skirts and and skinny pants. For those of you that have a great fashion sense, you sure are going to turn heads when you wear this.
---
7

Double-breasted Military Coat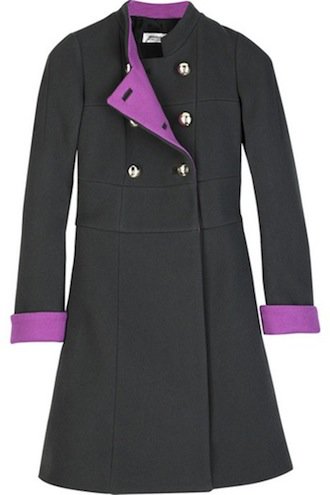 Price: $755 at Net-A-Porter.com
This is a double breasted military coat that has contrast purple front linking and cuffs. It also has two side pockets and six gold buttons. It is fully lined. It consists of ninety percent virgin wool, ten percent cashmere, for percent viscose and sixty percent acetate. When you clean it, make sure you get it dry cleaned.
---
6

Fred Flare Pleated Houndstooth Victoria Coat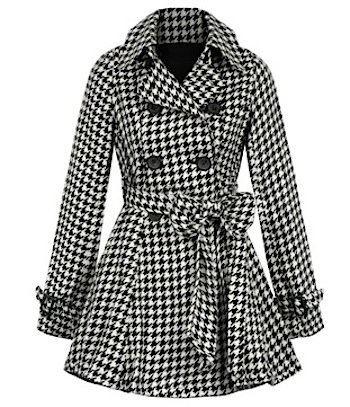 Price: $86 at FredFlare.com
For those of you that enjoy checked patterns, I know you are going to like this. When you go on your downtown adventures, you will be bringing a touch of coolness with you! This is a perfect coat for whatever you choose to wear!
---
5

Marc by Marc Jacobs Quilted Waterproof Parka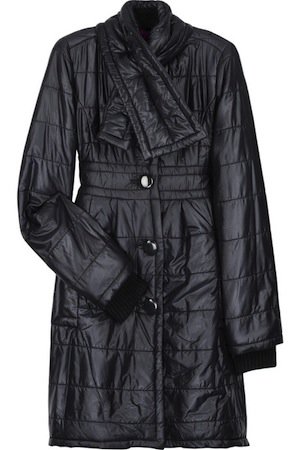 Price: $400 at Net-a-Porter.com
For all of those windy and wet days, I recommend you wearing this stylish Marc Jacobs parka. You see, during rainy weather, a girl still has to keep to those fashion senses. You'll surely be able to secure that style with this coat.
4

Burberry Wool Jersey Trench Coat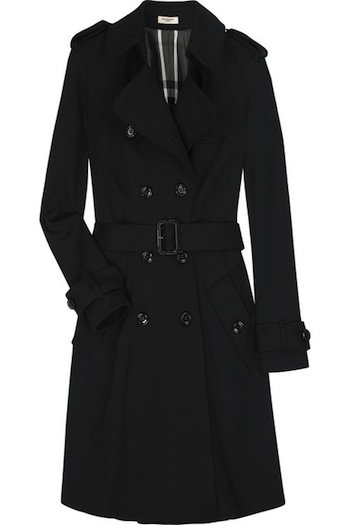 Price: $995 at Net-a-Porter.com
Don't let those cold weather wet days get you down. With this Burberry wool jersey trench coat, you will be able to smile again. This makes the perfect layer over jeans for the day time. It is also great over a dress during an evening of elegance! A fabulous fashion investment, I think!
---
3

Top Shop Checked Shoulder Jacket

Price: $123 at TopShop.com

Do you live in a warmer climate? Would you like something hot that looks like something that's just been spoted on the runway? If so, then I know you are going to enjoy this. When you slip this Top Shop jacket on, you will find a softly sculpted silhouette that'll instantly turn you into a true style icon. Did I mention the design of the shoulders makes your waist look smaller too?
---
2

Collection John Lewis Women Tie Coat

Price: $261 at JohnLewis.com

With this John Lewis coat, you will definitely be going chic this fall. The color is so beautiful and such a great option for those who are tired of blacks, greys and browns that usually dominate the fall-winter season. Simply beautiful!
---
1

Miu Miu Wool Belted Coat

**Price: **$1.827 at MyTheresa.com

This is the perfect coat for those chilly times. It comes to you in sumptuous black and there are no complaints about it. It would look stunning with high heeled OTK boots. What do you think?
---
Comments
Popular
Related
Recent