What better way to keep warm and cozy this winter, and still have style to spare? Try one of these plush, elegant tartan Burberry scarves, snuggle up to your winsome guy, and find the matching gloves and hat! Here's my list of the 12 most stylish Burberry scarves, just in time for the winter chill! And be careful out there — it's a plaid, plaid world!
---
1

Giant Check Scarf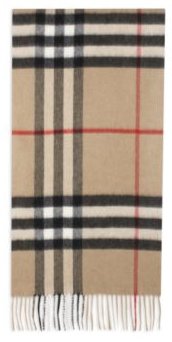 Price: $295 at us.burberry.com
This scarf is an instant classic, available in more than a dozen colors from bold "Regiment" red to demure, soft "Rose." It's made of the softest cashmere, a foot wide and over five feet long!
---
2

Printed Fringe Stripe Scarf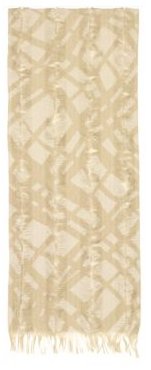 Price: $350 at us.burberry.com
Available in a humble ecru ("Trench") and an upstanding grey ("Granite"), this scarf is my favorite! Wind it round and round, and still have inches and inches to spare! It's made of wool, with ribbons or different textures all tonally dyed and hemmed with fringes on both sides, with tassels at the ends.
---
3

Tonal Check Cashmere Scarf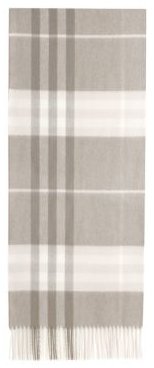 Price: $295 at us.burberry.com
Super-soft, with a tonal check pattern and 3-inch tassels on each end. Long enough to share with your sweetheart… wear it ice skating, shopping, snuggling on a park bench!
---
4

Metallic Crinkled Giant Check Scarf

Price: $225 at us.burberry.com
A glittering update to the original! This wool/cashmere and polyester/polyamide blend comes in two gorgeous hues: red and grey. The metallic threads run throughout the giant check pattern, giving you an instant shine!
---
5

Crinkled Check Scarf

Price: $275 at us.burberry.com
Pretty, soft, and gorgeous. This is on my wish list this Christmas! It's made of soft cashmere and merino wool, and is available in a range of colors, including pink ("Dusty Blossom") and the classic Burberry Camel. I love the soft eyelash fringe at the ends!
---
6

Skinny Check Scarf

Price: $195 at us.burberry.com
About half the width of the regular check scarf, this is perfect for a more delicate, but still tasty-warm, look. Three colors, one size, perfect with pretty suede boots and soft gloves. Made of cashmere, of course! I love it in the pale, Porcelain Blue.
---
7

Mega Check Scarf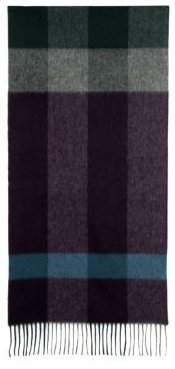 Price: $495 at us.burberry.com
The thickest of all the scarves, this is guaranteed to keep you warm and cozy! It's available in five colors, made of cashmere, and has fringes at each end.
---
8

Mega Check Stole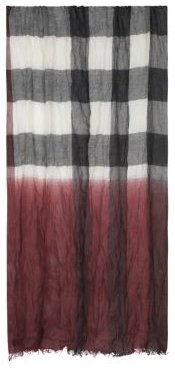 Price: $695 at us.burberry.com
Delicate eyelash fringe at both ends, with a subtle faded washed effect. Gorgeous with a dark pea coat and a pair of skinny jeans!
---
9

Metallic Super Smock Scarf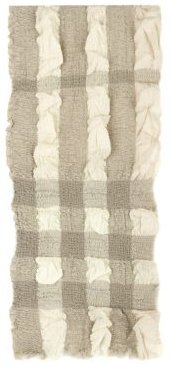 Price: $295 at us.burberry.com
A traditional check scarf with a twist! Alternating ruched and crinkled panels create a lovely texture, and metallic threads woven throughout give a hint of shimmer.
---
10

Check Lace Stole

Price: $450 at us.burberry.com
Wool and silk, made in Italy, with the mega check pattern superimposed over a delicate lace floral print. Eyelash fringe at both ends completes this delicate stole.
---
11

Ruffle Stripe Silk Scarf

Price: $325 at us.burberry.com
Rich royal purple in the finest Italian silk… what could be better? Add hand-fringed hems and silk ruffles! Wide enough for warmth, thin enough to wear with a delicate dress.
---
12

Oblong Bias Check Creponne Scarf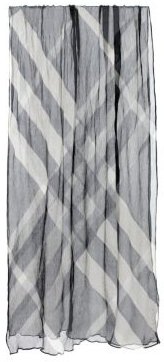 Price: $425 at us.burberry.com
The sheerest of pure Italian silk, with the traditional check pattern on a bias. Two soft colors, Charcoal and yellow ("Sherbet"). A gift for your mother, perhaps?
Who says Burberry scarves are just taupe plaid? Aren't these the most stylish Burberry scarves ever? These are so lovely, I want one of each! And maybe one of the wool trenches to go along with it… which do you like best, and how would you wear it? Have you seen another Burberry scarf you can't live without?
How much do you love your Burberry. Tell us over at our Twitter account!
More
---
Comments
Popular
Recent