I love the military look...My wardrobe is full of military-themed clothes that I love to wear, and you can bet that I'll be wearing something with that amazing tailoring! My favourite military item has to be jackets, though...an instant and stylish way to add a military twist to any outfit, and there are some amazing ones available at the moment. Here are my favourites!
---
1

Vila Military Jacket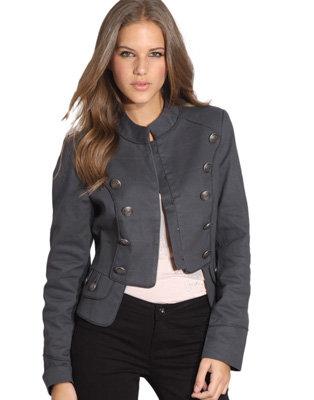 Price: $47 at asos.com
This gorgeous Vila jacket is the perfect colour to wear with a nautical outfit, and it's so flattering! I love the nipped waist, which gives you a great silhouette, and the long sleeves and jacket length mean you will keep warm as well as looking great. The high neckline and button detailing are the perfect finishing touches...it looks structured, cute and stylish, and is a great way to dress up shorts!
---
2

Mango Double Breasted Jacket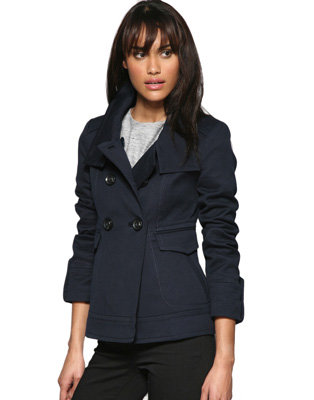 Price: $99 at asos.com
Mango have combined gorgeous military stylings with a flattering blazer shape, and the result is simply stunning! It looks gorgeous with jeans, and is the perfect way to dress them up...I love the tab detailing on the back, and the high neckline, and the best bit is that it's just so comfortable!
---
3

Urban Code Military Style Leather Jacket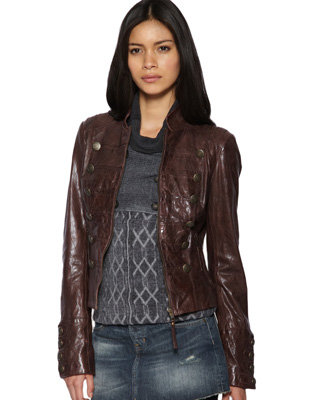 Price: $336 at asos.com
This jacket successfully combines two of the hottest looks of the year...military, and leather. It's made of a gorgeous soft chestnut leather, adorned with metal buttons and stylings which make it one of the hottest jackets of the moment. I love it's worn look, too! Whatever you are wearing, this jacket is the perfect finishing touch.
---
4

Army Crop Jacket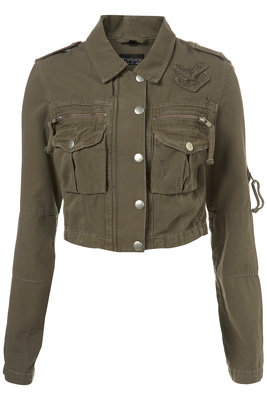 Price: $100 at us.topshop.com
Cropped jackets are huge at the moment, and this cropped army jacket is my favourite so far. I love the khaki colour, which looks great with the utility trend, and any jacket with lots of pockets is going to be a hit with me! It's carefully structured to flatter your waist, and it even makes me look a little taller. It's a definite winner!
---
5

Silk Blend Tweed Military Jacket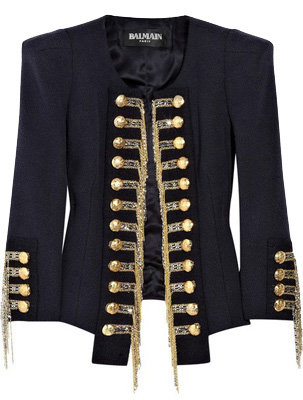 Price: $4,000 at net-a-porter.com
This gorgeous jacket is a proper statement piece...it's sure to be the talk of the town! I love the deep blue colour, and the mix of silk and tweed make it feel so luxurious. The stunning golden military detailing is the perfect finishing touch, making it a jacket you'll want to wear everywhere! It's breath taking and flattering, and it'll look divine with any outfit.
---
6

Joseph Yves Wool Blend Military Jacket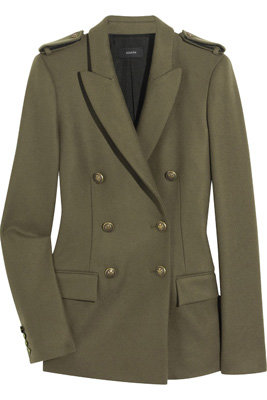 Price: $600 at net-a-porter.com
This jacket is perfect for the masculine trend...it's got an original masculine cut, with some small edits made to highlight your body shape and make sure it give you an amazing silhouette. The olive blend colour is divine, and I love the extra length...it is a super easy way to dress up an otherwise plain outfit! The buttons and flap pockets complete the look!
---
7

Ruffle Trim Military Jacket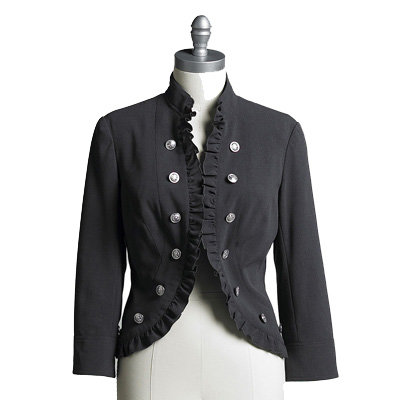 Price: $50 at sears.com
I love this girly take on military, mixing masculine stylings with military detail and feminine ruffles! The high neckline and military shape keep it looking chic and original, and worn with a long necklace, it looks gorgeous. The metallic buttons finish the look perfectly. It really defines your waist, and it's so easy to look after too!
---
8

Diane Gilman Denim Military Jacket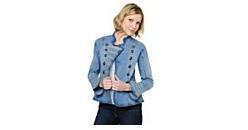 Price: $50 at sears.com
This jacket doesn't sound like it should work, but it really does. The denim colour adds a lighter element to the look, and differentiates it from other military jackets, and the fit is amazing. It's fitted enough to be flattering and sit close to the skin, but loose enough to allow full movement, and allow the fabric to drape flatteringly. It's even got shoulder pads!
I love my military jacket collection, and with gorgeous jackets like these coming out, I think the collection will continue to grow! I am always complimented on them...I never thought I'd wear one until a friend bought me one, and I was so surprised at how much I loved it. If you haven't got one, make sure you invest in one of these, and if you have? Invest anyway, they are amazing! Have you spotted a great military jacket? Please share it with me!
Top Photo Credit: Nouveau Noir
More
Comments
Popular
Recent