Wintertime is just around the corner, so it is time to start thinking about outfits that are winter-ready. Here are some of my favorite skirts that will help get things started!
1

Dark Denim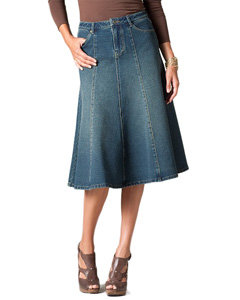 Price: $79.95 at coldwatercreek.com
You cannot go wrong with a long denim skirt! Dress it up with a button up blouse or sweater, or dress it down with a hoodie for a lazy day! Either way you've got a perfect casual, comfy look.
2

Suede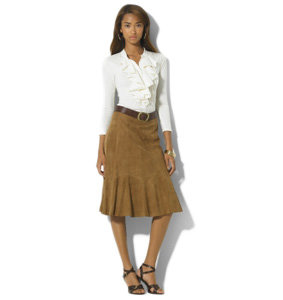 Price: $299.99 at ralphlauren.com
Suede skirts make beautiful pieces for some winter outfits. They look awesome with knee length boots, too! You can opt to go with light or dark suede, but no matter what you choose you will be warm and beautiful.
3

Wool

Price: $140.00 at yoox.com
There is nothing more warm and cozy than a wool skirt with a warm sweater on a gorgeous, snowy day! Wool skirts come in an array of colors and patterns, though it is nice to have a staple black or gray one to pair with many different tops!
4

Plaid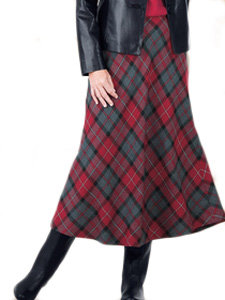 Price: $79.00 at appleseeds.com
Many plaid prints make for beautiful style during the winter months and holidays. My favorites are red plaids but you can go with any color combo you want. Blacks and browns and grays are sophisticated while blues and greens and reds are classy and fun.
5

Long and Flared!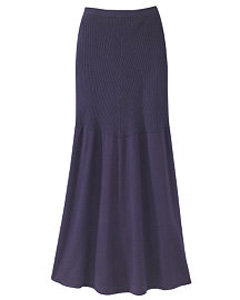 Price: $119.00 at spiegel.com
A dressier look for church or Christmas parties, this skirt is something with a little more length and flare to it. You will look and feel very feminine and ultra classy! I adore all of my flared out skirts and wear them quite often.
6

Lace

Price: $89.95 at coldwatercreek.com
Perfect for a romantic dinner date or small office party, this lace skirt provides you with two options since it's reversible!! Black lace on one side and red paisley print on the other! Ultra gorgeous!!!
7

Everyday Knits or Rayons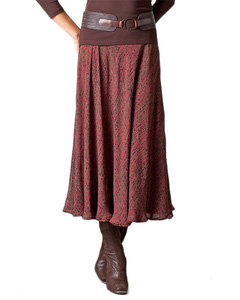 Price: $119.95 at coldwatercreek.com
Knit skirts are a wardrobe staple! They are super versatile, as you can dress them up or down. This particular skirt is appealing to me since it easily fits into the country western tones, which I love!
As you can see, you can have so much fun with winter skirts! Be sure and wear leggings or panty hose to keep you legs warm! Do you have any fave winter skirt styles?