Here in Michigan, winter is definitely on its way, with chilly days and freezing snow-flurry nights. What better way to combat the cold than with a cozy, super-soft sweater? I've been searching my favorite online store, ModCloth, and have found so many cardis and pull-overs I just have to have! Here are 7 winter sweaters I love…
---
1

Alpine Classic Cardigan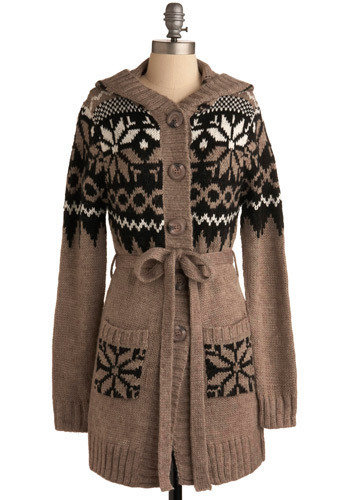 Price: $49.99 at modcloth.com
I adore this sweater! It's thick enough to keep you cozy on the coldest on winter days, and the length hits you at mid-hip for a flattering line. And look, there's even a place for your favorite lip balm, with two pockets, one on each side. I'd wear this with black leggings and grey shearling boots.
2

La Creme Glacee Sweater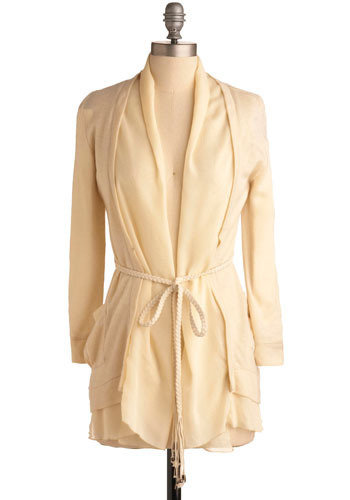 Price: $47.99 at modcloth.com
There are so many ways to wear this soft, pretty sweater: wear it with patterned leggings and funky ankle boots with a shimmery shell, or with skinny jeans, calf-boots, and a sparkling cocktail ring and statement necklace. I love the versatile color and the braided rope belt…
---
3

Storytelling Cardigan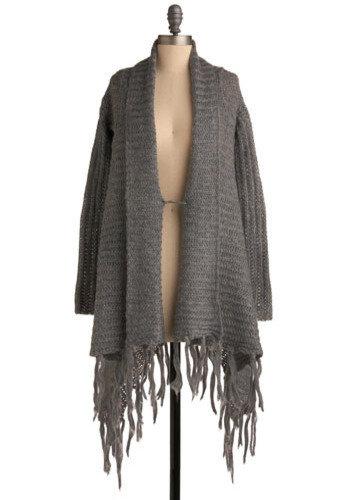 Price: $74.99 at modcloth.com
This is the sweater I've been searching for, cozy and warm but stylish and chic. The hem? Fringed. The sleeves? Roomy and comfortable. The styling? Boho but somehow classic. The color? Slate grey with twists of denim-blue threads woven through. The result? I want one!
---
4

Cityscape Top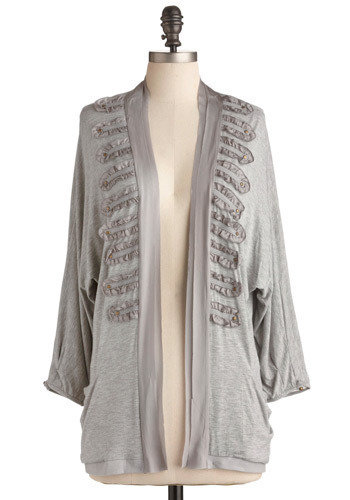 Price: $54.99 at modcloth.com
This comfy cardi is all style… just look at all the sumptuous details! There are the dolman sleeves, the gorgeous color, and of course the slightly military-inspired brass grommets and ribbons across the chest and shoulders. I'd pair this with anything royal blue, deep red, or purple.
---
5

A Little Bit Bunny Cardigan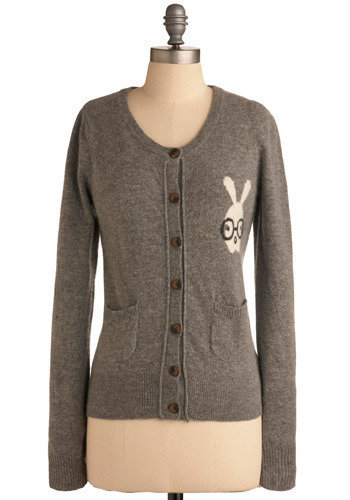 Price: $64.99 at modcloth.com
I'm not normally one for sweaters with animals on them, except perhaps at Christmas (my plaid skirt with and my cardi with a Scottie dog on it is a classic combo), but this sweater is just too adorable to pass up. I love the bunny, sporting specs, and the flattering shape. Perhaps this year, I'll swap this sweater for the Scottie dog, and wear it with my plaid skirt, knee-highs, and black Mary Janes.
---
6

Splendid Sepia Cardigan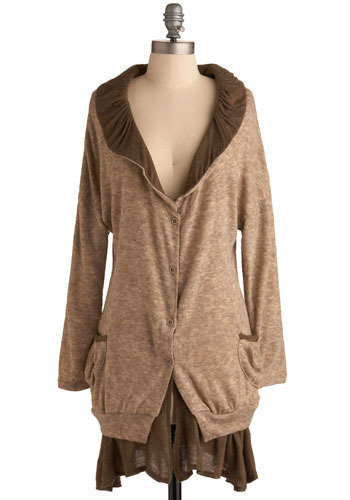 Price: $59.99 at modcloth.com
While some reviewers didn't like the way this sweater fits, I think it's gloriously unique, roomy in all the right places, and oh-so-stylish. It reminds me of something my great-grandmother may have worn, but she didn't have the inky blue skinny jeans to wear it with, and I do.
---
7

Morning Dew Sweater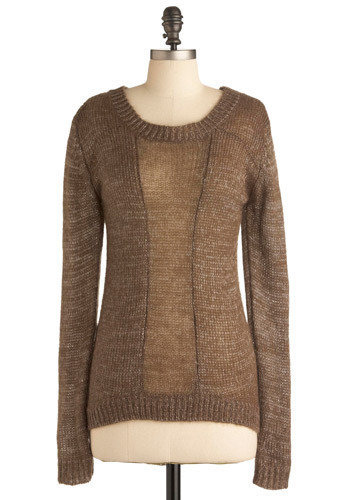 Price: $104.99 at modcloth.com
This is the perfect sweater for layering, either under a cardi or vest or blazer with a flouncy soft scarf. It's sleek and slinky, but ultra-soft and I love the color! I'd add copper or gold jewelry, tall boots, and either patterned leggings or skinny jeans, and layer away.
Those are my very favorite sweaters for winter, and most of them are already on my Christmas wish list or in my shopping cart. I love the Sepia cardigan, and the bunny cardi is so cute! Which of these cozy winter sweaters do you like best, and how would you wear it? Please let me know… I always love hearing new ensemble ideas for the pieces I like!
---
Popular
Related
Recent