Lately, I've had a thing for loose cardigans and ponchos. They're so warm and comfortable, and chic, too! So I've been on the lookout for a few new ponchos to add to m collection, and I've found some super-cute ones online… here are 7 beautiful ponchos!
---
1

Make Your Way Poncho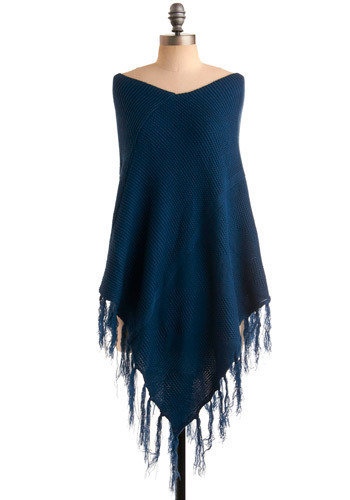 Price: $49.99 at modcloth.com
This ultra-soft poncho is a lush peacock blue, ideal for reminding yourself that this chilly weather will soon give way to spring, the perfect time for wandering through the park, where your favorite bird likes to parade, preening himself and showing his colors. Wear with inky blue skinny jeans, a long-sleeved top, and tall boots.
Shakti
loved the colour....
---
2

It's All Hood Top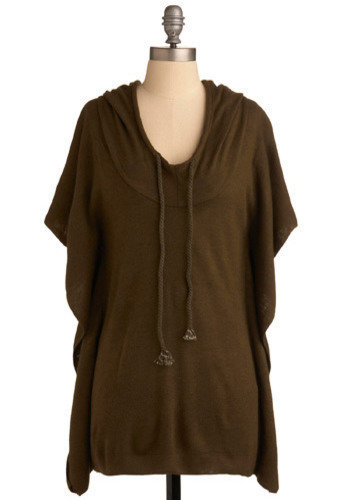 Price: $37.99 at modcloth.com
This gorgeous olive-hued brown tunic is as stylish as it is soft, as cute as it is comfortable. It's made of an acrylic and nylon blend, and is long enough to wear modestly with patterned leggings or super-skinny jeans, finished with tall lace-up boots. There's a drawstring at the neckline for tightening or loosening the hood at the back.
---
3

Ski Lift Secrets Poncho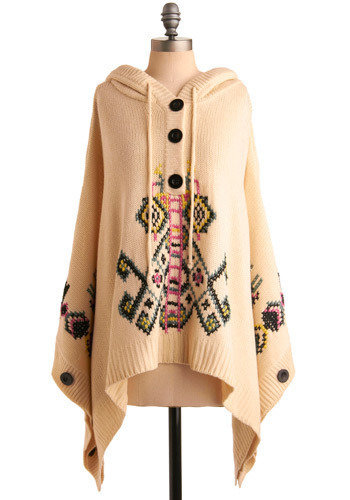 Price: $84.99 at modcloth.com
This ultra-soft, superlatively warm knit poncho is made of acrylic, with bright black buttons down the front and a drawstring to tighten the neckline when the wind blows. I love the bright colors, pink and yellow, woven into a pretty pattern on the front. Pair with leggings and fur-lined booties, then hit the slopes, snow bunny!
---
4

Sleeve It to Me Top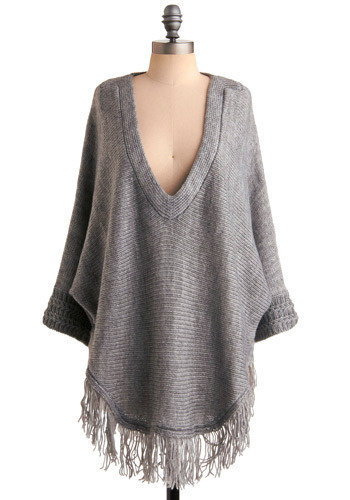 Price: $54.99 at modcloth.com
The weather outside is frightful, but this fringe-bottomed top is so delightful! Wear this over that soft pair of velvet leggings, or with a pencil skirt and tall boots. It's made of an acrylic wool blend, and is a bit oversized, so buy a size down for a perfect fit.
---
5

Taupe Couture Cape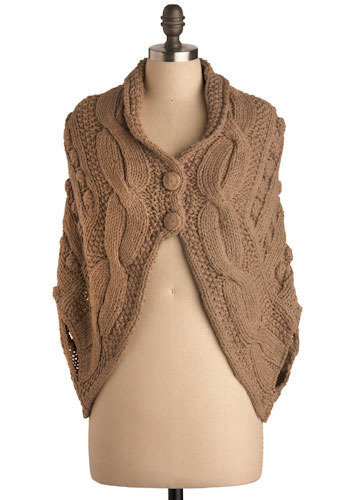 Price: $54.99 at modcloth.com
Though technically this is a cape, not a poncho, they have enough in common that I had to include this cutie on the list. It's a lush tan color, neutral enough to wear with anything (except black). Wear it over a dress, or a long-sleeved tee… all that's missing is a pair of kicky ankle booties!
---
6

Let's do Fondue Poncho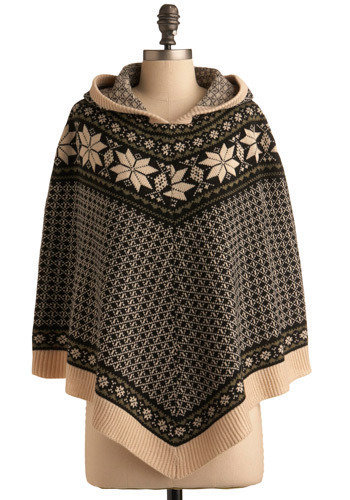 Price: $74.99 at modcloth.com
I'm not sure I can rock the Alpine look, but I'm sure going to try it with this adorable poncho! I'm going to wear this with creamy knit leggings and tall fur-trimmed boots, or just with skinny jeans and flats. It's made of a thick wool and acrylic blend, warm and cozy, but not as soft as some would like. I love the pattern, too!
---
7

Take a Breather Top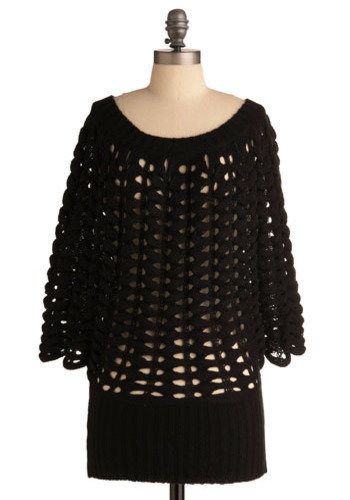 Price: $67.99 at modcloth.com
What an amazing, unique top! There are so many ways to wear it, dressed up with statement jewelry, or dressed down with jeans and flats. It's a wide-woven poncho-style top, loose and luxurious, with an ample scoop neck and flattering snug knit bottom.
I love all of these ponchos so much, and they're all so different, I don't know which to try first! I'm leaning toward the grey one with the fringe, though, since it's so versatile, but I'm still a little torn… which one do you like best, and what would you wear with it?
More
Comments
Popular
Recent