To me, decorating is all about the little details. Sure, the big things, like furniture and art are important, but so are the tiny touches, like just the right table linens and a completely adorable, themed salt and pepper shaker set. Call me crazy, but I love them, and I think they can make such a difference on a table! Don't believe me? Here are 7 mod salt and pepper shakers.
---
1

Ripe and Ready Salt and Pepper Shakers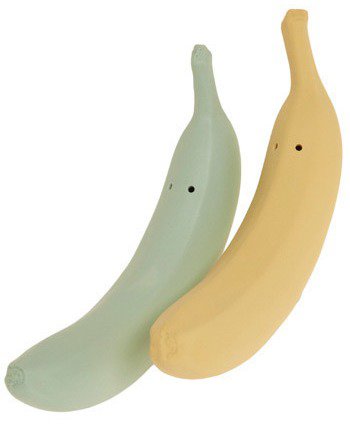 Price: $39.99 at modcloth.com
Go a little bananas for these really pretty, really mod salt and pepper shakers by New York artist Michiko Shimada. One is a muted yellow, the other a pretty sky blue, both are ideal for displaying or (better yet) using!
2

Truffle Shuffle Shakers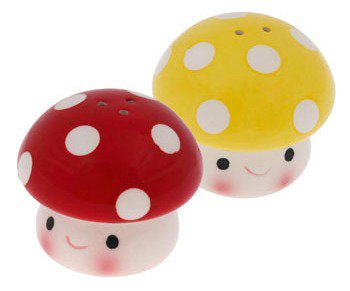 Price: $7.99 at modcloth.com
Add a little kawaii cuteness to your kitchen or dining room with these two adorable fun guys. Or rather, fungi. One is cherry red, the other sunshine yellow. Wouldn't these look so cute on a bright check tablecloth? I think so…
---
3

Flavor Forecast Salt and Pepper Shakers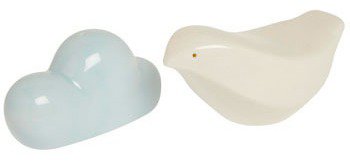 Price: $39.99 at modcloth.com
Give this sweet white porcelain birdie, and his friend, a sky-blue raincloud, a roost on your table. Both are made of porcelain and are distributed by MoMA (the Museum of Modern Art). They're elegant and pretty, and would go with almost any décor.
---
4

Who Wears the Pants? Salt and Pepper Shaker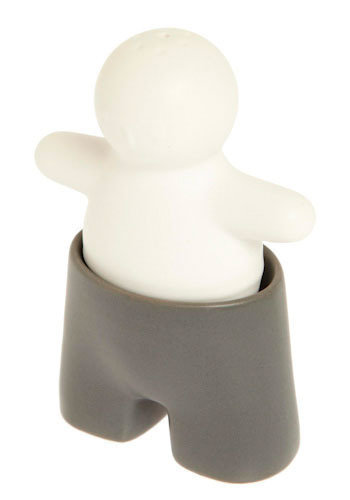 Price: $12.99 at modcloth.com
So clever! This salt and pepper shaker set are shaped like a little guy (whose name is Fred) for the salt and his black pants for the pepper. He's set and ready to go, seasoning your meals or just hanging around, looking cute.
---
5

Season-al Birds Salt and Pepper Shakers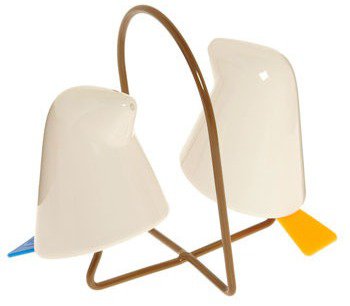 Price: $19.99 at modcloth.com
This set includes two sweet birds and their birdcage-shaped rack. Each is marked with an "S" or "P" on their bright orange or blue tail feathers, and both dispense seasoning from their pointy little beaks.
---
6

A Petite Pinch of Pepper Mill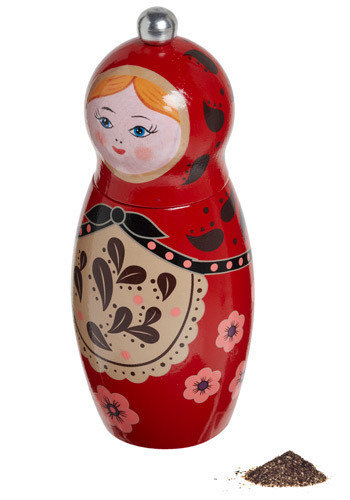 Price: $37.99 at modcloth.com
Freshly ground pepper is so much spicier than its pre-ground counterpart, and perhaps part of the reason why, at least at your house, is this sweet nesting-doll inspired pepper mill. She's a cheerful red with rosy pink cheeks and a traditional eastern European dress, ready to add style and spice to every dish!
---
7

Vintage Jolly Joeys Salt and Pepper Shakers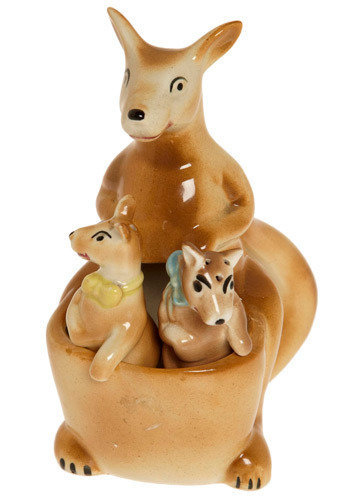 Price: $24.99 at modcloth.com
These jumpy joeys date back to the 1960's, and are so adorable! I love the yellow and blue bows (so you know which is salt and which is pepper) and of course their mommy kangaroo, in whose cozy pouch they reside when they're not providing seasoning support.
See? Salt and pepper shakers don't have to be boring back and white anymore… they can be fun, stylish, adorable, chic… just like you! I adore the little mushrooms and the pepper mill is really cute, too… which of these salt and pepper shakers do you like best, and why? Please let me know!
---
Comments
Popular
Related
Recent