While I do love the look and feel of yellow and white gold, there's something about silver that's a little more casual, a little more appropriate for summer. And this summer, my very favorite jeweler has an entire line of silver jewelry to accent every outfit, from the LBD you plan to wear to your sister's wedding to the cropped jeans and maxi dresses you'll wear every day. Here are 7 pieces of summer silver jewelry.
---
1

Tiffany Anchor Charm and Chain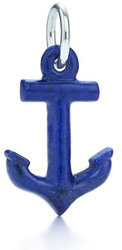 Price: $450.00 at tiffany.com
Add this dainty maritime memento to all of your nautical-inspired outfits this summer for a little extra sparkle and shine! The pendant is brilliant blue lapis lazuli, and it hangs from a delicate sterling silver chain in a range of sizes.
---
2

Tiffany Butterfly Earrings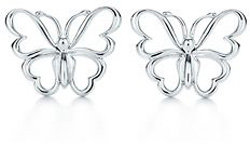 Price: $175.00 at tiffany.com
Though there is a lovely pendant to match, feel free to wear these sweet little butterfly earring as a pair, alone, without additional adornment. They're mini-sized, perfect for big girls and little girls alike. Their pretty shape and intricate detailing make them an ideal addition to your collection of summer silver jewelry!
---
3

Tiffany Silver Studio Floral Swirl Bangle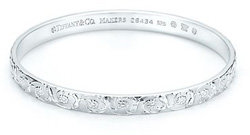 Price: $475.00 at tiffany.com
How gorgeous! This beautiful bangle bracelet was embellished using a vintage Tiffany roller die, used in the past for hollowware and tableware. It's been updated in sterling silver and would look lovely alone, or stacked with other bangles and your best LBD.
---
4

Tiffany Clover Charm and Chain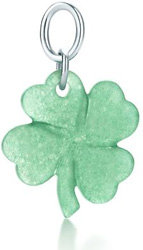 Price: $350.00 at tiffany.com
Make your own luck this summer with this bright green clover charm, made of gorgeous aventurine.
It's understated, but not too quiet, ideal for wearing layered with other silver necklaces or wearing on its own with a vintage floral-print maxi.
---
5

Tiffany Twist Link Bracelet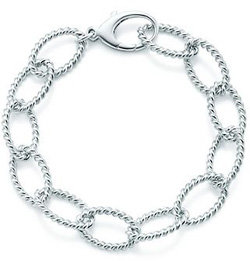 Price: $400.00 at tiffany.com
If you add only one piece of new summer silver jewelry to your collection, it ought to be this bracelet. It's made of bright sterling silver, featuring wide links with a very twisted appeal. The bracelet measures 8 inches long, ideal for all wrist sizes. How is it possible for this bracelet to be delicate and chunky at the same time?
---
6

Tiffany Notes Band Ring

Price: $100.00 at tiffany.com
I actually own this ring, and I adore it. It's so dainty and delicate and sweet, engraved with writing inspired by actual hand-writing. It comes in whole sizes and half from 4 to 10 so everyone can get a perfect fit.
---
7

Tiffany Paloma's Zellige Ring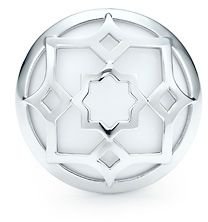 Price: $625.00 at tiffany.com
It's a cocktail ring, it's a statement ring, it's a casual ring — however and wherever you decide to wear it, this sterling silver ring will be a hot hit this summer! It's inspired by Moroccan tiles, and measures 26 millimeters across, eye-catching to say the least. The white stone is semi-precious, luminous chalcedony. Gorgeous!
T he Tiffany website and shops have so many more gorgeous piece of summer silver jewelry, but these are my faves, the ones at the top of my wish list. I especially love that wide-link bracelet, it's so pretty! Which of these necklaces and rings and bracelets do you like best?
More
---
Popular
Recent