I love necklaces. I do not like things hanging from my wrist, though. It goes without saying that I seldom wear bracelets and bangles. And I always seem to forget to wear a watch when I go out. To avoid showing up late for future appointments, I am considering getting one of these lovely watch necklaces.
---
1

Not on My Watch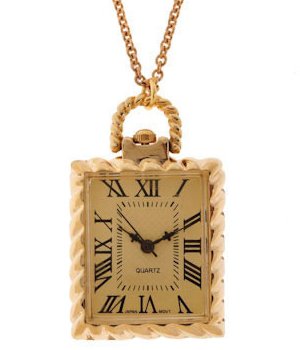 Price: $24.99 at modcloth
A classic timepiece design hanging from your neck? I bet you can't say no to this. It's quite affordable and the overall vintage look is beautiful. This is one lovely watch necklace that will complete your LBD look.
---
2

Old and New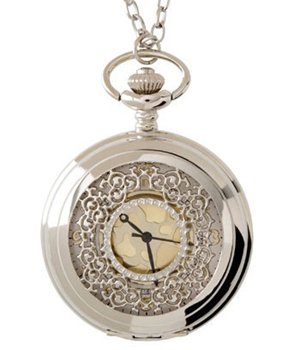 Price: $27.99 at modcloth
I am a sucker for jewelry with filigree details and this lovely watch necklace makes me smile. And scream WANT! I love that this looks like the pocket watches that your old grandpop used to carry around but it has a modern chic feel.
3

Turn Back Time
Price: $19.99 at modcloth
This is one of the lovely watch necklaces included in this list that will be perfect for someone with wanderlust. Isn't the vintage brass beautiful? The watch pendant measures 2 inches in diameter while the chain is 32 inches long.
---
4

What Time is It Deer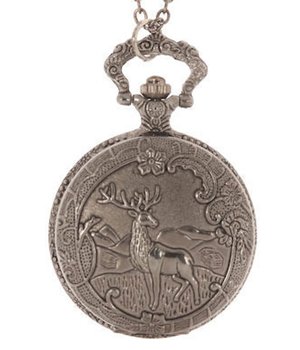 Price: $24.99 at modcloth
The name of this watch necklace makes me giggle. But isn't the design gorgeous, though? The etched round frame around the deer screams magical to me. Methinks that this is a watch necklace for grand adventures in the woods with fairies and other enchanting creatures.
---
5

Alexander Graham Belle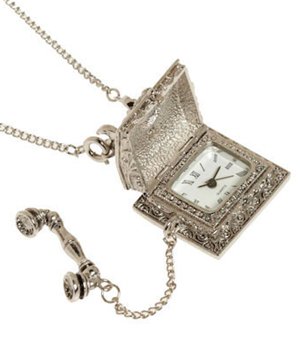 Price: $27.99 at modcloth
This one is quite beautiful, too. When you wear this watch necklace, the handset dangles from the telephone's main body. The Victorian design of this watch necklace is simply divine and a perfect timepiece for a date night.
---
6

Antoine Watcheau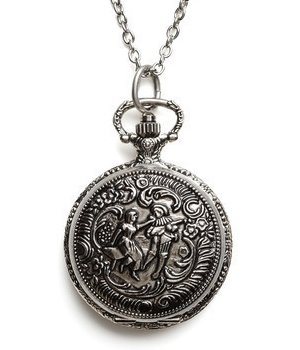 Price: $24.99 at modcloth
This Rococo-inspired piece is truly magnificent. The design is that of a gentleman kissing the hand of a seated lady. How romantic! I love me some gold and bronze jewelry but I have nothing but lust for this silver watch necklace.
---
7

Spring
Price: $9.80 at forever21
Why settle for one watch pendant when you can have other trinkets hanging with your timepiece? Whether you are happy to welcome warmer days or you think it's time to put a spring back to your steps, this pretty watch necklace is for you.
---
8

Prismatic Dragonfly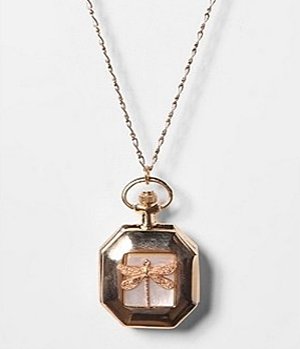 Price: $29.00 at urban outfitters
If you don't want a watch necklace with the typical ornate or Rococo-inspired design, this prismatic dragonfly one is a great option. There is something about it that screams timeless (no pun intended) to me. And the dragonfly reminds me of that time-traveling movie that you probably know about (and love).
---
9

Watch Globe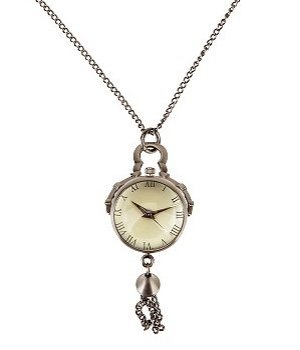 Price: $34.00 at urban outfitters
What I love about this watch necklace are the Roman numerals used on the dial. They surely add to the classic look of this lovely watch necklace. This has a chain that measures 34 inches long; the pendant will rest a few inches above your navel. Which means that you can layer necklaces if you feel like it.
---
10

Owl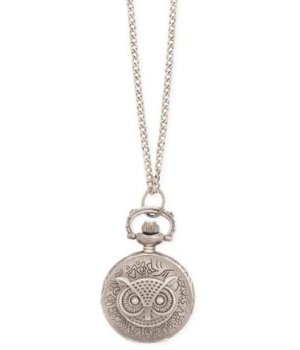 Price: $29.00 at amazon
I have a friend who will go gaga over this own watch necklace. If, like my friend, you are a fan of all things with owl design, this watch necklace is for you. This comes in antiqued silver and will surely go well with any outfit.
I think I will go with the Old and New piece from Modcloth. It's just so pretty! If you have found something you like from this list of lovely watch necklaces, let us know.
---
Popular
Related
Recent