A perfectly-placed armchair in a room can be an invitation to come sit by the fire, cuddle in a corner with a good book, or sit and chat for an hour… but where to look for an armchair that can do all of this, and still add color and texture to a neutral décor? My dear, I can help! Here are 7 amazing armchairs, in a range of colors and styles and price ranges.
---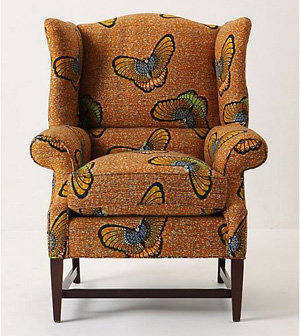 Price: $1,698.00 at anthropologie.com
Beautiful butterflies float across a rust-colored traditional Queen Anne chair, with a dark wood finish and kiln-dried hardwood frame and ultra-plush cushions and arms. The wings of the chair are small and elegantly curved, and the cushions are filled with soft poly Dacron fill. How lovely!
2

Finn Rocker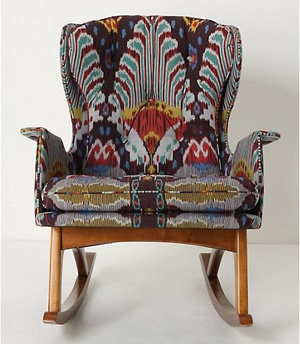 Price: $1,698.00 at anthropologie.com
I'm currently in love with the ikat décor motif, with its intricate pattern and vivid colors, and this rocking chair is an example of how elegantly it can be employed. The rocker itself is very comfortable, wide enough for mama and baby, or just mama and a good novel and cup of tea.
---
3

Lunet Chair, Amethyst Leather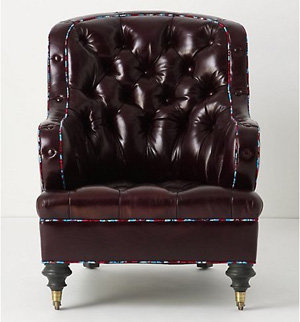 Price: $2,498.00 at anthropologie.com
A classic English leather armchair, with a thoroughly modern touch — the piping is a brilliant print, sealed with wax. The hue of the leather is a plumy amethyst, too, adding tradition to a den or sitting room. And look at the finish on the legs… I love the brass-colored "feet."
---
4

Blythe Chair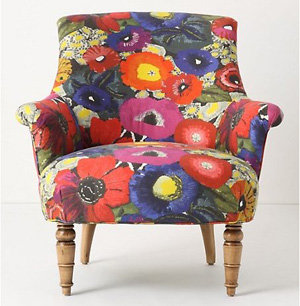 Price: $1,598.00 at anthropologie.com
How pretty! The glorious bright poppy-print f this chair comes from a book of vintage wallpapers founded in France. The colors are lush and vivid, ideal in a room with very little color. I love the square-ish shape, and the pretty lathe-turned legs.
---
5

Conservatory Chair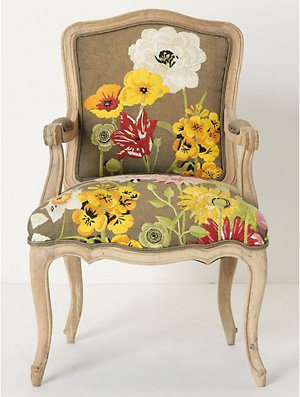 Price: $798.00 at anthropologie.com
With a frame of kiln-dried mango wood, lushly carves into gorgeous curves, this armchair is colorful and exciting, yet still elegant and somehow understated. The back and bottom cushions are embroidered with a posy of pretty flowers in yellow, white, and red, adding a pop of color and texture to an otherwise neutral room.
---
6

Axel Three-Seater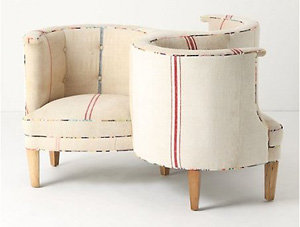 Price: $2,698.00 at anthropologie.com
What a marvelously whimsical chair, providing seating for three without the linear structure of a traditional sofa. It's curvaceous and comfortable, made of recycled jute sacks from across Europe and handcrafted in the United States. It's neutral, with occasion red stripes, and would look fantastic in a reading room.
---
7

Garvey Chair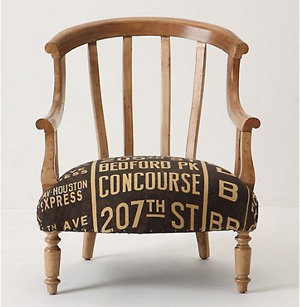 Price: $998.00 at anthropologie.com
With the names of New York City subways tops emblazoned on cotton upholstery, and with a stately antique Walker finish in mellow maple wood, this chair is ideal for a quiet reading corner in a sitting room. It's low-slung, comfortable, and wide, with spring seat construction and a polyfill bottom cushion.
With so many beautiful armchairs, in so many styles and prints, the only question is, which will work best in your space? I adore the last one, with the subway stops printed on the cushion, but which do you like best, and why? Please share!
---
Comments
Popular
Related
Recent