I have a thing for bedding sets, and it's taken me ages to figure out exactly why. Specifically, it's because the simple change of bedding can update the look and feel of a bedroom, which is certainly easier and far less expensive than an entire re-decorating scheme. Along with the quilts, comforters and duvets, I love adding a matching, or contrasting, set of sheets, fueling my addiction. I quite accidentally ran into a treasure trove of gorgeous sheet sets at one of my favorite online shops, and here are the ones that currently top my must-have list.
---
1

Sing-Song Sheet Set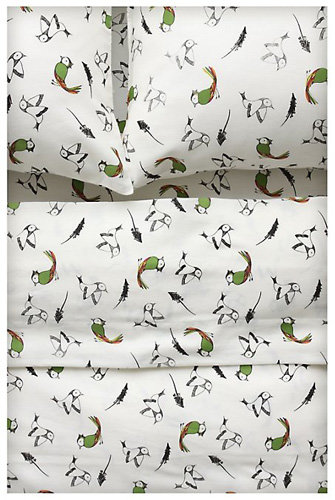 Price: $58-$218 at anthropologie.com
Rise and shine, gorgeous! These sweet little songbirds announce the sunrise and sing you lullabies, and would look darling paired with a floral-print quilt. The sheets are 300-thread count cotton sateen, soft and comfortable, ideal for summer. The set includes a flat sheet, fitted sheet, and two standard pillow cases, and is available in twin, queen, and king sizes.
2

Falling Leaves Sheet Set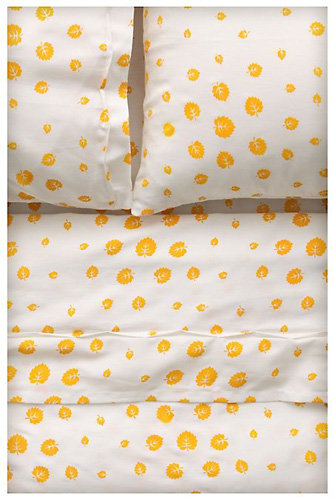 Price: $88-$268 at anthropologie.com
Celebrate the majesty of fall any time of year with this lush organic sheet set, featuring gorgeous aspen leaves in either gold or turquoise. These linens are incredibly soft, made of organic cotton, grown from natural seeds (not genetically engineered) in pesticide-free soil, printed with low-impact natural dyes. This set also includes a flat sheet, fitted sheet, and two standard pillow cases, and is available in twin, full/queen, and king sizes.
---
3

Ruffled Sheet Set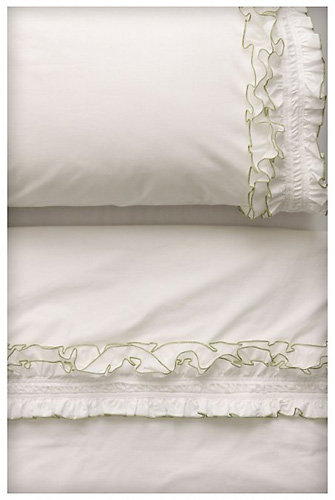 Price: $48-$168 at anthropologie.com
Add a touch of frilly, refined elegance to your bed with these 300-thread count cotton percale sheets, trimmed with rows of lush ruffles. They're available in four edging colors (grey, green, navy, or tonal white) and would look gorgeous with any of your floral-print quilts or duvets. They're available in a range of sizes to fit every bed in your house, too!
---
4

Love Letters Sheet Set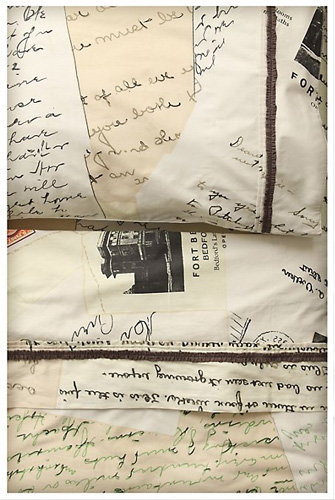 Price: $68-$248 at anthropologie.com
The vintage-inspired print on these crisp 350-thread count cotton sheets is taken from old love letters collected and sold in a tiny shop in Brooklyn. Pair the set, available in three standard sizes, with a ruffle-edged comforter and a cozy knit throw.
---
5

Sunbird Sheet Set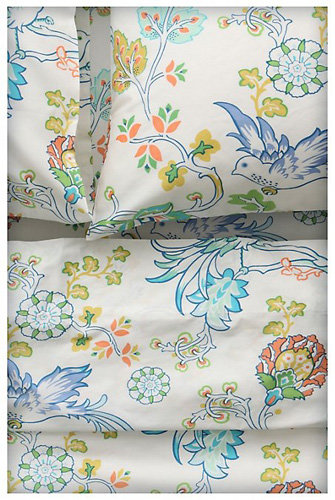 Price: $48-$168 at anthropologie.com
Every time I look at the colorful print on these 350-thread count cotton sheet, I see something new — the swooping bluebird, the beautiful green flowers, the leaf-covered twigs. They're ideal for adding a pop of color in a neutral-tone bedroom, and come in twin, queen, and king sizes.
6

Paisley Foliage Sheet Set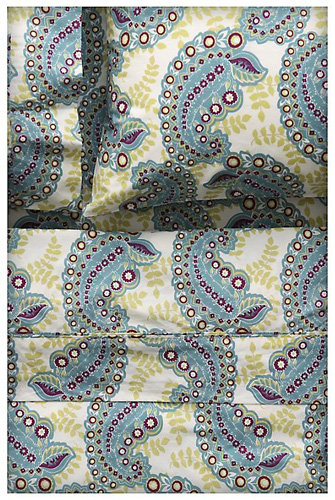 Price: $148-$168 at anthropologie.com
How vibrant and pretty, but without being too feminine! These paisley-printed sheets would be great in a master bedroom, where a man and woman must co-exist, without the spare utilitarian décor he desires, or the frilly feminine stuff she wants — but something, like this, in between. I offer a compromise, with blue paisleys and not a flower to be seen.
---
7

Cirrus Sheet Set
Price: $48-$168 at anthropologie.com
Done in all the colors of the fluffy clouds we see streaked in our wide heavens, these sheets run the gamut from soft grey rain clouds to pale blue wisps and bright white cirrus clouds. Along the edges, they're slightly puffed and ruffled, like the clouds themselves, only these are made of 300-thread count cotton, not the wispy stuff of whipped water vapor.
Perhaps now you understand my slight obsession with bedding, including sheet sets. And though my shopping cart and wish list at Anthropologie runneth over, there's got to be room for at least one of these sets, most likely the songbird ones. Which of these sheet sets do you like best, and what would you match them with?
---
Comments
Popular
Related
Recent