I am so excited for spring – still! As I write this, again, there have been two sunny, mostly warm days in a row. Know what that means? Spring clothing! All I currently have are sweaters and heavy long sleeved tops, which means that if the temperatures ever really get up to the 50s, I'm going to burn up – and isn't it sad that 50 degrees is comparably hot? Anyway, my idea of spring tops is kind of funky: I want something that's going to keep me cool, but also won't make me freeze to death if I get caught without a jacket when the temperatures drop. With that being said, check out these beautiful blouses for spring!
---
1

Trouve Oversize Crop Tee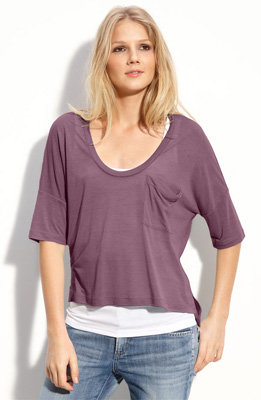 Price: $30.00 at shop.nordstrom.com
I like this because it's simple and elegant, but still looks good on its own. However, you could also wear a thin, cute little cardigan over it, and be all set for nearly any kind of spring weather. It's relaxed and looks extraordinarily comfortable, and I find that really appealing.
---
2

Splendid Cowl-Neck Top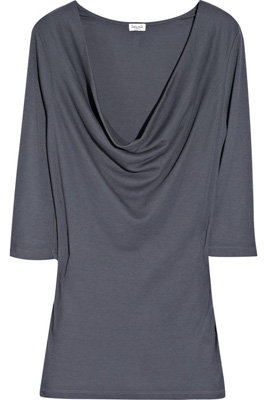 Price: $50.00 at net-a-porter.com
This is simple too, but it's a little dressier thanks to the cowl neck. I love the way it scoops, and I love the color. I typically wear black and white in the winter, no lie, and this shade of charcoal makes an excellent transition into colors. Plus, because it's still neutral, you could wear this blouse just about anywhere.
3

Lslv Slub Knit Cardigan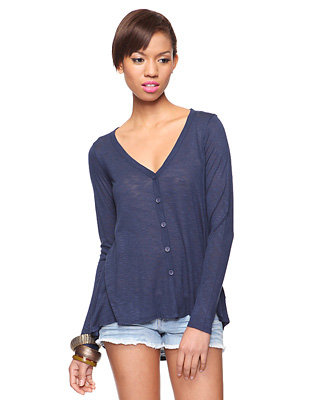 Price: $14.80 at forever21.com
I've seen a lot of beautiful blouses for spring that are actually cardigans, and this is one of them. I think this is perfect for spring because although it's long sleeved, you can see that it's still lightweight. It, too, is the perfect transition piece from winter to spring – but I bet it would also work in summer and fall, as well. You've got to love versatility!
---
4

Cloudy Sky Top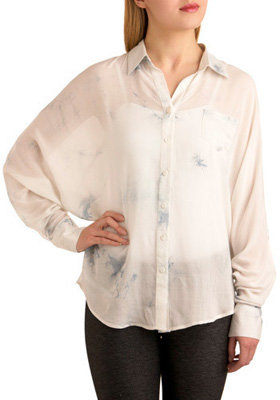 Price: $59.99 at modcloth.com
I love this top for several reasons, the first being that it looks so gauzy. You'll have to wear a camisole or a tank top underneath it, but still, I love lightweight, transparent shirts like this. I also love the light imprinting of clouds all over the top. This is one of the most beautiful blouses for spring I've seen because the very design actually speaks of spring.
---
5

Vanilla Sugar Kristiana Tee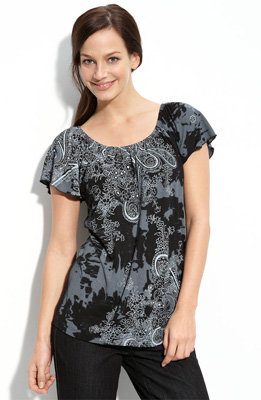 Price: $40.00 at shop.nordstrom.com
The screenprint on this blouse is just to die for, it is so pretty. It's a little tie-dyed, which is also cool – you don't see a lot of that, and it's especially striking, even sophisticated, when its done in black and white. While short sleeved, again, if things get chilly, you can just throw on a cardigan and be on your way.
---
6

J. Crew Bib-Front Cotton Top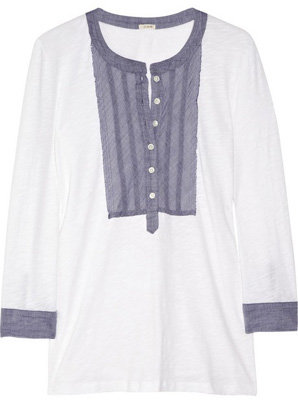 Price: $50.00 at net-a-porter.com
The reason I love this blouse is because of the bib, which is done in blue. It looks sort of like a tuxedo shirt, and I love tuxedo shirts. It looks like it falls right in the middle of being loose and fitted, too, and that kind of versatility is awesome. I also love the contrast on the sleeves, which gives the shirt a really unique appeal.
---
7

Lace Back Raglan Top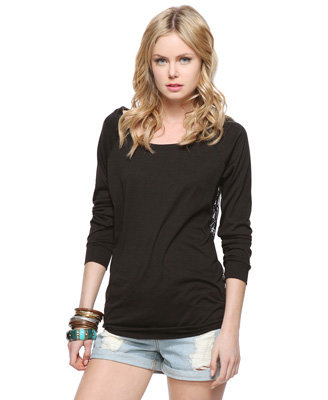 Price: $15.80 at forever21.com
At first glance, this blouse looks simple to the point of being boring. The reason I chose it, however, is because it has a peekaboo back, filled with lace. I love that! A lot of beautiful blouses for spring incorporate lace, because that is one of the prevailing trends for the new season. This shirt, as a result, is kind of like a mullet blouse, because it's casual in the front, and dressy in the back!
---
8

How I Caught You Top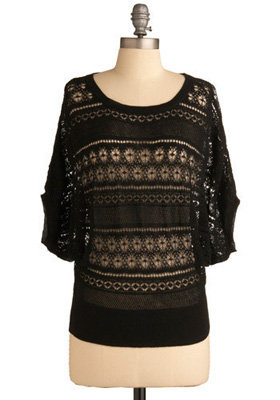 Price: $42.99 at modcloth.com
This sweater is so gorgeous. I love knitted tops – and coincidentally, knit is also a big trend this spring. Again, you'll have to pair this with something, a tank, a spaghetti strap tee, a camisole – but it will still look gorgeous. You could even layer it over a little dress and rock it out.
---
9

Cap Sleeve Shirt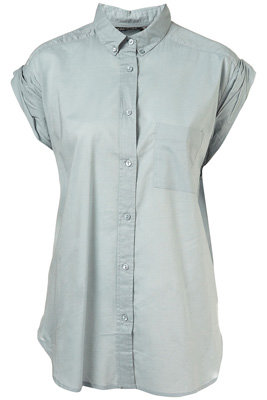 Price: $50.00 at us.topshop.com
This shirt just looks really hardcore. The sleeves have lovely ruching that makes them look all rolled up and street, which was what really caught my eye. This is just the kind of thing I want to be wearing when the weather's finally warm enough to bare some skin to the sun.
I've found lots of beautiful blouses for spring all over the place, but these are a few of my favorites. I just cannot wait until I no longer have to bundle up when I go outside. What about spring are you looking forward to the most?
Top image source: data.whicdn.com
---
Popular
Related
Recent