Shift dresses have been popular since the late 1950s and early 1960s. While most people will easily associate them with 60s fashion, I believe that they are a timeless design. What makes shift dresses so popular is the idea that they suit all body shapes and sizes. Below are just a few modern stylish shift dresses for you to take inspiration from.
1

Topshop Peter Pan Shift Dress by Rare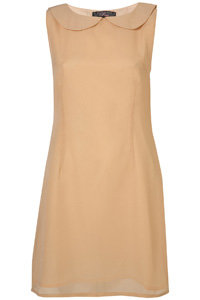 Price: $90.00 at us.topshop.com
This beige shift dress would make an excellent addition to any wardrobe. It's the ideal wardrobe staple. It features a peter pan collar and button detailing at the back. It can be dressed up or down, worn alone or layered, and is suitable for day or night. Stay on-trend this season by pairing it with rich red accessories.
2

See by Chloé Printed Shift Dress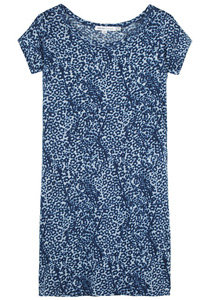 Price: $230.00 at lagarconne.com
While the design of this dress seems simple, the loud print indicates otherwise. The blue flower print is mottled and abstract. This dress features a scoop neck and short sleeves. It would look great paired with patent white sandals and a floppy straw hat.
3

Milly Metallic Lace Shift Dress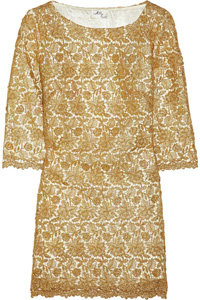 Price: $400.00 at net-a-porter.com
This metallic shift dress is a contemporary take on a classic design. The metallic lace is youthful and stylish. The white lining is visible underneath the gold lace overlay, creating a two-tone effect. The scoop neck and three quarter sleeves add a demure, ladylike touch.
4

Topshop off White Cape Back Shift Dress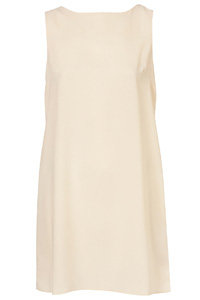 Price: $100.00 at us.topshop.com
While the front of this dress is seemingly unassuming, the back tells a whole different story! The cape detail on the back of this dress is quite glamorous. Wear this alone, or with a cropped jacket with the tail of the cape peeking out. Top it off with some shiny patent accessories.
5

Topshop Cream Fluorescent Floral Border Shift Dress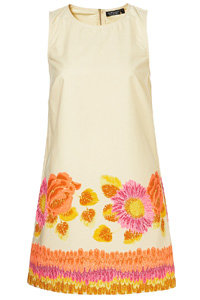 Price: $75.00 at us.topshop.com
This shift dress has a definite 60s, psychedelic influence. The fluorescent floral border is sure to get you noticed everywhere you go. Pair it with some opaque tights and keep accessories to a minimum. If you're inclined, some pink resin earrings will top off the 60s aesthetic!
6

Marni Chain Print Dress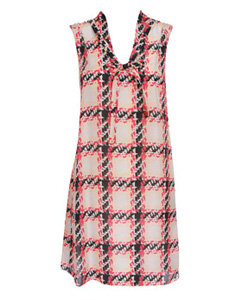 Price: $503.00 at brownsfashion.com
This multi-coloured chain print dress is very schoolgirl chic. It's made from 100% silk and has a sleeveless shift design. It also features a v-neck with bow detail and side pockets. The dress is a loose fit and sits just above the knee. Keep it simple with streamlined accessories or toughen it up with a leather jacket and biker boots.
7

J.Crew Perforated Leather Shift Dress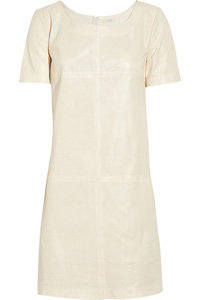 Price: $750.00 at net-a-porter.com
This leather dress is a very modern, minimalist take on the shift dress. It features a round neck, short sleeves, and exposed zip at the back. The perforated finish is an interesting design detail. Pair this dress with tan accessories for a casual day look, or with black patent accessories for a stylish night time look.
The shift dress is no doubt here to stay. Are you a fan of the shift dress? Which of these stylish shift dresses do you like best?