If your summer social calendar looks anything like mine, each weekend is packed with two or three events you just can't miss — grad parties, baby showers, BBQs, and more! But what's a girl to wear? I can help! Here are nearly a dozen summer party dresses, all of them appropriate for warm-weather fun and not one of them an easy-way-out LBD!
---
1

Rushes and Flags Dress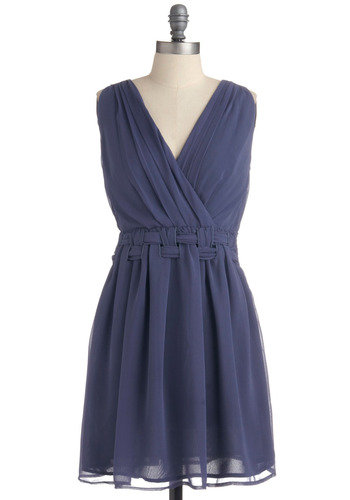 Price: $64.99 at modcloth.com
I love the color of this dress! It's a lush blue, the color of irises, so it flatters every skin tone. The fabric is gorgeous, too, floaty and light, perfect for catching every summer breeze. Pair with silver shoes and a matching clutch for a night-time look that's simple and elegant.
---
2

So Nice in White Dress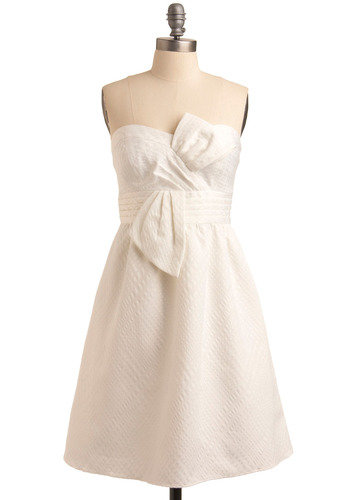 Price: $147.99 at modcloth.com
Wouldn't this sweet strapless dress by Max and Cleo be an ideal wedding dress? Only, of course, if you're planning a casual garden-party affair. All that's missing is a strand of pearls and your sweetest shoes… it would also be smashing for a regular non-matrimonial garden party, too!
3

Teal It to My Heart Dress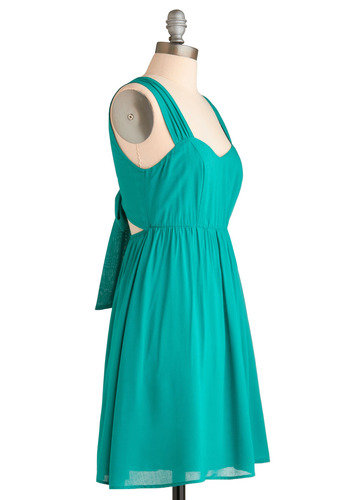 Price: $44.99 at modcloth.com
Looking for something light in fabric content but heavy in details? Then this is the summer party dress for you! The brilliant teal color sets off all skin tones, and the sweetheart neckline and back cut-out are eye-catching and clever. All that's missing are white or bright yellow accessories.
---
4

Flair-y Godmother Dress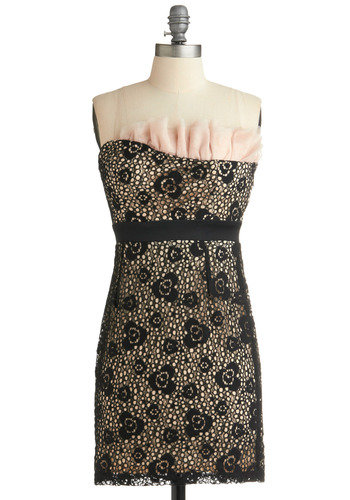 Price: $57.99 at modcloth.com
You're going to a graduation party thrown in honor of an old frenemy. Part of you wants to bow out and not attend, but the other half wants to show up, looking hotter than the guest of honor. Listen to the hot half, and wear this dress! Add a sparkly jewel headband and matching wristlet clutch and go show her up!
---
5

Afternoon Bubble Tea Dress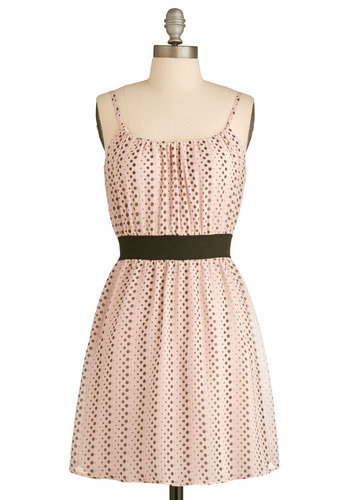 Price: $42.99 at modcloth.com
This is sort of a summer version of an LBD… I mean, it does have some black in it! But the black is the print along a pale-pink background, a dotty pattern with a wide black band at the waist. Pair with black ballet flats and a glossy black bangle.
---
6

Stat-ue Look Lovely Dress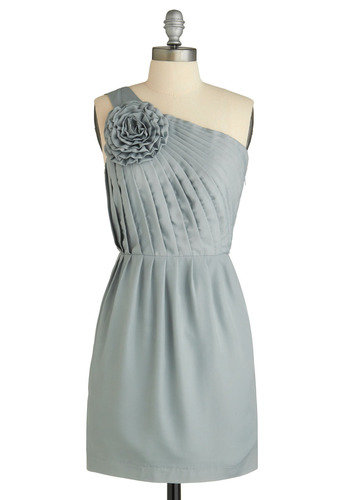 Price: $77.99 at modcloth.com
Gallery openings, art-house films, a day at the orchestra hall… any of these are appropriate venues for wearing this darling summer party dress. It's a subtle silver color, with a flower-shaped detail at the shoulder and a line of pleats down the bodice. Add black accessories and a matching clutch. So elegant!
---
7

Lemon Sour Dress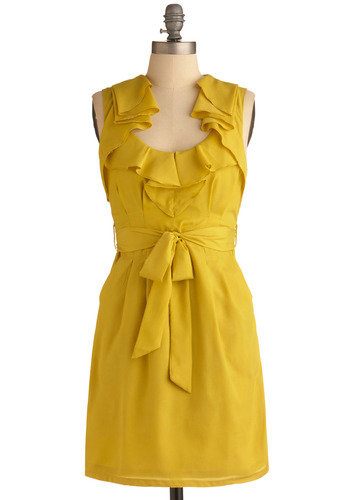 Price: $54.99 at modcloth.com
What better way to celebrate summer than by adorning yourself in its keystone sunshine color? This brilliant yellow dress is full of details to get you noticed as you mark the equinox… note the frilly neckline, the flattering pencil shape, and of course, self-tie waist… and wait! Are those pockets on the sides?
---
8

Pop Prima Donna Dress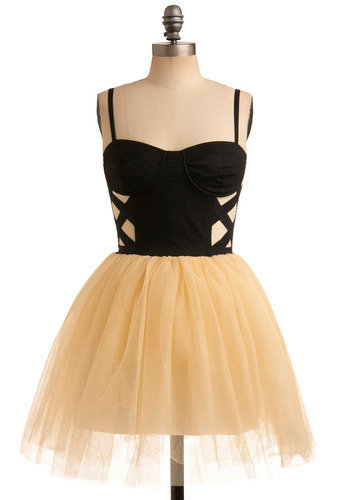 Price: $119.99 at modcloth.com
If you're planning a casual night-time party, this might be the summer party dress to wear… especially if it's an 80s theme! Doesn't think look like something a young Madonna would wear, or Jody Watley? I love the frilly tutu skirt and the black cut-out bodice… so retro hot!
With so many sweet summer party dresses to choose from, it's a shame there aren't more garden parties, graduations, and weddings on your social calendar! Which of these frilly frocks do you like best, and where will you wear it? Do tell!
---
Comments
Popular
Related
Recent