Everyone loves a floral print, but it can be so hard to wear! I mean, those pink flowery leggings might look divine on the catwalk, but will they suit me? And while it's easy to pick up a gorgeous floral bag, I always manage to leave something important in my old bag. I've decided to take the bull by the horns and invest in some gorgeous floral dresses to keep me on trend and cool through the season and here are my top then cute floral dresses for spring...
---
1

MinkPink Floral Bandeau Dress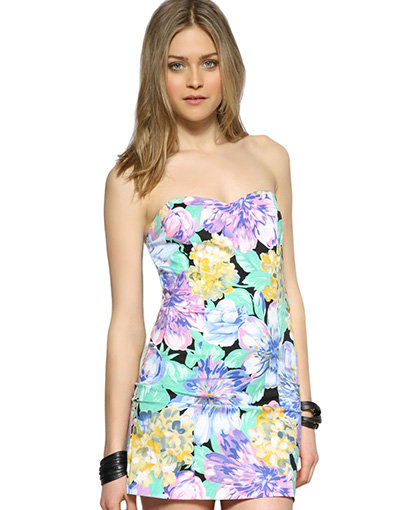 Price: $94 at asos.com
This bandeau dress is a perfect casual day dress, whether you are shopping or meeting friends. The pastel colours keep it very trendy and easy to co-ordinate with girly accessories! The big print and sweetheart neckline are divine, too, and teamed with a cute pastel clutch and matching shoes you'll be ready for daytime chic!
---
2

Warehouse Moody Floral Silk Tunic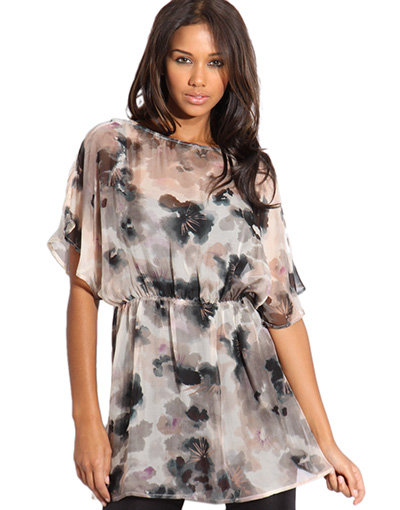 Price: $68 at asos.com
I love this tunic! Whether it's for day or a night out, the print looks gorgeous, and the monochrome colour keeps it looking formal. It's the gathered waistband and floaty sleeves which make the look, though, and teamed with black trousers and fabulous heelsyou'll be dressed to kill!
---
3

Mango Floral Jersey Dress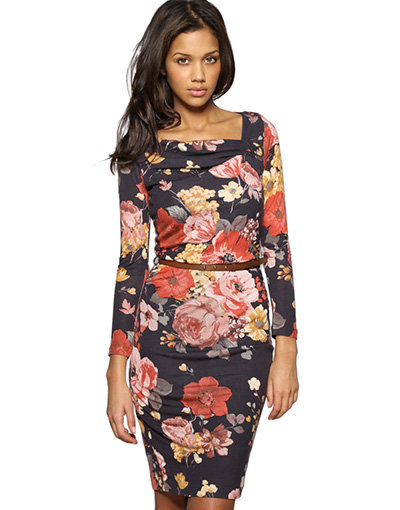 Price: $85 at asos.com
This casual dress is smart enough for work but cute enough for brunch and is so flattering! The print is carefully positioned to give the illusion of a smaller waist, and the belt is perfectly placed to highlight your hourglass shape. The square neckline is so trendy, and all this dress needs are some fabulous flats or heels to finish it off. It's gorgeous and effortlessly stylish!
---
4

Mango Maxi Dress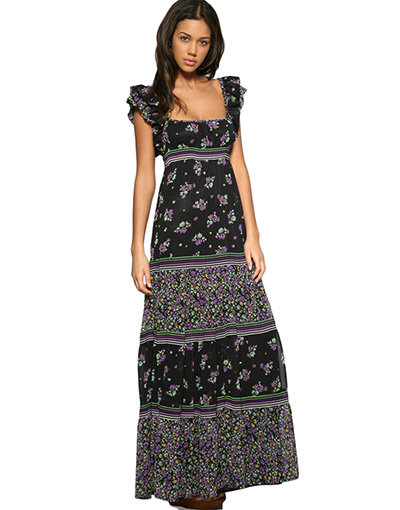 Price: $105 at asos.com
This gorgeous Mango dress is perfect for mastering the maxi trend and the floral trend in one! Make sure you add black heels to elongate your legs, and a cute necklace to draw attention to your collarbone. These would even go great with flip flops if you have long legs to carry it off. The square neckline and floaty sleeves take their inspiration from the huge boho/gypsy trend, and the black and white pattern and high waist give the perfect slim illusion.
---
5

MinkPink Jersey Cut out Dress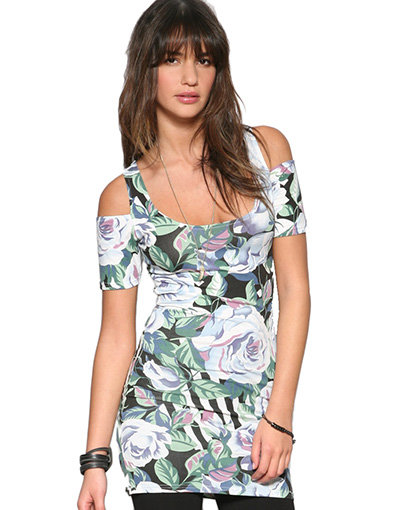 Price: $76 at asos.com
This is the perfect day to night dress. Team with fun leggings and flats for casual day time look, and then lose the leggings and grab some heels to glam it up for night time chic. The scoop neck line is very flattering, but be warned, it's very short! Make sure you've shaved your legs, and added some leg lengthening highlighter. Having toned legs wouldn't hurt either.
---
6

Diesel Tropics Floral Silk Maxi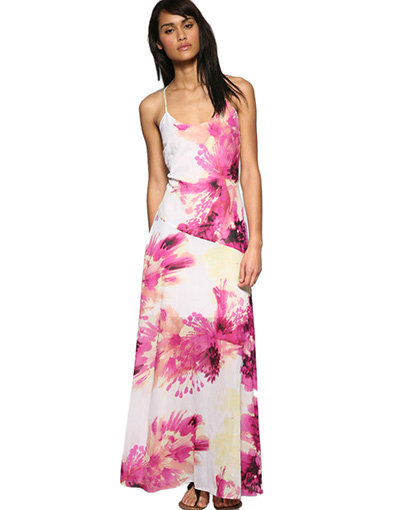 Price: $250 at asos.com
If you want a more understated floral print, this maxi dress from Diesel is perfect! The waist is slightly gathered giving a slim and tall impression, and I love the back! The loose scoop neck is very flattering, and the fabulous dress is suitable for any occasion... it's the perfect mix of casual and glam. I love it and I think it would look divine on the beach!
7

French Connection Safari Print Dress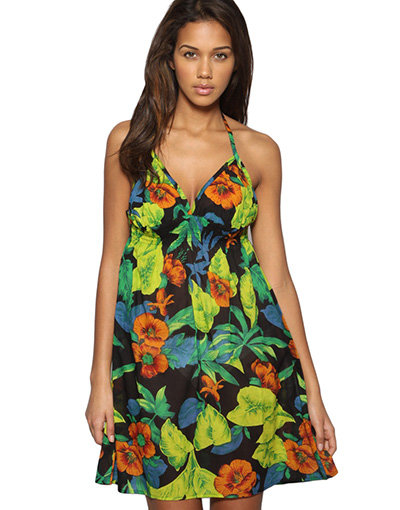 Price: $59 at asos.com
I love this dress! It's a great mix of safari colours and floral prints and the deep greens are very on trend! It's very easy to accessorize, and you can easily incorporate the neon trend by finding some matching orange shoes. The whole dress is well made and fitted, and will make you feel a million bucks!
---
8

Iska Jersery Insert Dress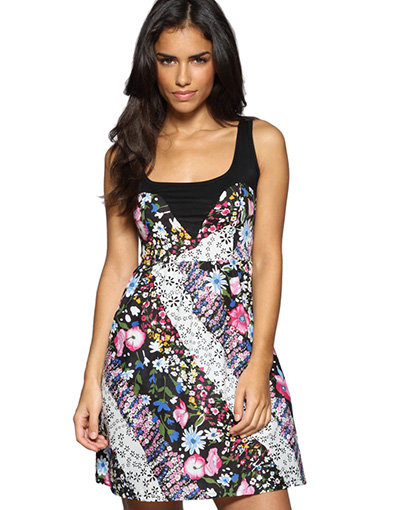 Price: $60 at asos.com
This is the first floral thing I bought! The dress itself has a gorgeous retro looking floral print and a very cute sweetheart neckline. It screams drama, but is made into an everyday dress with the black insert! With black wedges and wavy hair and natural make up, it looks amazing. I can't wait to wear it!
---
9

ASOS Floral Bandeau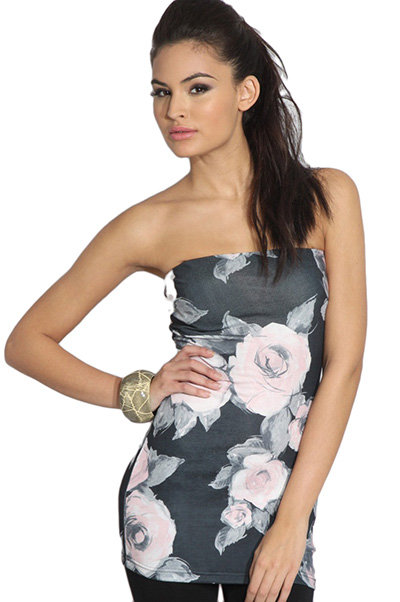 Price: $30 at asos.com
My best friend bought this as soon as she saw it, and despite looking like a top online, hers was long enough to be worn as a cute mini dress! She is always getting compliments when she wears it. Team with black heels and accessories and work the monochrome effect or team with boots and leggings for a casual daytime look. How great is this dress for a date?
---
10

Iska Zip Front Gingham Floral Dress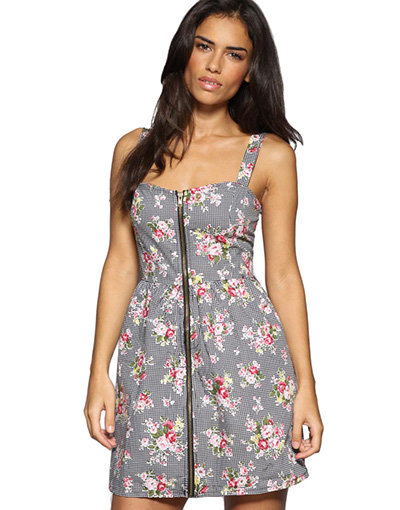 Price: $60 at asos.com
If you love the girly retro trend, this dress will be perfect for you! The zip and gingham give it an 80's feel, but it's cleverly fitted to give you an enviable shape! Team with sky high heels and rainbow eyesfor a very sexy night look, or flats and natural make up for daytime chic.
I'm loving the floral trend, so my wardrobe will be full of these gorgeous dresses! They are so easy to accessorize, and to mix in with other trends, and adding heels makes most of them effortlessly convert from day to night wear. What more could you want? Have you got a favourite floral dress? Please share it with me!
---
Comments
Popular
Related
Recent