Before my daughter was born, I didn't own a pair of pants. No matter the season, I wore dresses and skirts only. Now, I live in Michigan, and I only wear dresses in the spring and summer… and now it's spring, so it's time for new dresses! My favorite place to buy them is Anthropologie, and I love their new spring line… here are my favorite new dresses!
---
1

We Love Vera Stamp Art Dress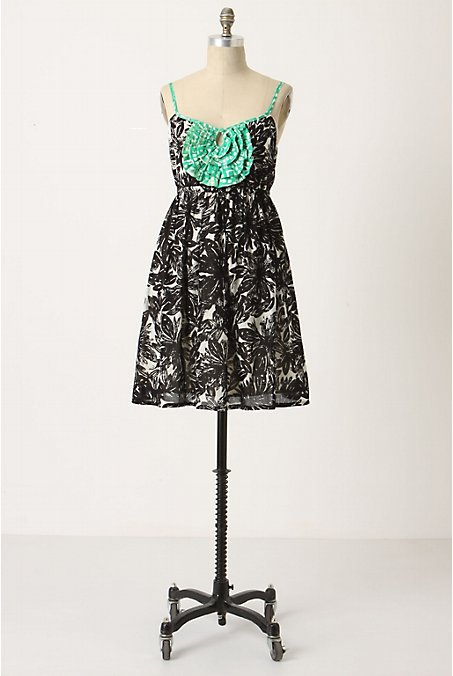 Price: $148.00 at anthropologie.com
What's not to love about this pretty black-and-white floral print sundress? It's so pretty and the floral print is easy to wear, with its pull-over styling, side pockets, and bright teal bib and straps. It's easy care, too, being machine washable, and would look smashing with black gladiators or kitten heels and some pretty chunky black bracelets or cute green accessories.
2

Eva Franco Oroya Dress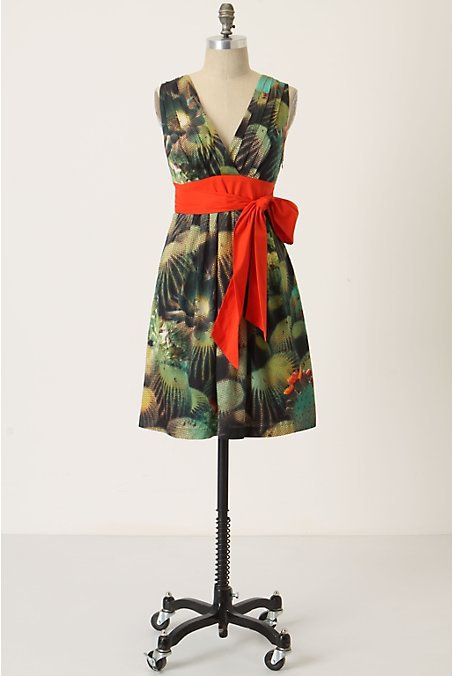 Price: $188.00 at anthropologie.com
This is such a unique take on the floral print trend! I love the bright coral sash, and the gorgeous, lush cacti print, all in green and yellows. I'd wear this with natural turquoise and coral beads and some retro sunglasses…
---
3

Fleur Wood Blazing Rays Dress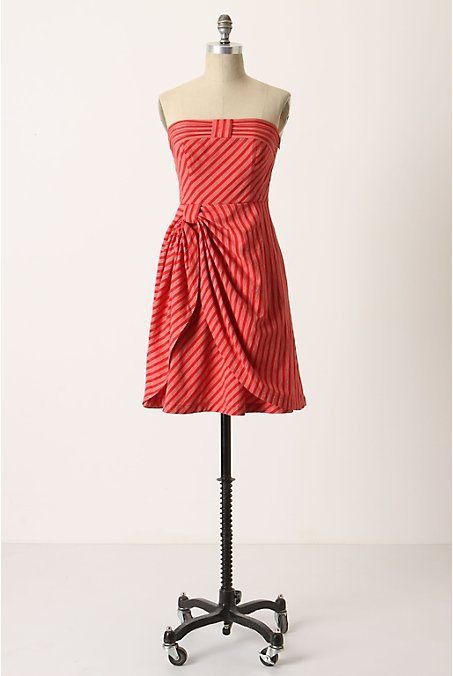 Price: $158.00 at anthropologie.com
So hot, so pretty, so perfect for sultry summer nights! I love the tonal stripes in the steamy hot hues and the pretty gathered effect at the side. It's made of cool, comfy cotton with a cotton liner and side zip. Wear with gold jewelry and gladiator sandals, and long, loose wavy tresses.
---
4

Sine Sand-Skimmer Dress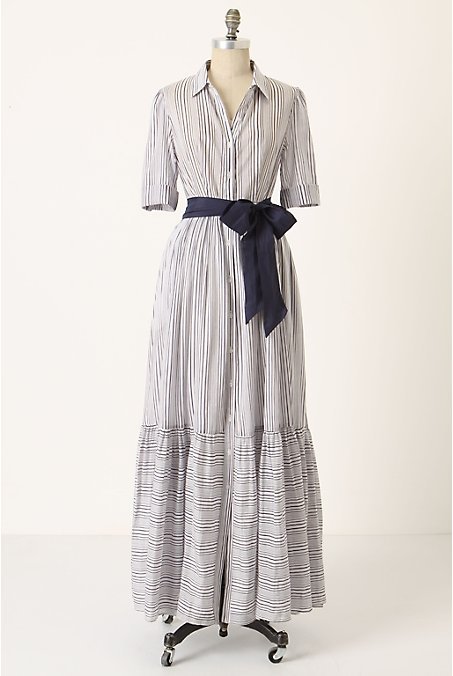 Price: $178.00 at anthropologie.com
Are you planning a vacation in Maine or on Nantucket? Then this is the dress for you, especially if those vacation plans include walks on the sand dunes looking for shells, sea glass, and driftwood. This dress is super-flattering, with skinny navy stripes on a silk-cotton blend. The wide blue sash nips your waist, and the length is demure. Dress up with espadrille wedges and pretty jewelry, or dress down with bare feet and a sunhat.
---
5

Marimekko Rustling Treetops Dress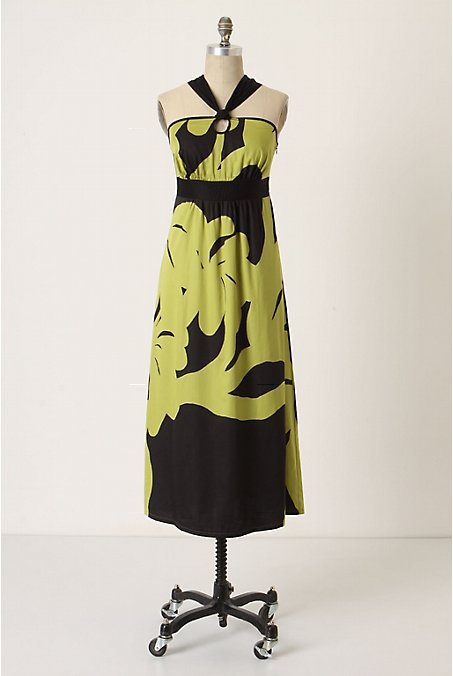 Price: $188.00 at anthropologie.com
Maxi dresses are hot again this season, and once you see this dress, you won't wonder why! This pretty print maxi is versatile (you can wear it as a halter or go strapless) and the length ensures you can wear it just about anywhere. Pair with offset-color shoes and jewelry, or with tame, shiny black.
---
6

Maeve Things and Joys Dress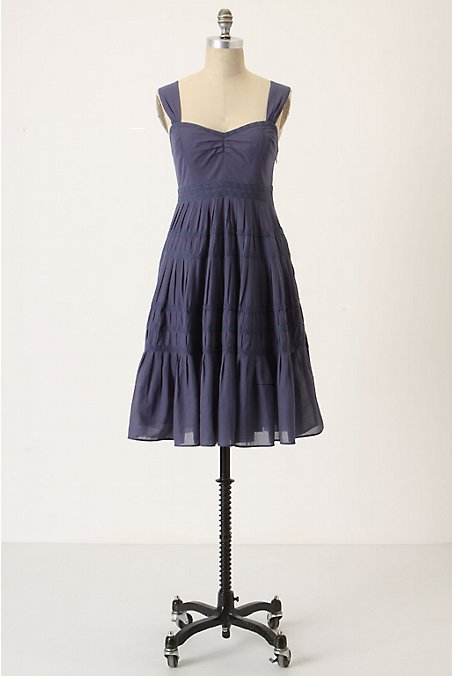 Price: $128.00 at anthropologie.com
Oh so pretty and feminine, and you can wear it so many ways! Perfect for summer-time dates or day trips… or wear the Cream version to a beach wedding! The details are so gorgeous — notice the rows of ribbon, the sweet little pin-tucks, and the delicate lace bits. I'd wear this with a slouchy sunhat and wedge sandals…
---
7

Maeve Beda Dress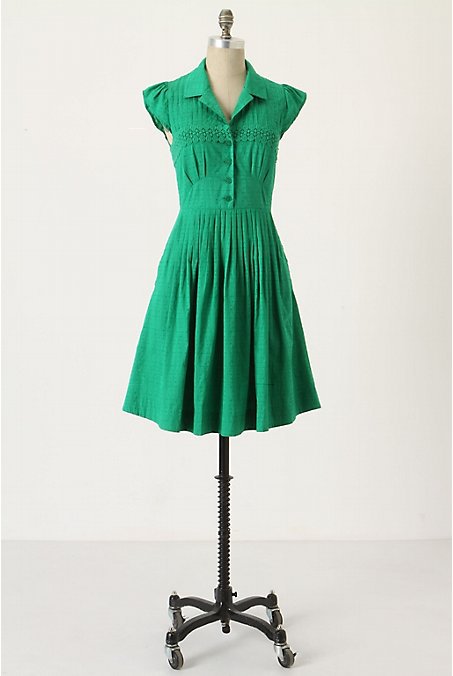 Price: $118.00 at anthropologie.com
Are you looking for a work-day dress that won't bore you to tears? Then give this pretty green frock a go! It's fitted to be flattering, and it comes in pretty green or creamy ivory. It's made of soft cotton with another light layer of cotton for the lining, and features small side pockets (for storing your sunglasses or coin purse and lip gloss).
---
8

Maeve Impressionist's Dream Dress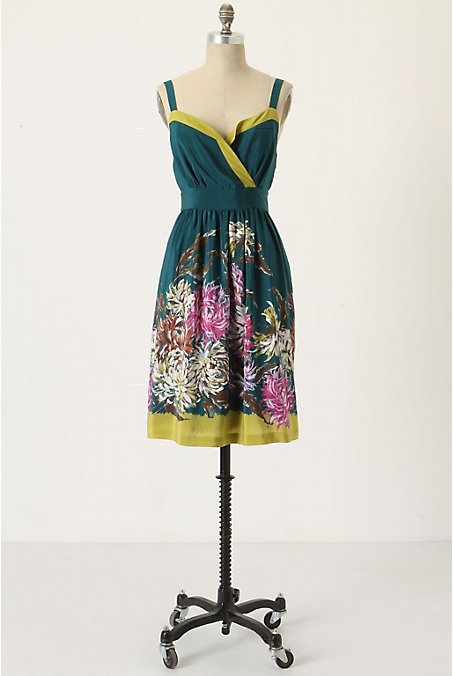 Price: $178.00 at anthropologie.com
Another gorgeous dress by Maeve! This one's ideal for moonlit walks (just add an antique lace shawl) or for daytime shopping trips. The deep teal color is lovely, especially with the contrasting lime trim at the hem and bodice, and the flowers on the skirt are so pretty! Which of your fun wedges and pretty jewelry wouldn't look smashing with this dress?
I want all of these dresses, how am I ever going to choose just one? Maybe the Beda… or… the Rustling Treetops? Why does Anthropologie have to make suchgorgeous dresses? Which of these do you like best, and how would you wear it? Or is there another Anthropologie dress you love? Please let me know!
---
Comments
Popular
Related
Recent