Floral patterns seem to be everywhere at the moment, and it's no wonder why! I'm hooked on the different varieties of colours and flowers, and nothing makes me feel more summery then gorgeous spring flowers after a really bleak, cold winter! I've been searching through for my favourite floral products, and here they are!
---
1

Dahlia's Bohemian Style Gold and Floral Cuff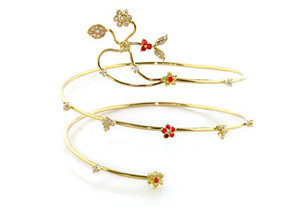 Price: $34 at fantasyjewelrybox.com
This is so delicate and gorgeous! The multi layers is perfect for the current big bangle trend, and the delicate flowers and colourful gems are the perfect finishing touches. It's a brilliant feminine touch to any outfit, and I love it!
---
2

Oscan De La Renta Pink Spirit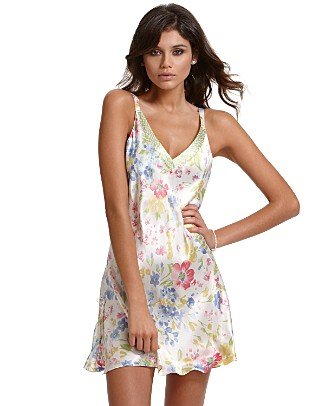 Price: $62 at bloomingdales.com
This flower chemise is simply stunning! The trapeze shape is so flattering, and I love the contrasting neckline. The white colour and pastel shade flowers are what really make it stand out, though. Whether you wear it as a cute mini or a long top, it really is the hottest chemise at the moment, definitely high spring fashion!
---
3

Victorian Inspired Platinum and Diamond Look Lever Back Earrings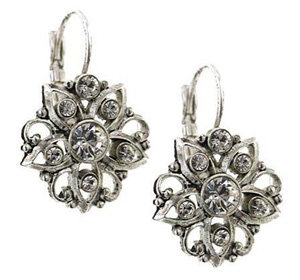 Price: £28 at 1928.com
These are stunning vintage earrings! The black and white look is really on trend, and means they go effortlessly with any outfit. The gems make them really stand out, as they glitter beautifully in the light, and they are perfect for adding some floral style to any outfit really easily. They are definitely in my shopping basket!
---
4

French Connection Floral Waist Belt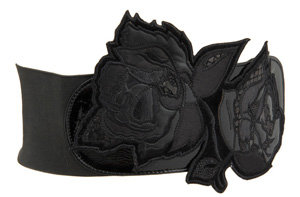 Price: $59.83 at asos.com
I love this belt! The black colour means it goes with any outfit, and the big bold flowers are actually really detailed... I've already bought one to team with my vintage white dress! It's an instant talking point on any outfit, and an effortless way to add some spring flowers to any outfit!
---
5

Liberty of London Navy Floral Scarf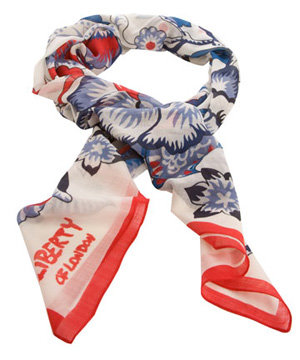 Price: $400 at liberty.co.uk
This Liberty scarf combines the huge nautical trend with some gorgeous flowers, and the unique exclusiveness that we've come to expect from Liberty! You can wear it as a belt, a scarf, in your hair, tied round your bag, or even as a top. It's a perfect city glam way to wear floral, even at work!
---
6

Marni Embellished Ribbon Necklace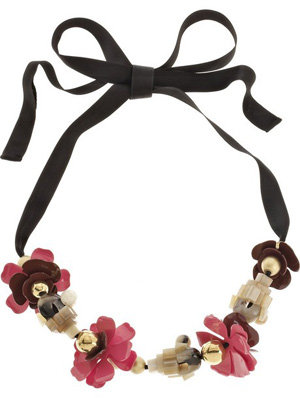 Price: $745 at net-a-porter.com
Marni have really stolen the trend with this gorgeous necklace. It combines the frailness of flowers with their beauty by teaming bright, gorgeous and intricately detailed flowers on a delicate ribbon necklace, and it'd be the perfect finishing touch to any outfit... team it with a little black dress and let it do all the talking!
---
7

Lanvin Straw Trilby

Price: $324 at matchesfashion.com
This hat will last you all the way through summer, and is the perfect way to keep the sun off your face! The straw is the perfect vintage look for Summer, and the dusky pink and white layered flowers add the defining finishing touch. I love the huge white ribbon, too! Team it with summer dresses or jeans — it'll look divine! If you don't manage to the get the ribbon and flower adorned limited edition, it'll be easy enough to add your own anyway, and nothing will make you feel more inspired then having fresh flowers in your hair!
---
8

Vanessa Crystal Embellished Hairband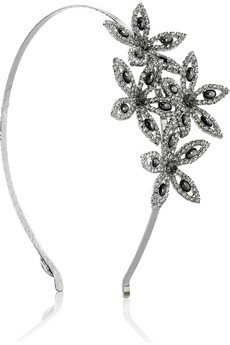 Price: $280 at net-a-porter.com
If you are looking for a more glamorous take on floral, here's the thing for you! This hairband screams glamour, and its muted silver colour and sparkly black flowers are the perfect finishing touch to any outfit. It's utterly enchanting, and perfect for date nights or prom dresses...
---
9

Asos Small Flower Studs

Price: $8.55 at asos.com
Bigger isn't always best, and these cute studs are the perfect way to inject some simple, subtle floral into your day! The creamy colour gives them a vintage look, while the stones keep them looking classy and chic. Teamed with a bow neck shirt for work, these look utterly divine!
---
10

Aurelie Bidermann Mother of Pearl Charm Bracelet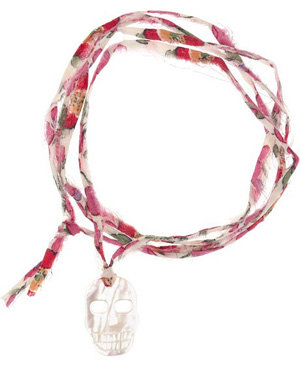 Price: $85 at net-a-porter.com
I love this boho take on floral! The ripped floral fabric features some beautifully bright colours, and the skull charm gives it attitude! It's also perfect for throwing on as a last minute accessory, if your outfit isn't very floral.
---
11

Kenneth Jay Lane Enamel and Metal Flower Bracelet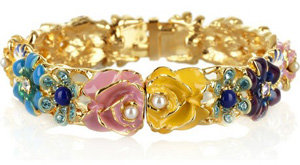 Price: $175 at net-a-porter.com
This enamel bracelet is stunning. The gold tones compliment the pastel flowers perfectly, and I love the diamantes and gems... this would look divine teamed with an outfit featuring the different colours, or a cute sun dress. I love it!
---
12

Isharya Resin Flower Ring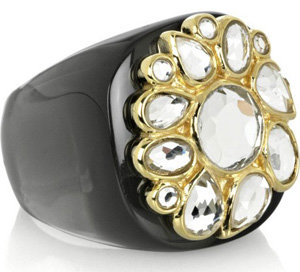 Price: $105 at net-a-porter.com
I'm always after new rings, and this beautiful one is the next one for my collection! It fits the chunky train perfectly, and the clear black base will go with any outfit. It's the golden rimmed gems that I love the most, though... they catch the light so perfectly! This is perfect for a glam outfit, or even just dressing up a works outfit. I'd never take it off!
I love all the floral inspiration around at the moment! It's sure to be big throughout the year, so start stocking up on some of your favourite pieces soon, and creating your perfect floral themed outfit. I can't wait to own all of these! Have you got a favourite floral inspired item? Please share it with me, I'd love to see!
More
---
Comments
Popular
Recent