Summer is here! We're focusing on those summer vacation, sandals, bathing suits, but don't forget about the necklaces. If you are the type who has to have a necklace with every outfit, then you are going to enjoy this blog posting. I am going t give you 8 must have necklaces of the summer…
8

One of a Kind Watch & Crystal Bib Necklace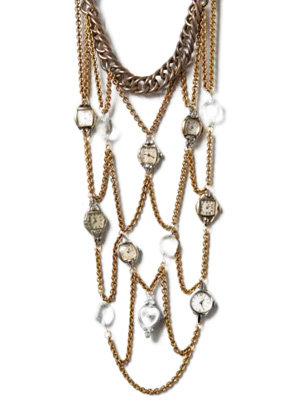 Price: $299.95 at freepeople.com
What do you think of this necklace? Vintage crystals and vintage watch faces float between a pyramid of chains. All have a clip closure. This necklace is made in the USA. I think it would look sophisticated on anyone.
7

K through O Necklace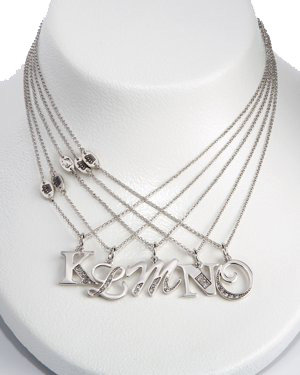 Price: $48.00 at juicycouture.com
This is Rhodium plate. It has a lobster clasp and is a link chain with crown inset. It can adjust from sixteen inches to eighteen inches in length. What do you think about this necklace?
6

Multi-chain Crystal Necklace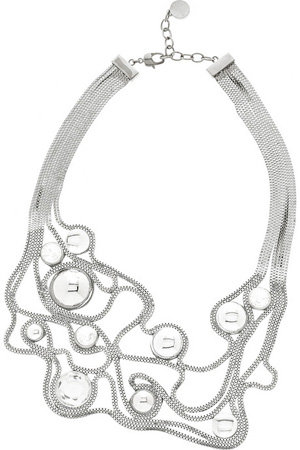 Price: $695.50 at net-a-porter.com
This is a necklace that comes from Versace. It is an enticing silver-tone brass multi chain necklace with a crystal and stud embellishment. I must say that it is a gorgeous piece. It really sets off that contemporary style. It will add a perfect finish to that evening look.
5

Heart Key Charm Necklace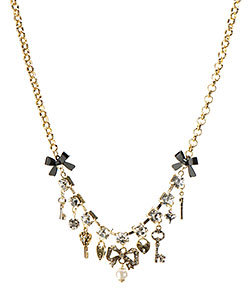 Price: $45.50 betseyjohnson.com
What do you think about those necklaces that have cute little charms on them? I actually like those type of necklaces and that is why I added this one at number 5. It has many cute keys hanging from it with a bow with a pearl hanging from it in the middle of the necklace.
4

Mystery Heart Necklace – Spicy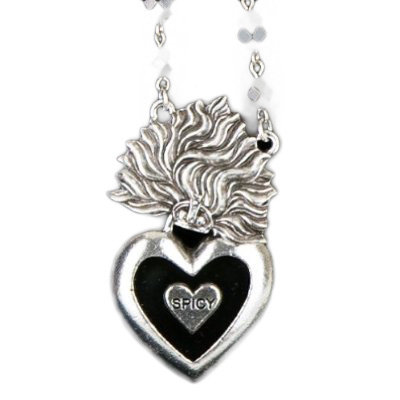 Price:$48.00 at amazon.com
Do you like heart necklaces? Then you will like this big heart. It has a tiny heart in the middle of it with the word "spicy" engraved in the little heart. It has been plated in sterling silver. It's handmade in the USA.
3

Multi-chain Bib Necklace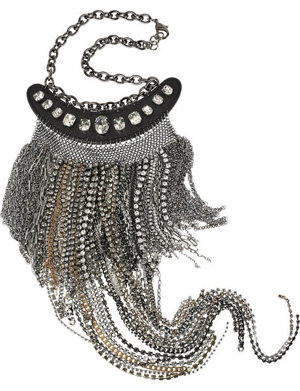 Price: $1,746.50 at net-a-porter.com
I really like this necklace. It has gunmetal and gold chains along with Swarovski studded fringing. It's a lovely metal bib necklace that is full of definition. If you want to take that basic look and transform it into something extraordinary, then this necklace is all you need.
2

Silver Braided Rock Necklace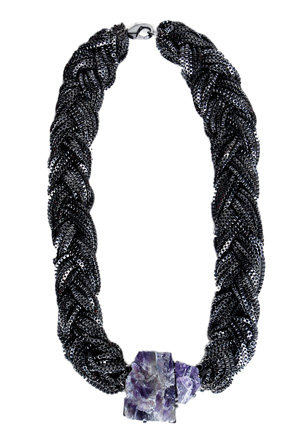 Price: $220.00 at edressme.com
This is a silver braided rock necklace that is by Nicole Miller . It is a hot sell today. It has a thick braided chain with two big rock pendants at the bottom. It comes to you in either white or purple stones. What do you think of it? I think it would make a great summer necklace.
1

Oscar De La Renta Gold & Shell Necklace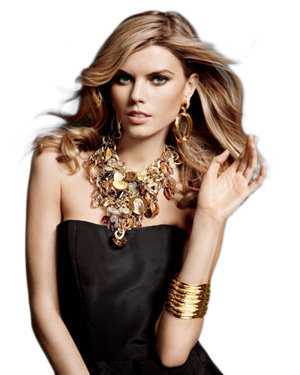 Price: $990.00 at neimanmarcus.com
This is 22 karat gold plated metal. The braided detail chain really adds something to it. It has natural shells and purple agate stones, which make it stand out from the crowd. Where would you wear this necklace?
Out of all the necklaces on this list, my favorite would definitely be number three. I think I should get it. It really is worth every penny. Which one's do you like the most on my list?