Ah, summer is in the air. It's time for the relaxing breeze, the lovely smell of the ocean in the air and the lovely summer styles is in town. I looked at some pretty summer shirts and girl, there are some beautiful ones! Below, I am going to give you 8 must have shirts for the summer that I came across…
8

Max Azria Silk Ruffle Top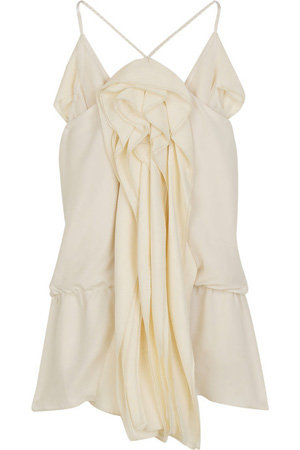 Price: $330 at net-a-porter.com
For those of you that do not mind wearing white shirts, you are going to love wearing this one. You can wear it for evening or outing wear. It's a silk top and you know how comfortable those can be. So, what do you think about it? I like the ruffles!
7

RM by Roland Mouret Attis Carré Top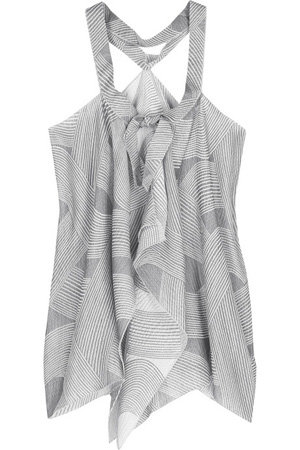 Price: $630 at net-a-porter.com
This is a halter top with drape detail that many love. It is both chic and versatile. You can wear is as a top or switch it to a skirt. For real? It has a halter top band that can go around the waist to change the look. Now, that really is a shirt that can be used for different things!
6

Rick Owens Asymmetric Drape Top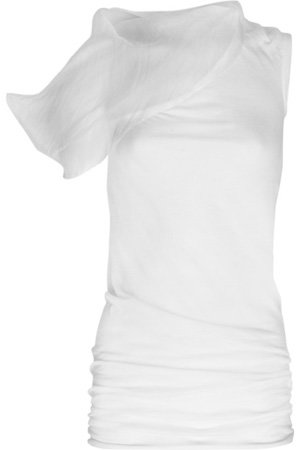 Price: $355 at net-a-porter.com
I really like this shirt. It is sheer white cotton and will be comfortable throughout the summer. To balance the detail, slip it on with some slimline pants. You could combine it with a white maxi skirt to get that wedding look.
5

Tibi Rosette V-neck Silk Top

Price: $290 at net-a-porter.com
With this top, you are definitely going to be getting in touch with your feminine side! I think this is a beautiful pink V-neck top. Wear it with spike heels and you will look sweet.
4

RM by Roland Mouret Attis Carré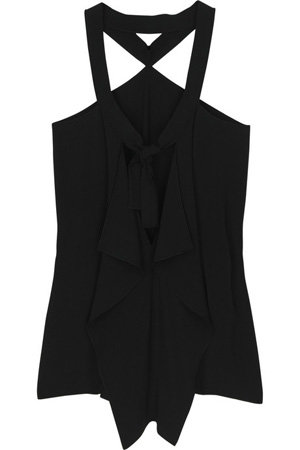 Price: $600 at net-a-porter.com
I know, you're not really supposed to wear black during the summer if you want to stay cooler, but what about the night time when the sun is not shining? I think this would be a perfect shirt to wear during an evening out! Did I mention that this could also be turned into a skirt? Oh, how I love these type of clothes!
3

Willow Strapless Shell Silk Top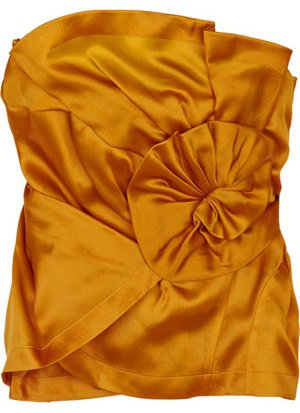 Price: $620 at net-a-porter.com
I really think this is beautiful. What do you think? I dig these strapless shirts during the summer time. They are so cool to wear. This will be sure to add some pop color to your all black color!
2

DKNY Sequined Georgette Bustier

Price:$275 at net-a-porter.com
Without the sequins, it would have just been an all black shirt and I probably would not have chosen to put it on number two. The sequins really do make it stand out. I also like how it does not have any sleeves. It is perfect for evening wear.
1

Valentino Asymmetric Ruffled Top

Price: $1,890 at net-a-porter.com
When I first saw this shirt, I knew I was going to put it at number one! I love it! Of course, I love anything Valentino, so that probably explains it. I like the oversized bow that is on the back. The frothy layers are to die for!

Wow, this blog didn't take long at all! I have so many stuff on my list that I want to buy, so I already had everything that I wanted to tell you about. I have been looking at the shirt on number one for a long time. What about you? Even if you can't afford it, which one do you like the most?