A dress just has to be the easiest garment for summer. Fling one on and that's all there is to it. No need to match colors or styles, just simple one-step dressing. You can stay cool and look cool. I've picked out some lovely summer dresses for you to look at.
---
1

ASOS Frill Front Sundress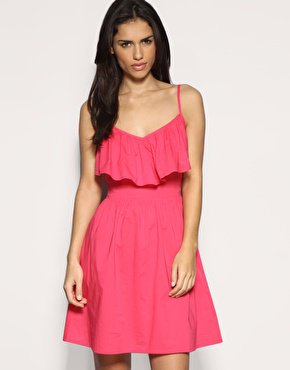 Price: £18.00 at asos
This is the perfect dress if, like me, you were a bit shortchanged in the boobs department. The large frill disguises a less than generous chest, making it look as though you have a bit more underneath. Another good point is that the dress comes in a wide range of sizes.
---
2

Vero Moda Boob Tube Dress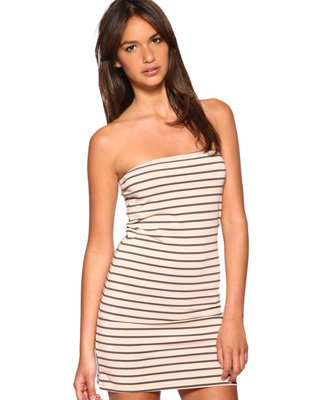 Price: $15.22 at asos.com
They say that vertical stripes add width, so if that's true this could be a good choice for someone who's very slim. The simple style of the dress makes it perfect for slipping on over a bikini, and it would take up very little space in a suitcase. It could also be dressed up with a wide black belt for evenings.
---
3

Emma Watson for People Tree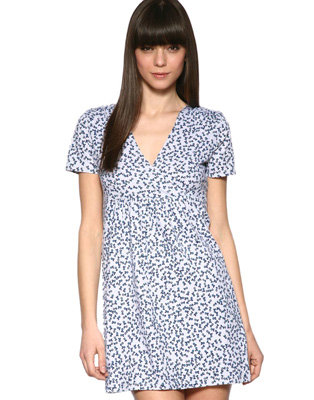 Price: $47.35 at asos.com
Actress Emma Watson, of Harry Potter fame, has been working with ethical retailer People Tree on a range of dresses. So if you're into ethical products, have a look at this range. This particular dress has an all over flower print that's subtle but striking, and I like the v-neck.
---
4

Hell Bunny Prom Dress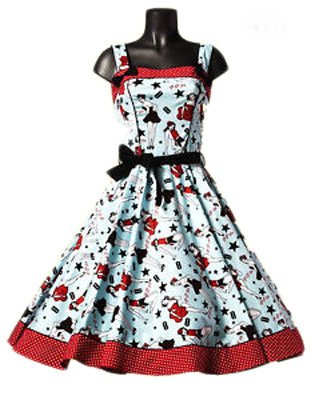 Price: $41.77 at cgi.ebay.com
If you're into alternative styles, then here is the summer dress for you. It has a bold print of 50's style pinup models, and a belt feature with a bow. For that real 50's look, simply add a petticoat underneath.
---
5

Bohemian Dress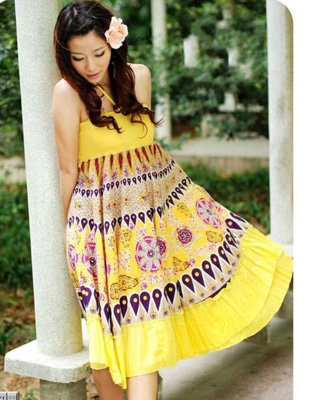 Price: $19.99 at cgi.ebay.com
If you can wear yellow (I can't), then this would look stunning. With a ruched bodice and a full skirt, it would disguise any areas you're not confident about on your lower body. The print on the skirt is really striking, and I like the different style of the strap.
---
6

2b Sleeveless Cotton Dress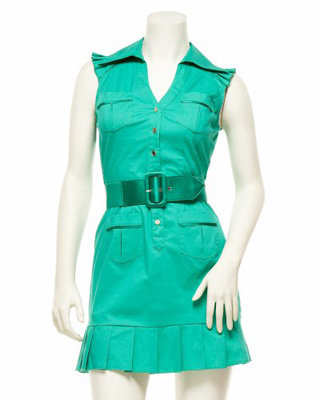 Price: $39.95 at amazon.com
This dress comes in four colors - I love the emerald green shade known as 'Jelly Bean'. The dress has some great details, such as the pleats at the bottom and the matching belt. Of course, cotton is the perfect fabric for summer, so you'll stay cool and look good.
---
7

Hurley Wounded Soldier Dress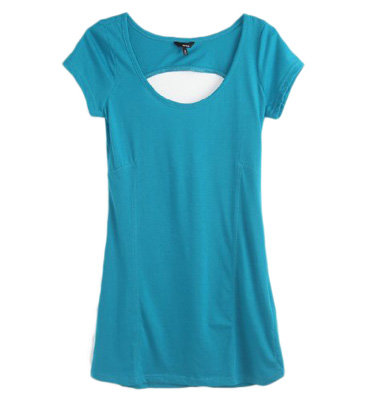 Price: $39.50 at amazon.com
A simple t-shirt dress is always an easy option, and this one has a nice detail that makes it a little different. The back features a cut-out piece (watch out for bra straps showing, and don't forget to apply sunscreen on the exposed skin!).
---
8

Print Stretch Maxi Dress

Price: $44.99 at amazon.com
I'm not a fan of maxi dresses, since most of them are longer than I'm tall, but if you're tall enough to wear them, then this is a great dress for you. It has a gorgeous peacock print, and would look stunning on someone with a full enough figure to do it justice.
Are you a fan of dresses, or do you never wear them? Have any of these tempted you? What is your favorite brand? What do you think of celebrity designers?
More
Comments
Popular
Recent