It's true what they say. The accessories you choose can make or break an outfit. One of my favorite accessories is the humble belt and with the wide variety of choices out there, I thought it would be nice to write more about different belts that can spice up an outfit. All of the belts mentioned below can be used to jazz up any outfit. Enjoy!
---
1

The Sash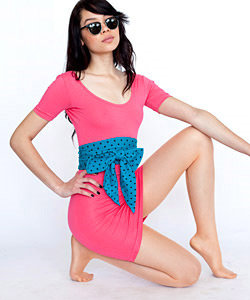 Price: $16.00 at store.americanapparel.net
This sash is great for many reasons: it's simple and yet it can instantly jazz up any outfit. Secondly, it can be used as many different things, such as a scarf, hair bow, maybe even a bag bow! Different ways it can be used are shown on the website above. There are also plenty of color options. I've got to get myself at least one of this, if not one in every colour!
---
2

Wide Elastic Clasp Belt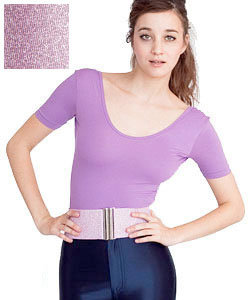 Price: $16.00 at store.americanapparel.net
If a dress is too baggy or too long, you can easily clip on this wide elastic clasp belt and make it smaller. It's also great to accentuate your waist and make you look slimmer. It comes in many different colours and it will work for all shapes and sizes considering it is elastic. It is all in all a great belt to own!
---
3

Lauren Smooth Leather Belt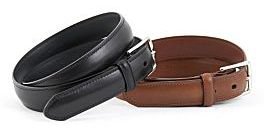 Price: $55.00 at dillards.com
This belt is a classic and will give each outfit you pair it with, a classy, sophisticated effect. It's made from genuine Italian leather. It can be worn around the hips or the waist and comes in two basic colours that will go with practically anything!
---
4

Mixed Chain Belt
Price: $170.00 at barneys.com
With such amazing detail, this belt will jazz up even the simplest of outfits while making your waist look deliciously tiny at the same time. Not to mention, I have never seen anything like it and I can't imagine replicas of it. This belt is perfect if you're going for a rock chic look. Just pair it with a leather jacket, skinny jeans and heels and voila, the perfect rock chic outfit!
---
5

Enamel Bow Elastic Belt
Price: $44.00 at us.topshop.com
This belt is simple but unique and oh-so-gorgeous with that delicate bow and gold gems. If you do not like the white and gold effect you can also buy it in black. Either way, it is the perfect accessory for the girly girl.
---
6

Double Floral Elastic Belt

Price: $28.00 at us.topshop.com
Floral prints are everywhere this season! If however you're not quite confident about carrying them off, how about incorporating just a little floral element to your outfit with this belt? It is a unique belt and is perfect for adding a gorgeous, vintage look to any outfit. Also, the cool neutral brown means it will go with most outfits.
7

Suede Oversize Bow Belt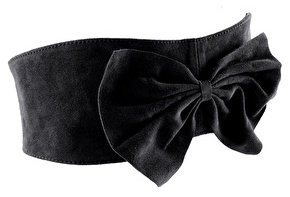 Price: $34.00 at asos.com
This oversized bow belt will really get you noticed. It will add vibrance to all your outfits and will fit well with many too. Plus, asos.com has kindly put other items from their site that will go well with this belt, so if you're worried you have nothing that will go with it, you can get inspirations from them. For $34.00 something you can wear with everything is a very good spend!
---
8

Skinny Belt
Price: $38.00 at bloomingdales.com
This is the simplest of all of the above, however I personally think it is the most needed. You can use this belt in so many different ways; on jeans, skirts, shorts, around your waist- the possibilities are endless. It adds a cute and classic look and I do believe this one is needed in every woman's wardrobe.
So, that is it! 8 belts that will definitely jazz up your outfits. Try and think of new inventive ways of using them, and spread these original ideas with your friends; or just keep them to yourself. Either way, these are sure to add that extra spice to your outfit. What else do you use to spice up an outfit?
Top Photo Credit: _acido
---
Comments
Popular
Related
Recent