Halloween is coming, mere days away, and as much as you might be looking forward to parties and maybe even a little trick or treating of your own, you can't wear your costume to the office or to school, so you'll need a clever graphic tee to wear instead. I've been searching all of my favorite shops and have found some marvelous Halloween tees, from kawaii cute to very scary. Here are 7 fun Halloween tees…
---
1

Devil Wings Tee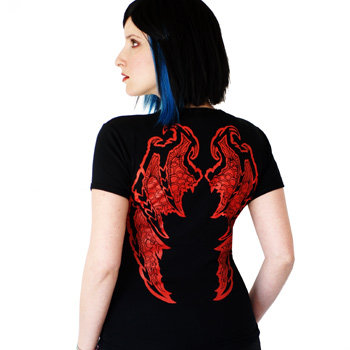 Price: $21.00 at shanalogic.com
It may look like a plain, simple black tee from the front, but the back reveals your true Halloween-y nature — a little devil. The hand-drawn and screened dragon wings in red are the give-away. The tee is soft and made to flatter your curves.
---
2

Kawaii Fox Tee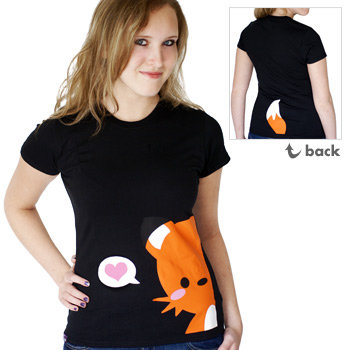 Price: $29.00 at shanalogic.com
Are you a foxy lady looking to declare it this Halloween? This tee is for all the foxes, with a sweet kawaii fix face on the front and a little tail on the back. Choose from a black tee or brown, add a mask, and your last-minute costume is complete!
3

CryWolf Calavera Tshirt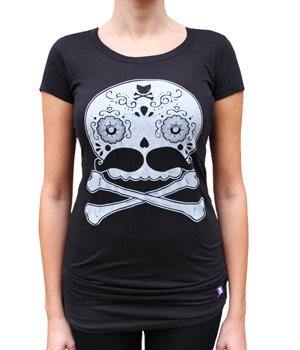 Price: $20.00 at crywolfclothing.com
Just for Halloween, CryWolf Clothing has released this tee, a twist on the tradition of Dia de los Muertes (Day of the Dead). The design is unique and really, really cool, and I love that it's printed on a super-soft, tissue-thin longline tee, perfect for wearing with patterned tights or leggings and a pair of boots.
---
4

CryWolf Zombie Logo Tshirt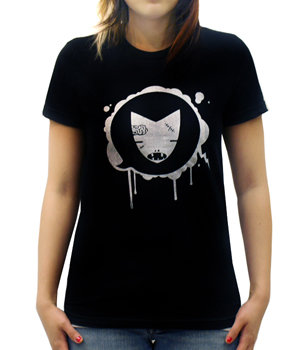 Price: $20.00 at crywolfclothing.com
The chic unique CryWolf logo has been bitten by a zombie, and he's acting very strangely… hmm… wear this tee for Halloween and flaunt his new zombie-fied state. (I hate zombies, by the way. They scare me, for real.)
---
5

CryWolf Zombie Bunnies Tshirt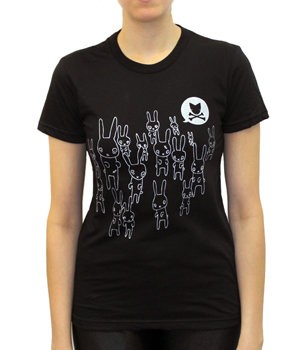 Price: $28.00 at crywolfclothing.com
What? More zombies? But these bunnies are so cute! They can't possibly eat anything other than carrots and lettuce, right? Layer over a long-sleeved tee or under a military-inspired jacket… and beware the bunnies.
---
6

Vampire Fangs White Tee by Ames Bros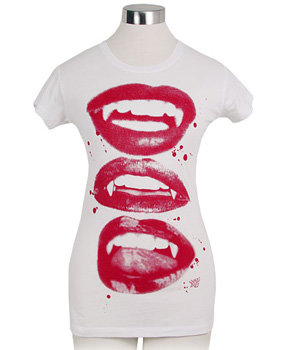 Price: $14.49 at shopplasticland.com
Vampires are everywhere, on TV, in high school, sparkling in the late autumn sun. Why not celebrate them on this tee? I'm tickled that it's white, not a goth-y black, and that it will look so good under a lacy long-line vest with thick patterned leggings and tall boots…
---
7

Truly Madly Deeply Skeletee Tank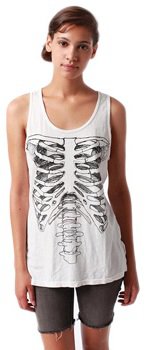 Price: $24.00 at urbanoutfitters.com
The rest of the year, we only wear my heart on my sleeve, but at Halloween, we can wear our entire skeletal structure for the world to see. The detail is gorgeous, in a way, and this tank would look great under a cardigan.
Cute, funny, scary… or maybe all three! Which of these Halloween tees do you like best, and how would you wear it? And where would you wear it? Please let me know… and BOO! Happy Halloween!
---
Comments
Popular
Related
Recent