With fall on the way, you may be tempted to put away your summer dresses and start wearing your heavy jeans and even a coat. But wait! Sometimes all you need is a pretty wrap or sweater and your long-line summer dresses and leggings can still work oh-so-stylishly! I've been looking for sweaters that will do just that, and I've found so many! Here's my list of 7 cozy fall sweaters, perfect for delaying the transition to cold-weather clothes only.
---
1

Any Day, Every Day Cashmere Blend Sweater Dress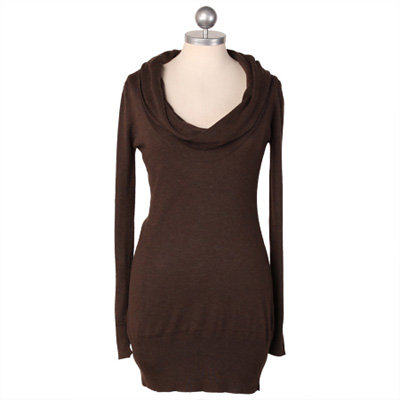 Price: $59.99 at shopruche.com
Long sleeves, a deep cowl neck, soft cashmere, and the color of hot cocoa... what else does a girl need in a cozy fall sweater? I love the lush material blend (cashmere, cellulose, viscose, and elastin) and this look so stylish with my skinniest jeans or patterned tights... I love it!
---
2

Step in Time Charcoal Cashmere Long Cardigan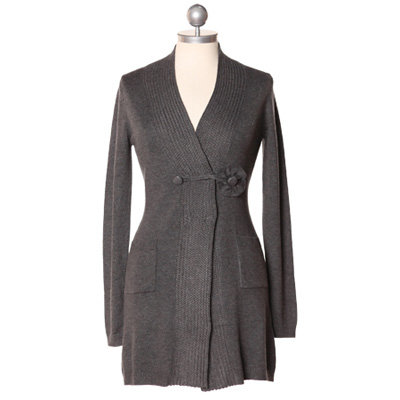 Price: $79.99 at shopruche.com
The nipped shape at the waist is flattering, the pocket at each side is handy, the long-line style is cozy, and the flower toggle closure is darling and sweet. There! This pretty rainy-day grey cardigan is perfect! I'd wear this over any of my summer dresses to take them into fall, or with a crisp white blouse and cigarette pants for a whole new look!
3

Cocoa Comfort Long Cardigan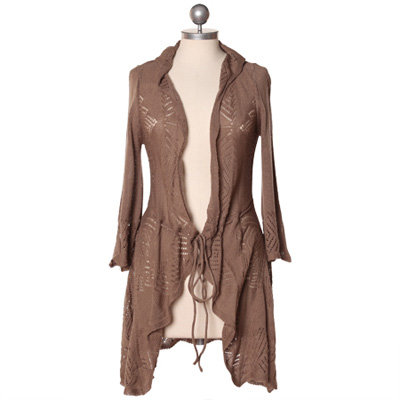 Price: $38.99 at shopruche.com
Sometimes all you need is something light-weight, something that adds a pretty touch, rather than a lot of warmth. This open-knit sweater is just like that, the insubstantial fluff of whipped cream on your cocoa. I love the ruffled front and tie at the waist, and did you notice the detailed embroidery across the shoulders? So pretty!
---
4

Lady's Choice Cardigan

Price: $88.00 at anthropologie.com
It's structured but soft, warm but not too heavy. I love the cinching at the neckline and the puffed shoulders, and of course, the gorgeous fall colors you can choose from! I prefer the autumn gold, but there's also a neutral oat color, pale purple, and marled black.
---
5

Fallen Foliage Cardigan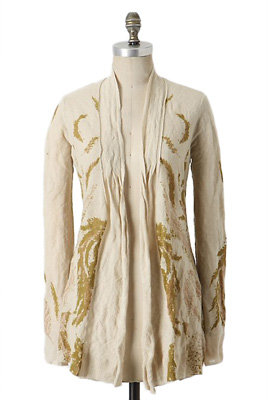 Price: $118.00 at anthropologie.com
What better way to celebrate the falling leaves than with this gorgeous light-weight sweater, woven through with golden threads that form delicate feathers, pine needles, and leaves? It's made of soft cotton with metallic thread detailing, and has a loose, flowing shape. Pair with a tank or shell in any jewel tone hue and anything you like on bottom, from a long corduroy skirt to a pair of cropped cigarette pants.
---
6

Konnichiwa Sweater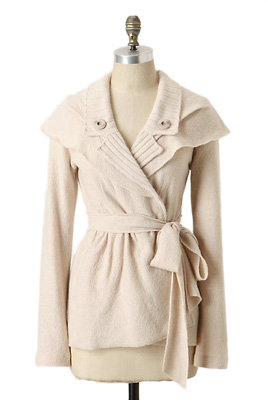 Price: $128.00 at anthropologie.com
This sweater is all modern details and sleek lines, from its tie at the waist (so slimming!) to its tiny attached cape (such style!). While the soft white version might be a little more versatile, the peacock blue is so gorgeous I'd still wear it with anything, even black!
---
7

Splendid Sepia Cardigan

**
**

Price: $59.99 at modcloth.com
So gorgeous! I love the colors, and this cardigan looks for soft, doesn't it? I'd wear it with a pencil skirt and patterned
---
Comments
Popular
Related
Recent