Since making my move to New England, I have discovered that "cold weather" has an entirely different meaning than it had before. I wear sweaters always. ALWAYS! I need more. So I went on a hunt and found a bunch that will make you fashionable and toasty warm! Here are 8 fabulous winter sweaters...
---
1

Awesome Argyle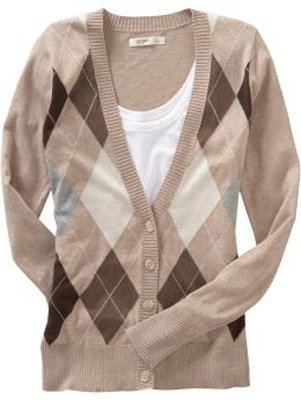 Price: $25.00 at oldnavy.gap.com
I recently bought some little argyle footie socks and decided I needed more of the pattern in my life. I love cardigans and I love this color scheme, so it's like a match made in heaven. It's also a bit long, and I adore a long, comfy sweater.
---
2

V for V-Necks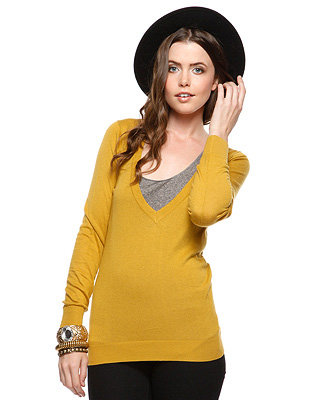 Price: $9.50 at forever21.com
I love thin, soft sweaters that look good when you layer. I generally dislike yellow/mustard/gold colors like this, but I have to say, I don't even mind that in this sweater. And is it just me, or is that Nicole from America's Next Top Model?
---
3

Saucy Style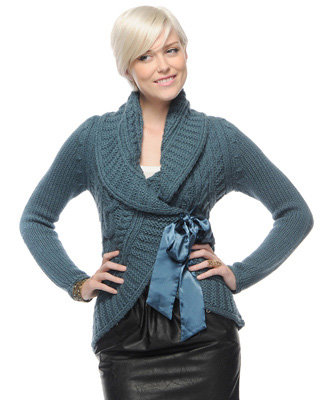 Price: $34.80 at forever21.com
There's something seriously saucy about this sweater, and I'm absolutely in love with it. It's like your stockings should have a seam up the back when you wear a sweater like this. I also love the fact that you could wear it to work and out after.
---
4

Terrific Turtleneck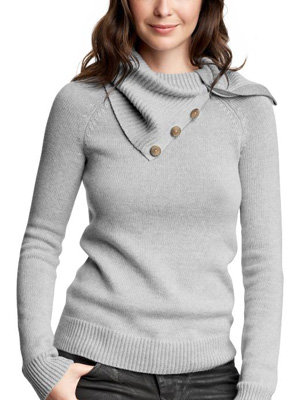 Price: $49.50 at gap.com
I love turtlenecks in general but this one really appeals to me. I like the unique silhouette, and the detail of the buttons on the collar. It also looks fitting enough to show your shape, but not so tight that you'd feel uncomfortable wearing it.
---
5

Draping to Die for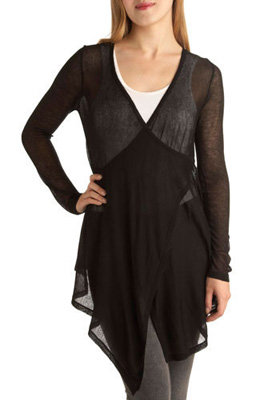 Price: $54.99 at modcloth.com
As you can probably tell, I love the drape of this cardigan. The silhouette is absolutely gorgeous and the design is delectable. This could go with just about anything, casual or dressy. I love it when something can do that.
---
6

Color Craze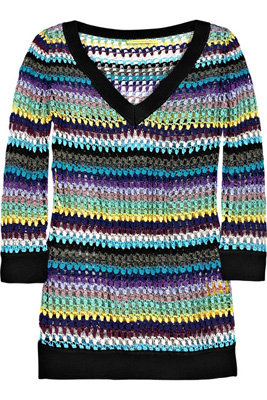 Price: $112.50 at net-a-porter.com
I love knitted sweaters, but it's so hard to find a style or color scheme that I like. This one has both. I love, love, love the colors, I love the three quarter sleeves, I love the neck -- I love it all! Okay, granted, this might not keep me extraordinarily warm during those cold New England evenings, but heck, I have a jacket for that, you know?
7

Cozy Cashmere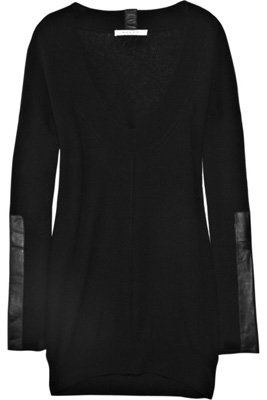 Price: $200.00 at net-a-porter.com
Every woman needs at least one cashmere sweater. And hey, if you're going to go for cashmere, you might as well go for high quality. Of course, I can't quite do that, but if I could, this is the way I'd do it. The leather patches make it kind of edgy -- like, this ain't your grandma's cashmere or something.
---
8

Butterflies in Winter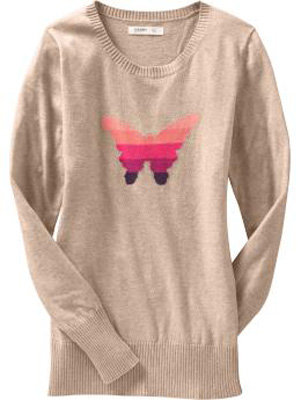 Price: $16.00 at oldnavy.gap.com
Normally I don't need my sweaters to have any pictures or anything, but this one really drew me. I love the butterfly, I love the color scheme of it and the sweater itself, I love the shape. This is just so sweet and pretty, it would be great with jeans for a more casual look.
This reminds me, I need to start putting my Christmas list together! No, I'm kidding, but I did just find out where my next paycheck is going. Do you have any suggestions for me?
---
Popular
Related
Recent