Leather jackets remain a staple wardrobe item. I'm guilty of owning several styles. But "staple" should never mean boring – and doesn't necessarily need to be interpreted as traditional. Check out these outerwear pieces for winter, to maintain an edge in your personal style statement:
---
1

Ashley B by Bernardo Perforated Faux Leather Scuba Jacket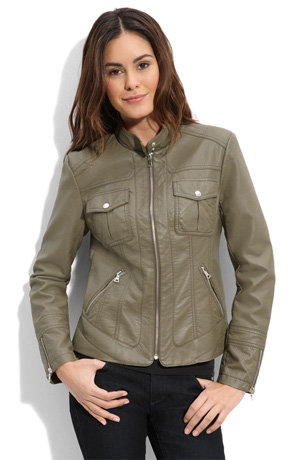 Price: $88.00 shop.nordstrom.com
Yes, I'm starting with faux because I understand that fashion needs come in all salary ranges. Just the same, real leather can oftentimes come with a hefty price point. That said, this Ashley B Scuba jacket would fake it (rather awesomely) until you can make it. The investment, that is.
---
2

Muubaa Draped Leather Jacket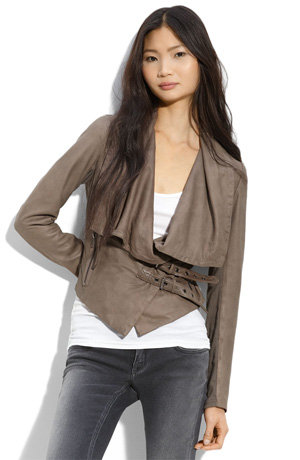 Price: $398.00 shop.nordstrom.com
The unique cut of this leather coat from muubaa just screams enthusiastic fashion statement! Neutrally hued, this mink-colored outwear piece will match a variety of wardrobe styles. Wide-draped lapels, a ribbed knit trim and a double belted waist are the definitive high points of this jacket, and a hidden belted collar transforms the neckline into an almost cowl-like trendy top – turning the style volume up to 11.
Trendinig Stories
More Stories ...
3

Veda "Max" Leather Jacket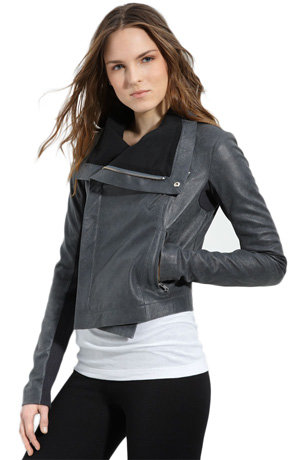 Price: $740.00 shop.nordstrom.com
Blue steel might be a gimmicky "look" for the movies, but this sleek, gunmetal hued jacket from Veda is the climax of real life fashion. I love the asymmetrical zip and wide collar, but simply cannot resist the star power of cropped length leatherwear. Definitely worth the price of admission!
---
4

Blumarine Smocked Lambskin Leather Jacket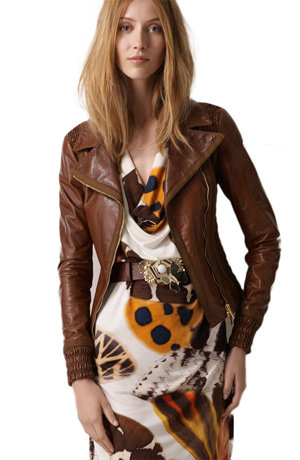 Price: $2,555.00 shop.nordstrom.com
This smocked coat from Blumarine is absolutely drool worthy. The supple texture of the lambskin leather prompts me to do something ridiculous – like, say, lick the fabric – but I'll restrain myself by opting for some heavy petting. Check out those smocked cuffs and side panels! It's nearly an uncontrollable urge to stop myself from taking this 70s-era jacket home with me tonight.
---
5

Alexander Wang "Essential" Leather Blazer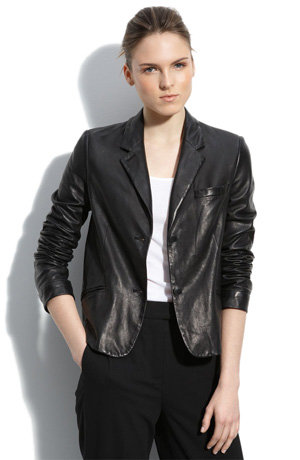 Price: $825.00 shop.nordstrom.com
Sometimes you need the leather to come from within… in this case, as a blazer to layer your outfit, rather than some extra outerwear protection from the elements. Alexander Wang calls this leather blazer "Essential," and I have to agree. This piece brings a perfectly constructed edge to an otherwise traditional wardrobe staple.
---
6

Burberry London Quilted Leather Jacket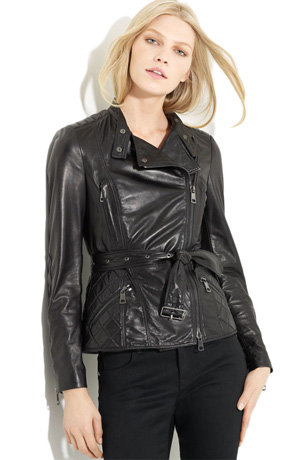 Price: $1,895.00 shop.nordstrom.com
Without looking, a hip length leather jacket by Burberry would be the epitome of class. Trend outlooks soar upon hearing of its uber-chic waist belt and material. Mouth drool needs to be mopped up after looking at this London jacket because major edginess comes from the many exposed zippers (and zip cuffs *swoon*) and is only heightened by a subtle quilting to the front and side panels. Here… have my handkerchief.
---
7

Helmut Lang "Dirty Vintage" Denim & Leather Jacket
Price: $690.00 shop.nordstrom.com
A jean jacket will always have a certain "dirty" rock n' roll place in fashion. Helmut Lang upped the rock star's edgy image, by adding black leather sleeves and collar to his Dirty Vintage jacket. The coat is constructed of faded denim, of course, with traditional flapped pockets at chest. Hello, Cleveland!
---
8

Vince Lambskin Leather Motocross Jacket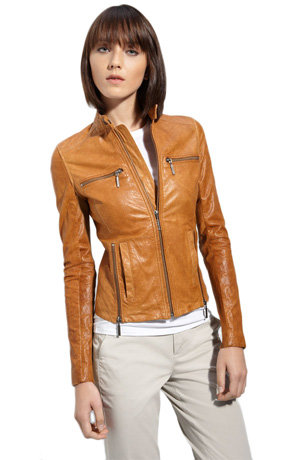 Price: $845.00 shop.nordstrom.com
Vroom-vroom! You will definitely be in the fashion seat with this little number. The driving force of this natural lambskin Motocross jacket by Vince is its gorgeous tawny-hued leather. Exposed zippers grab the wheel and accelerate your style to the fast lane. And at that speed? Here's to hoping it gets you out of a few moving violations.
---
9

William Rast Leather Jacket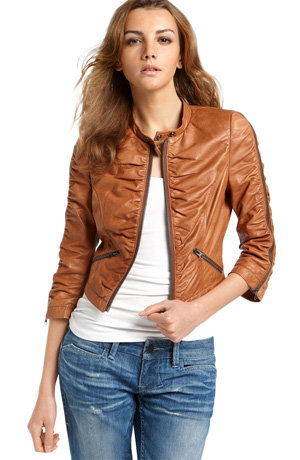 Price: $395.00 shop.nordstrom.com
To be edgy is to break from the traditional. This William Rast leather jacket not only breaks it… but it SHATTERS any of your conventional ideals. You might have to accept (or adopt a new fashion sense) that it is OK to wear a cropped sleeve jacket in winter (but I do recommended still wearing a long-sleeve top or sweater underneath). And that it's all right to break from the normal, drab everyday black coat (cognac is totally hot right now). Sure this outerwear garment might not be for everybody, but you'll have to agree that those ruched seams should never be taken for granted.
It may be winter, but that doesn't mean you need to hide your style underneath all those cold weather garments and accessories. Show the fashion world what you got! How do you stay edgy (and warm) in winter?
---
Comments
Popular
Related
Recent