I wear sweaters year-round, over dresses and rompers in summer and layered over blouses and tees to keep warm. It's difficult to find something out of the ordinary, a sweater with details or two that makes them a style choice, rather than a simple warmth option. But lately I've discovered a line of sweaters by Moth, and I'm in love. Here are 7 gorgeous sweaters by Moth… see if you agree — they're so beautiful!
---
1

Jeweler's Choice Cardigan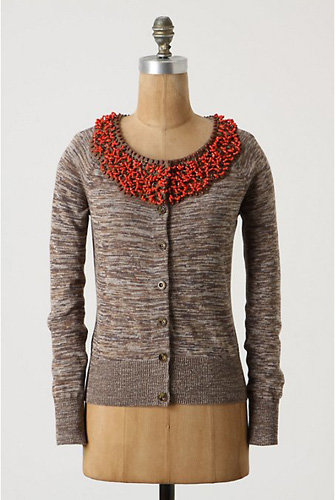 Price: $148.00 at anthropologie.com
What a gorgeous sweater, knit of softly marled linen and cotton yarns, topped with tortoiseshell buttons and a collar of delicate brown and coral beads. It's like getting a statement necklace and cardigan in one piece, ideal for wearing with a full-skirted floral dress or with dark brown trousers and glossy brown patent heels.
---
2

Pulling It Together Sweater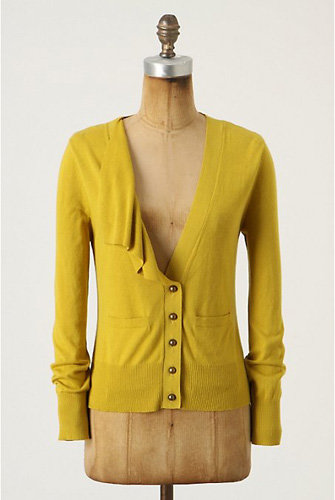 Price: $68.00 at anthropologie.com
There are so many things about this cardigan I love, so many details that make it a must-have wardrobe staple, I don't know quite where to start. How about the cropped fit, the row of shining brass buttons, the side pockets, or the asymmetrical ruffled lapel? Or perhaps that it's available in three stunning colors (navy, yellow, or cream)? I suppose it doesn't matter, does it, since it just looks great with everything in your closet, from cigarette pants and a blouse to a floral-print dress.
---
3

Of the Ages Pullover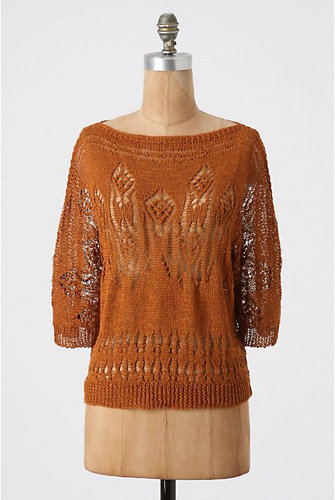 Price: $88.00 at anthropologie.com
Choose rusty orange or dusty purple, either way, this gorgeous open-knit boat neck sweater is bound to garner serious compliments. The pattern reminds me of boastful peacock feathers, so I'd wear it with an otherwise modest ensemble… and glittering chandelier earrings.
---
4

Draw the Eye Vest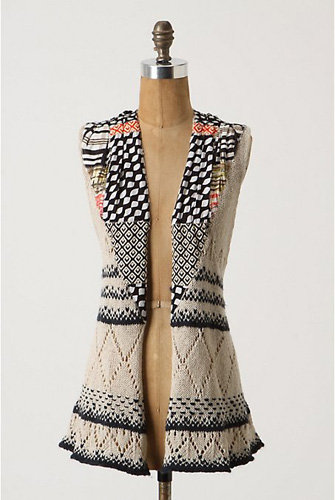 Price: $88.00 at anthropologie.com
Indeed, this curvaceous little sweater vest does draw the eye, from its beautifully embroidery-adorned collar to its longer-than-usual hip-grazing hem to its rich diamond pattern knit. Pair with a long-sleeved tee and skinny jeans for an afternoon or errands or wear it over an LBD with sleek patent peep-toe heels.
---
5

Ensnared Ideas Pullover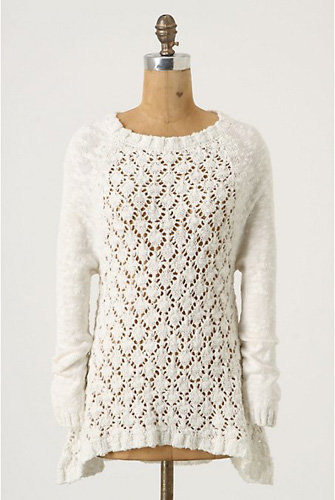 Price: $98.00 at anthropologie.com
This beautiful open-knit pullover is ideal for wearing over a dress or tank, giving you an extra layer of warmth and style any time of year. It's made of ultra-soft but sturdy cotton, and is hand-wash only. It comes in a range of sizes, from extra-small to extra-large, so there's bound to be a perfect fit for your ladylike curves.
---
6

Borrowed Boyfriend Cardi

Price: $78.00 at anthropologie.com
Choose from pale pink and grey, bright blue and grey, or sunshine yellow and beige, either way, this comfortable over-sized cardigan looks fresh out of your sweetheart's clean laundry, with three pockets and a classic button front. It looks marvelous with leggings and lace-up boots.
---
7

Top Brass Pullover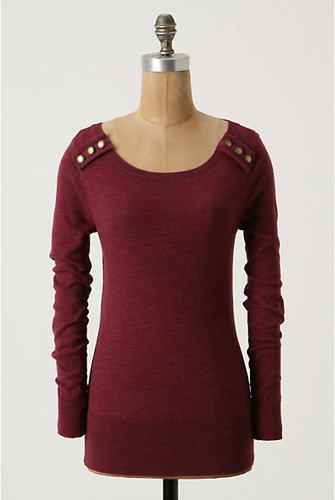 Price: $78.00 at anthropologie.com
Across each shoulder are three brass buttons, all lined up in a military-inspired row, giving this sweater a casual air. It's made of soft lightweight wool in a rich cranberry color, perfect for wearing with brown or grey trousers. It's hand-wash only, and is so lovely!
Now that you've seen a few of the gorgeous sweaters by Moth, aren't you in love, too? I especially adore the vest and that coral-beaded cardigan… which sweater do you like best, and how would you wear it? Do share!
More
Comments
Popular
Recent