Patterned sweaters and knits are an easy way to add a bit of eye-catching originality to an outfit. Patterned sweaters look great in cooler weather, especially paired with a slim-fitting pair of jeans. Choose simple two-tone patterns for something simple, or branch out with a dose of multicoloured mayhem. Below are a few patterned sweaters for you to browse.
1

Rag & Bone Rowan Sweater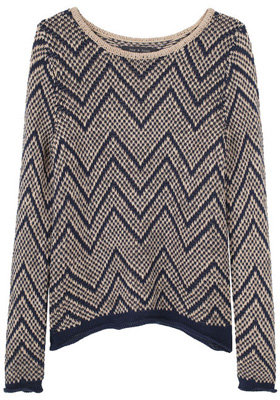 Price: $255.00 at lagarconne.com
The zigzag print on this sweater is what initially caught my eye. It features a crew neck, ribbed trims, and slightly rolled cuffs and hem. The zigzag pattern is done in varying yarns, and the sweater is made from a loose knit cotton blend. This sweater would look fantastic paired with light grey jeans and combat boots.
2

Knitted Deco Pattern Cardigan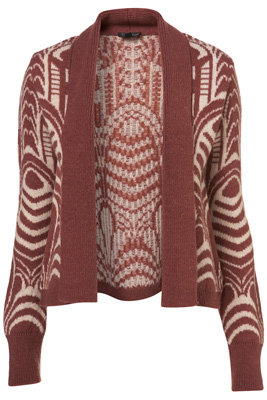 Price: $90.00 at us.topshop.com
This patterned cardigan features a knitted deco pattern. The deco print is most noticeable when viewed on the back of the cardigan. It also has an open front, contrasting lapels, and contrasting cuffs. Patterned sweaters such as these would look particularly suited layered over a contrasting cream dress.
3

Colinmander Cardigan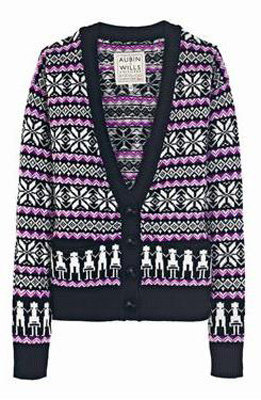 Price: $95.00 at aubinandwills.com
This cardigan has a distinct banded pattern. It was inspired by traditional Fair Isle designs. This cardigan has a relaxed silhouette, skinny sleeves, and button down front. The deep v-neck design is quite flattering. Wear this cardigan layered over white tailored shorts and a tucked in tee for a modern look.
4

Textile Elizabeth and James Baja Popover Cotton Jacket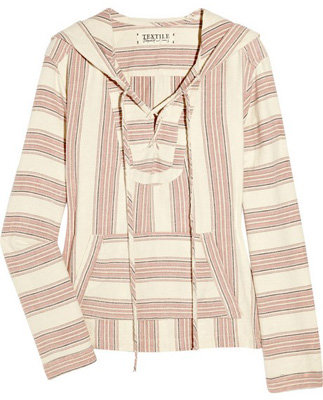 Price: $165.00 at net-a-porter.com
This cotton sweater is reminiscent of the 90s Californian surfer/skater style. This sweater features a woven stripe pattern, pouch pocket, hood, and adjustable self ties. Dress this sweater up by pairing it with slim black trousers and suede wedge shoes. If you're after something more casual, embrace cool Californian style and wear with denim shorts and Converse All Stars.
5

Rag & Bone Joan Sweater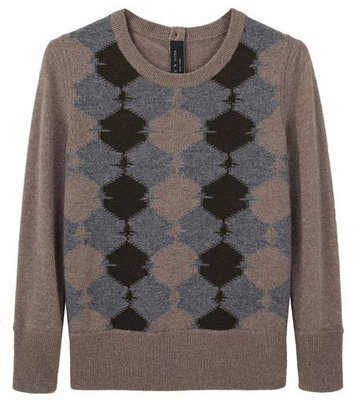 Price: $290.00 at lagarconne.com
Inject a dose of scholarly style into your outfit with this Rag & Bone sweater. It features a tri-colour intarsia pattern at the front, crew neck, and 2 ply rib cuffs and hem. This wool and cashmere blend sweater sits at the hip and fits true to size. Pair it with a full skirt and cat eye sunglasses for some old-school college chic.
6

Alice by Temperley Falcon Instarsia Roll Neck Sweater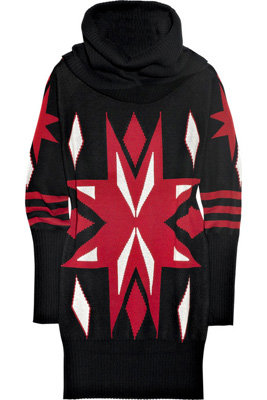 Price: $325.00 at net-a-porter.com
Stand out from the crowd with bold patterned sweaters. This is a prime example of a bold, eye-catching patterned sweater. It features a large red and white intarsia print, which acts as the focal point of the sweater. This sweater has a roll neck, wide ribbed trims, and its length makes it suitable for wearing over leggings. Go up a size and wear it as an oversized sweater dress.
7

Pringle of Scotland Argyle Cardigan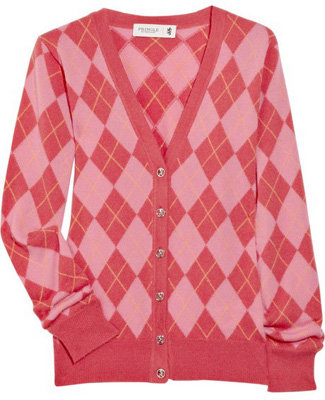 Price: $795.00 at net-a-porter.com
Argyle patterned sweaters are the height of preppy dressing. This one features a feminine pink and red pattern. It is made of cashmere and features a V-neck, ribbed trims, and designer-stamped silver buttons. Wear this cardigan to brighten up a plain neutral outfit.
You can find an array of patterned sweaters for all price points. My tip would be to check out your local charity or thrift store to find something really unique. What are your thoughts on patterned sweaters?
Top image source: data.whicdn.com