From the time I was a little girl, I've loved the look and comfort of a pretty romper. They can be accessorized to be dressy or casual, and with the right layering pieces, can be worn year-round. I've been searching for a new jumper or two for the upcoming season, and I've found so many I love! Here are 7 adorable jumpers.
---
1

Spring Winds Romper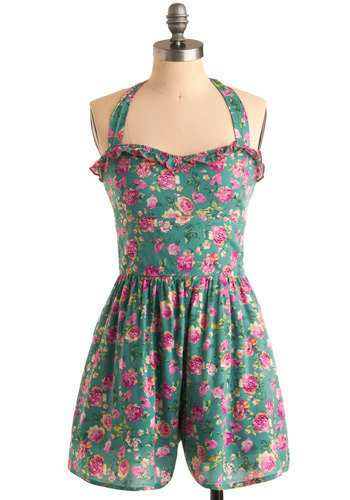 Price: $99.99 at modcloth.com
This gorgeous pink-and-blue floral-print romper is perhaps the first harbinger of spring, wearable with a cardigan and tights until the weather warms enough to wear it alone. Then you can remove the halter strap and wear it strapless, with a straw sunhat or over-sized sunglasses and flats.
---
2

Purple Rose of Cairo Romper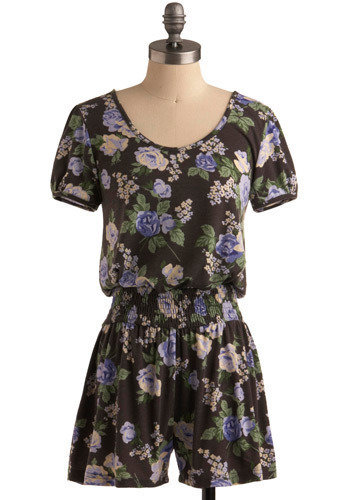 Price: $37.99 at modcloth.com
Flaunt your feminine curves and your long, lean legs with this darling floral-print jumper. The wide, elastic smocked waist is flattering and comfortable, and the keyhole cutouts in back are sweet, so you're ready to add it to your shopping cart without hesitation. Pair with black ballet flats or lace-ups with anklets, and you've got the ideal spring-time ensemble.
---
3

Poconos Jumper in Wine

Price: $60.00 at modcloth.com
Hiking in the woods isn't nearly as much fun without a hunky guide or this raspberry-colored jumper. You've stashed your GPS-enable cell phone in one of the hip pockets, just to be on the safe side, and you're wearing your most adorable lace-up booties and a slim-fit tee underneath, for comfort as well as style… now, did you remember to bring your insect repellant and sun block?
---
4

Rock-It Ship Romper

Price: $29.99 at modcloth.com
Not even you, Miss Style herself, wants to dress up every day, so you have this sweet little romper in the back of your closet, on reserve for the days when relaxation, not accessorization, is on your agenda. Still it is quite darling, and it's no trouble at all to add a long-line multi-strand necklace and a pair of skimmers or oxfords… or maybe a pair of patterned tights and a cropped blazer… so even on your laziest of days, you're still enviably chic, without even trying.
---
5

Ray of Light Romper

Price: $24.00 at modcloth.com
Create a little visual interest and become a little ray of sunshine on even the greyest day with this adorable multi-hued jumper. It does have a few black panels, so feel free to wear it with your black Converse high tops, but since it also has stripes in every color imaginable, you're not limited in any of your footwear or cardigan choices.
---
6

Society Pages Romper

Price: $49.99 at modcloth.com
You're not quite sure how the local paper knew exactly where you'd be and when, but there they are, cameras flashing, as you stop at the bakery and the florist. Perhaps they're just curious about where you found this gorgeous dress-up romper in soft navy blue, with a flattering wrap neckline and nearly knee-length hem…?
---
7

Stud Double Romper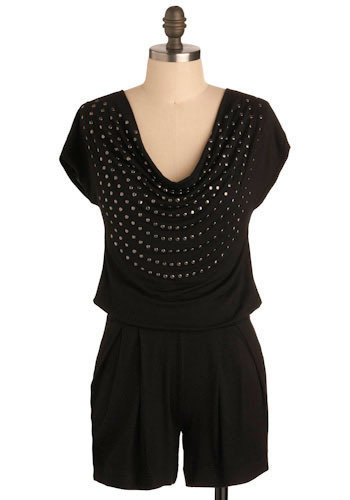 Price: $42.99 at modcloth.com
We've all heard on the versatile, must-have LBD, but what of the hard-to-find, irreplaceable LBR (little black romper)? This would be it, with a drapey neckline dotted with ten rows of gleaming silver studs. Add a pair of color-clock flats or oxfords and a cute headband and you're set for a day of errands and lunch with the girls, who will all admire your new LBR.
With so many adorable rompers and jumpers to choose form, I just have to choose one or two to add to my cart… but it's so difficult… they're all so cute! I think I've narrowed it down… which of these jumpers do you like best, and why? Please share!
More
Comments
Popular
Recent