We're right in the middle of winter here in Michigan, and it is freezing. Suddenly the light jackets and cute coats I had for fall aren't warm enough, and I need something new. Actually, that's something of an excuse to buy a new one… pretty convincing, isn't it? I've found some cute coats by Tulle that I really, really want… but since I have an entire closet full already, I've had to get creative in my rationalizations for even window shopping. Once you see them, though, you'll understand why. Here are the 8 most adorable coats by Tulle!
---
1

Fairground Memories Coat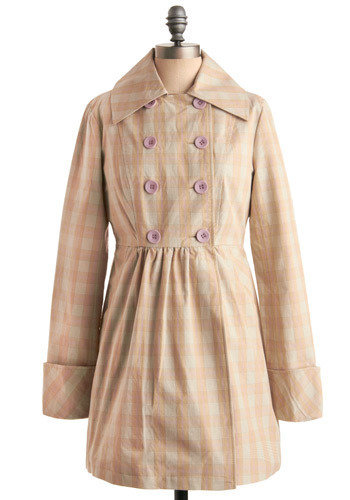 Price: $79.99 at modcloth.com
While this jacket may not be warm enough for a Michigan winter, it would certainly be cozy for spring, and the colors make it a great little harbinger of warmer weather and blooming flowers. It's a lush tan and pink plaid, with big cotton-candy pink buttons and a softly rounded collar. Wear over a spring dress or with chinos and a blouse and boots.
---
2

Stay or Go Jacket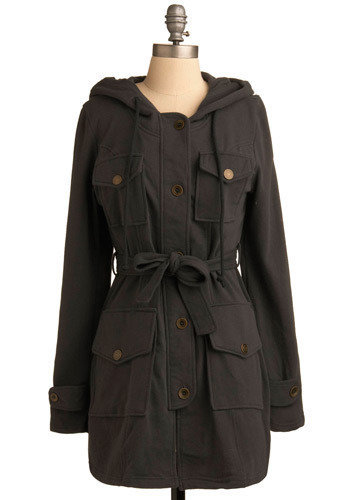 Price: $64.99 at modcloth.com
Is it a trench coat, or a light jacket, or a sweatshirt, or all three? It has the style elements of a trench, the warmth of a jacket, and the comfortable cotton of a sweatshirt… so it is all three! I'd wear it over a graphic tee and patterned leggings, or as a blazer with a work-week ensemble.
---
3

Roving Reporter Coat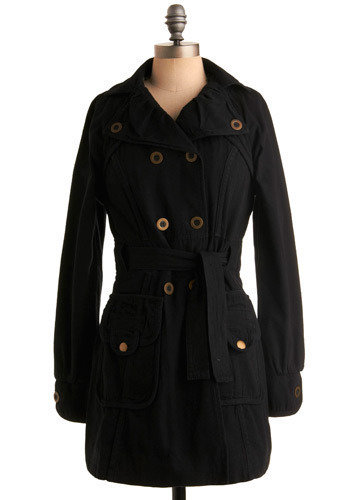 Price: $102.99 at modcloth.com
This coat is an instant classic, something you'll wear several times a week, all winter long. It's an inky black, neutral, something you can wear with anything. The brass buttons give the coat definition, and the tie belt adds definition to your curvy waist. It's warm, too, with a full cotton lining, so you can even wear it in winter!
---
4

Yellow-so-Cute Coat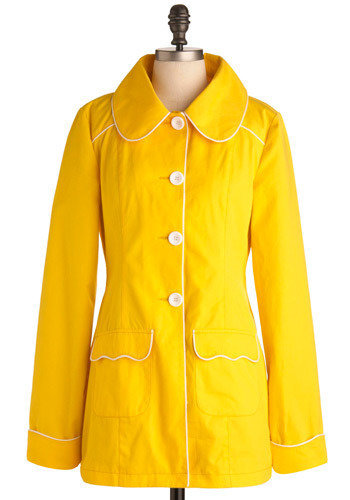 Price: $55.99 at modcloth.com
Even on the greyest day, you're a beam of sunshine, and it's not just because of your sunshine personality. It's also this cheery yellow coat, piped in bright white, with matching buttons and a curvy shape. Can you think of a better way to beat the winter-time blues?
---
5

Caught on-Guard Coat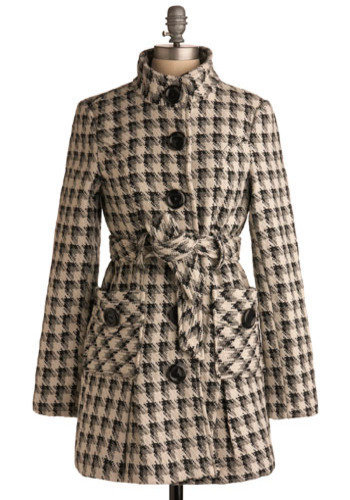 Price: $114.99 at modcloth.com
What a gorgeous print! I love hounds-tooth check and though this coat would have been incre4dibly chic without the plaid, I love it even more for it! I love the stand-up collar and the big shiny black buttons down the front. I'd wear this during the week with a pencil skirt and brightly-colored blouse and sleek black patent pumps (to match the buttons).
---
6

A Fresh Coat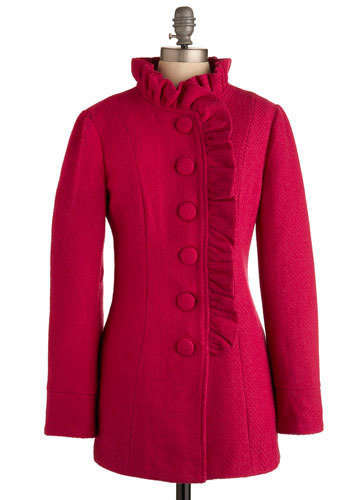 Price: $92.99 at modcloth.com
I love this coat! If I had to choose just one reason why, I'd be torn — is it the sweet ruffle down one side of the lapel, or the brilliant, rich pink color? Luckily, I don't have to choose one reason to love this coat… I also adore the side pockets, ideal for stashing a lippie, keys, cell phone, or gloves.
---
7

Silver and Bold Coat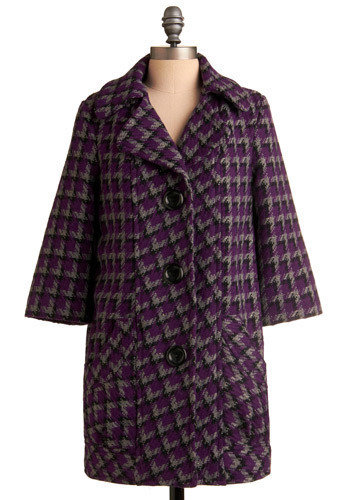 Price: $57.00 at modcloth.com
As if one hounds-tooth check coat wasn't enough, here's another on my list, this one with a pop of pretty purple and a looser, more mod 60s fit. The three-quarter length sleeves, deep pockets, and accordion pleated back make it super-stylish, and I'd wear it with a grey shirt-dress, patterned tights, and black or violet peep-toe pumped.
---
8

Charming Correspondence Coat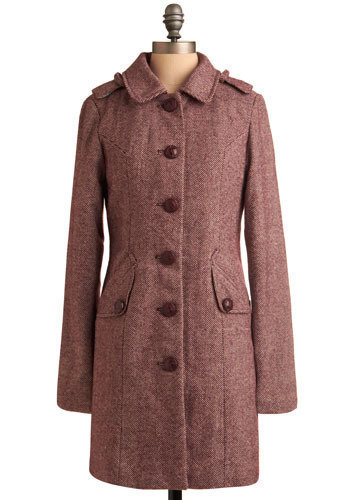 Price: $102.99 at modcloth.com
While I already have a pink coat, this one tops my wish list right now. It's long and lean and made of a dark pink and cream print. I love the structured fit, the epaulets on each shoulder and the kick-pleat in back. I'd wear this with something fancy and ruffled on top, and with tall boots and skinny jeans.
With so many beautiful coats to choose from, all of them by chic designer Tulle, can you blame me for trying to make up outlandish excuses for needing a new one? Which of these coats do you like best, and what would you wear it with?
More
Comments
Popular
Recent