COMMENT
I love Halloween, especially watching all the little kids trick-or-treating along with m daughter and I in our neighborhood. Some are ho-hum boring, like the same ninjas and the same pirates, but some are really clever and unique! I've often wondered where those adorable costumes have come from, and this year, I've found a bunch of them at Pottery Barn Kids! If you're looking for a clever costume for your little boy, try looking there! To make it simple, here's my list of 7 completely clever Halloween costumes for your little boy, with links right to the site. Yay!
1. Pottery Barn Kids Shark Costume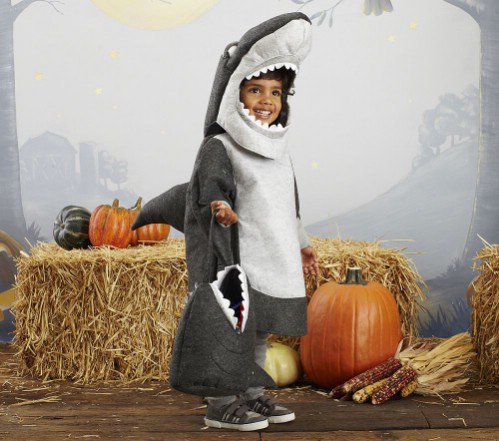 This little shark may look scary, but his shark is worse than his bite! He comes with the requisite fin and toothy grin, but no worries — he won't take any more treats then you have in your basket. Add a pair of jeans or black or grey fleece pants and a long-sleeved tee, and this adorable/scary little shark costume is ready to go!
Pottery Barn Kids Astronaut Costume