Yay, it's Halloween time! How many times have I said this? Oh, forget counting, right now, let's focus on some pumpkin ideas with this awesome blog full of 7 cool ideas for pumpkins this Halloween**
---
1

Monogram Pumpkin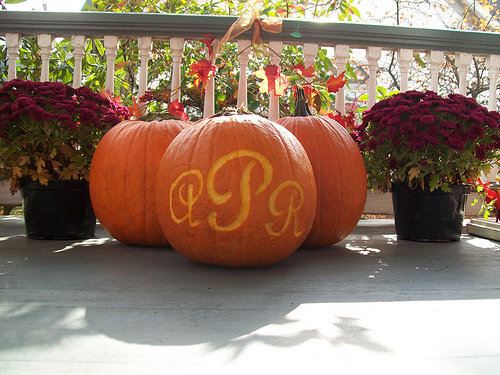 The monogram pumpkin looks really cool. Dazzle your initials on a pumpkin to welcome trick-or-treaters. You can print letters from your favorite fonts, then use them as stencils to carve.
---
2

Glittery Pumpkin
Glitter always does amazing things on pumpkins. Just because it is Halloween does not mean you can't use glitter. I want to try purple glitter all over the pumpkin.
3

Owl Pumpkin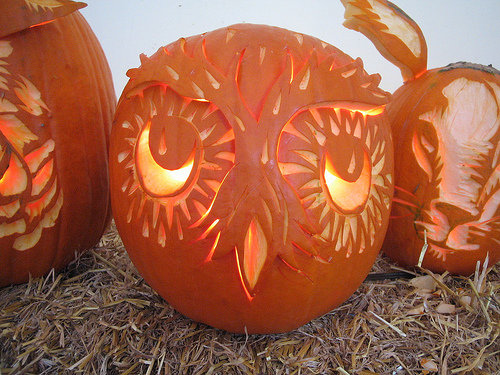 When you think of Halloween, you think of black cats, witches, ghosts, vampires and hoot owls, right? Do you see the owl pumpkin above? It looks like a lot of work, but if you have an artistic side, it's worth it and is a good idea. I want to try this.
---
4

Lacy Pumpkin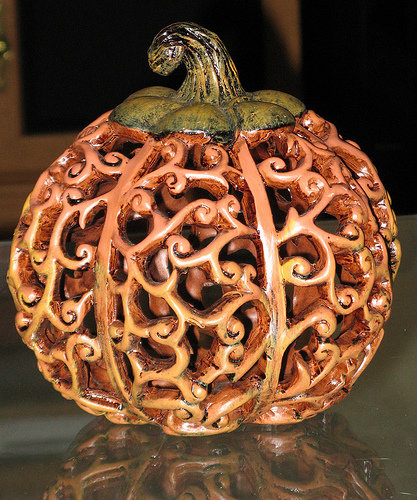 The picture above would be hard to carve, don't you think? I took a pumpkin, painted it white, then took some of my black lace material I had and put on it. It looked gorgeous and I wish I still had a picture.
---
5

Pumpkin Man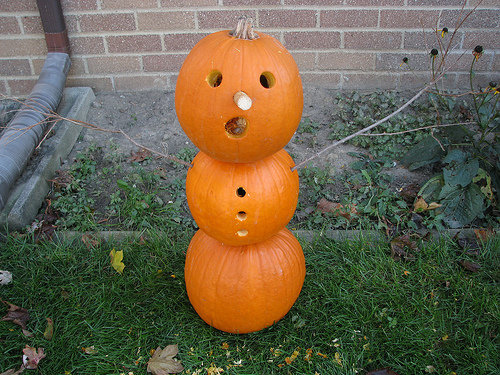 Do you know how you make a snowman? You take a big ball for the bottom, medium ball for the middle, then a little ball for the top as a head. Well, you could do the same thing with pumpkins. For an added look, drape some fall leaves around it for a scarf.
---
6

Grim Reaper Pumpkin Tower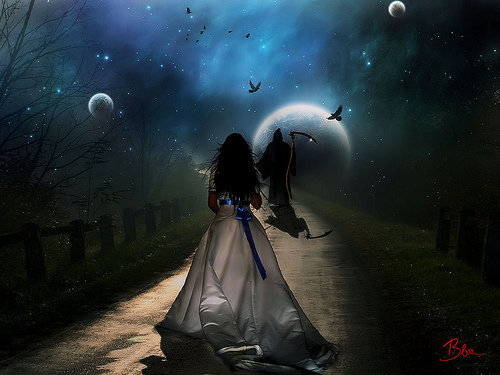 This one is just like the pumpkin man, except you put a black hoodie on it that resembles the reaper, then put the scythe in its hands. I plan on doing this, but I am going to paint the pumpkins white first.
---
7

Mummy Pumpkin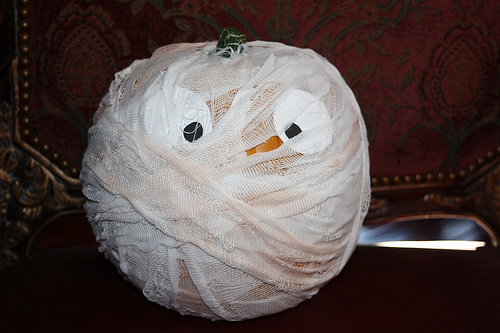 You could make a mummy pumpkin like the one in the picture above. Basically, you will wrap cheesecloth around it. For something more fun, put glow in the dark paint on that cheesecloth to make it a glow in the dark mummy pumpkin!
Halloween is such a fun time of the year. There are so many crafts to do and so little time. So, I better get started! Do you have any other pumpkin ideas?
More
---
Popular
Recent