Halloween is one of my favorite holidays, and I love decorating my house for it. A few subtle pieces in each room, and my decorating is done! A few bits on the mantle, maybe a wall hanging, a few things on the bookcases… I can't wait to decorate for Halloween! I have a few pieces I use each year, but along with my old favorites I'm adding some new décor items this year. Here's my list of 9 great Halloween decorations, and it's from these goodies I'll be picking my new stuff!
---
1

Pottery Barn Decorative Pumpkin with Lights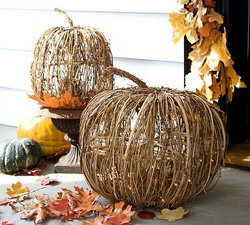 Price: $59.00 to $79.00 at potterybarn.com
These two pumpkins look good indoors and out, daytime and night. They're made of sturdy rattan with a string of sparkly white lights woven through. The lights last up to 10 times longer than standard lights, too, because they're LED lights, and they're very energy-efficient, too! Choose from a smaller, rounder pumpkin, or a larger, taller one. Or buy them both to display together!
---
2

Pottery Barn Carved Wood Pumpkins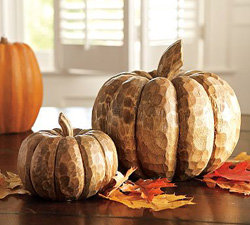 Price: $19.00 to $29.00 at potterybarn.com
This pair of pumpkins would be perfect as a part of a rustic centerpiece, since they're hand-carved of faded, well-worn wood. The small stands 5 inches tall, and the large is almost twice as big… I'd set them out together with a wooden or iron bowl of apples to make a pretty Halloween centerpiece that can stand til winter!
---
3

Pottery Barn Unstretched Encyclopedia Skull & Bone Canvas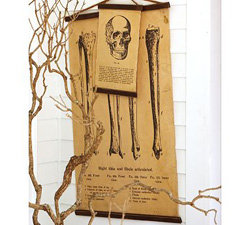 Price: $79.00 to $229.00 at potterybarn.com
These vintage-inspired canvases look like something that Dr. Frankenstein used to make his monster, don't they? Or at least from the encyclopedia he used… they're detailed and interesting, and would make a marvelous Halloween alternative to the "welcome" sign on your porch!
---
4

Pier 1 Glitzy Beaded Gourds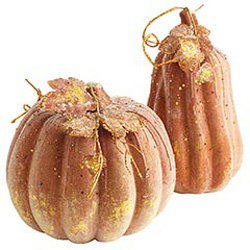 Price: $11.95 to $13.95 at pier1.com
Some of us want to shine all the time, and Halloween is no exception. These glitzy faux pumpkins can help you shine all through fall, either paired together or on their own. They look realistic, but with an extra bit of glam to make them that much more special.
---
5

Pier 1 Halloween Glitter Boot on Base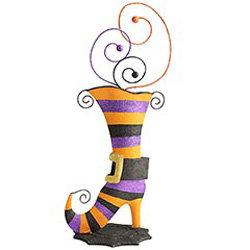 Price: $25.00 at pier1.com
It looks like some very chic witch left her boot behind, perhaps a Halloween Cinderella? Whoever she is, she has great taste in shoes! This décor piece stands almost two feet high, and would look great in a foyer or on your front porch.
---
6

Pier 1 Spooky Halloween Pillow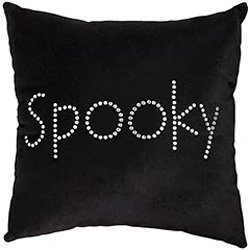 Price: $14.95 at pier1.com
Doesn't this one word say it all? Spooky indeed, when you're decorating for Halloween! Plump this pillow and place it on your bed or sofa for a little extra Halloween spirit. It's black and white with a hint of orange, so it'll match with just about any décor. What a simple, subtle way to decorate for Halloween!
---
7

Pier 1 Harvest Pumpkin Centerpiece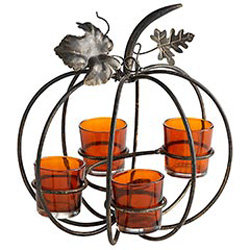 Price: $25.00 at pier1.com
This gorgeous, grown-up candle holder would make a great centerpiece for Halloween, and then again on Thanksgiving. It features four amber-orange glass votive holders, woven inside a delicate-looking wrought-iron pumpkin. May I suggest a set of delicious-smelling spice or autumn leaves candles?
---
8

Pier 1 Lighted Grapevine Owl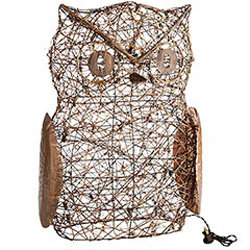 Price: $60.00 at pier1.com
I've loved my Pottery Barn lit pumpkins for years now, but this year, I'm going to have to add this wise little owl to my tableau. He's made of woven grapevine with metal accents for this eyes, wings, and beak, and he stands two feet tall. I think he looks friendly and wise, but will my trick-or-treaters think he's spooky?
---
9

Pier 1 Filled Pumpkin Cage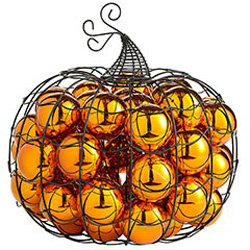 Price: $69.00 at pier1.com
I can't decide if I like this iron pumpkin centerpiece better, or the one with the votive holders inside. Both are gorgeous and could work from Halloween through Thanksgiving, but this one has a little more glamour, doesn't it? It's the bright orange orbs, adding some eye-catching shine. Which one, which one?
Those are just a few of my favorite Halloween decorations, perfect for adding a little spooky or glamorous fun to just about any room in the house, including your porch! I can't wait to use my clever little owl… which of these Halloween décor items do you like best, and where would you use it? Please let me know… and by the way, BOO!
More
---
Comments
Popular
Recent