While I don't celebrate the religious meaning of Hanukkah myself (or Christmas, for that matter), I still love the decorations for both holidays. I love the Hanukkah decorations for their simple prettiness, and their meaningful symbolism. It's not always easy to find Hanukkah decorations, but one of my favorite online shops, Crate & Barrel, has a range of them I love. Here are 7 pretty Hanukkah decorations.
---
1

Silver Menorah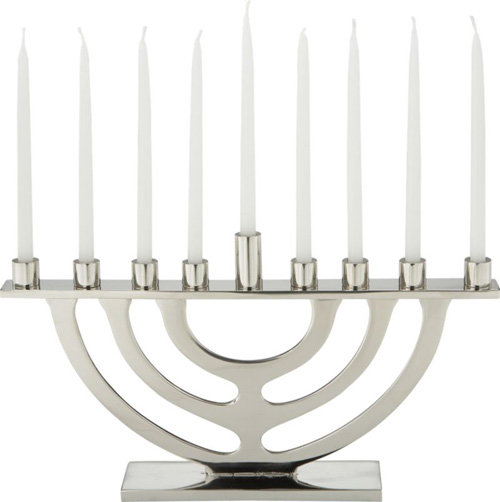 Price: $19.95 at crateandbarrel.com
This simple, elegant menorah is perfect for displaying and for using, and would look pretty with white or blue candles. It's hefty, made of solid iron with a shiny nickel finish, so it will last beautifully for years. The classic, modern design will keep it stylish for years to come, too.
2

3-Piece Hanukkah Cookie Cutter Set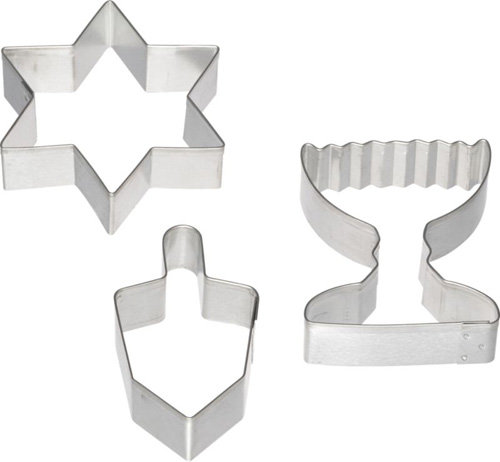 Price: $1.95 at crateandbarrel.com
I'm not sure that sugar cookies are often eaten for Hanukkah, but these cookie cutters can make them part of your own Hanukkah tradition. Celebrate the Festival of Lights with a classic Star of David, menorah, and dreidel; it's easy to make the shapes with these cookie cutters.
---
3

Hanukkah Gelt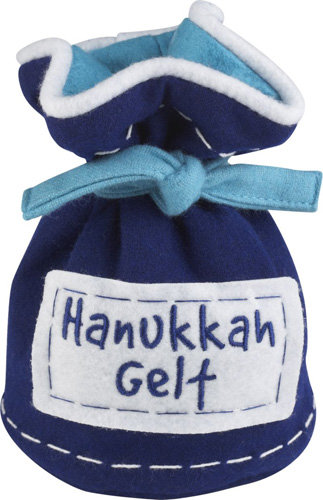 Price: $4.95 at crateandbarrel.com
Each individual gold-foil wrapped milk chocolate coin can be a wish, for peace, prosperity, and joy in the coming year. The chocolate is certified kosher, made here in the USA, and the bag is blue felt with 5 ounces of chocolate inside.
---
4

Rustic Menorah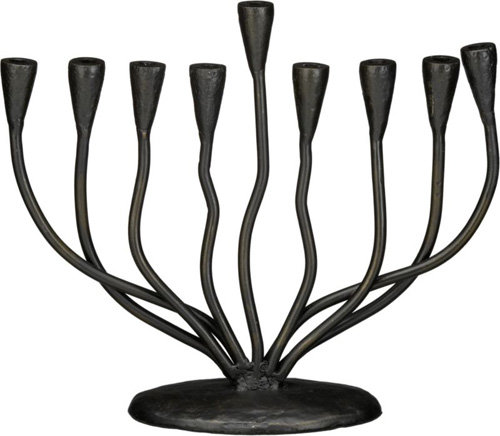 Price: $15.95 at crateandbarrel.com
This is a more modern, nature-inspired version of the traditional menorah, made of textured iron with an antique bronze finish. The branches of the candleholder look like the winter-stripped boughs of a tree, graceful and stark. Add creamy white candles for an elegant, beautiful display.
---
5

Dreidel Plate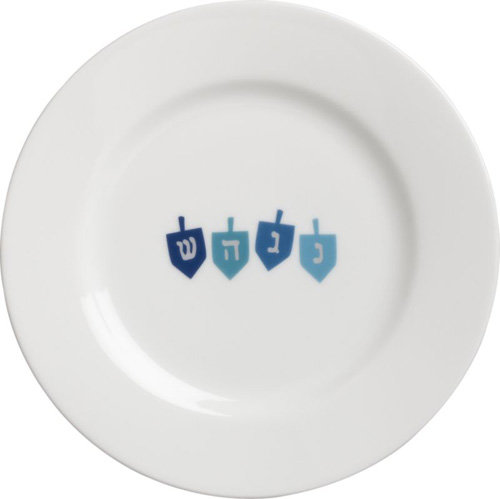 Price: $3.95 at crateandbarrel.com
This creamy white porcelain plate features a set of three festive dreidels, each a different shade of blue. This plate looks pretty layered with the teal-rimmed plate and the matching dreidel platter (the platter has a ring of dreidels along the edge). Use the set for cookies, snacks, and more, or hang them in a row for decoration only. Either way, they're sure to add charm and enchantment to your Festival of Lights.
---
6

Set of 2 Glass Menorah Ornaments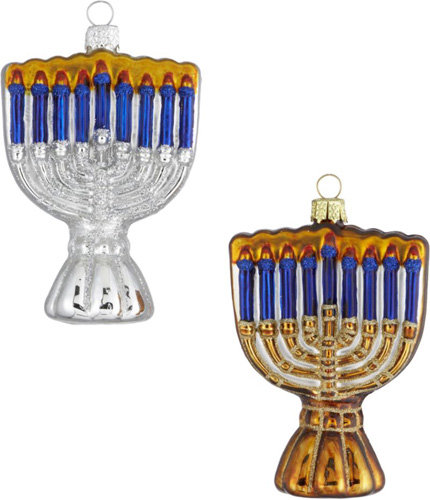 Price: $7.95 at crateandbarrel.com
I know some maybe offended by this, but since I love all of the December holidays, I celebrate the joy of them all at once, with a Christmas tree decorated with Hanukkah, and Kwanzaa ornaments. These ornaments are my new favorites, two pretty menorahs in shades of festive blue, silver, and gold. The set contains one of each, but to decorate an entire tree, you'll need two or three sets. They look so pretty with white and blue lights!
---
7

Dreidels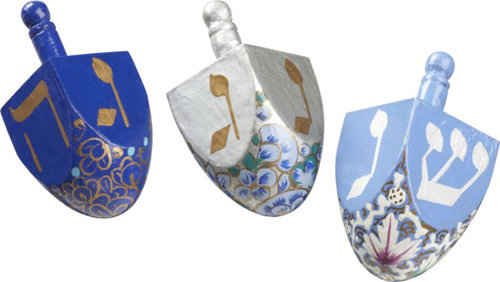 Price: $4.50 at crateandbarrel.com
Set these three hand-painted wooden dreidels in a shallow wood bowl to encourage guests to spin them. They look gorgeous displayed near the rustic menorah, and are all painted in beautiful gold, silver, and blue with traditional Hebrew characters and elaborate designs. They're so pretty, you may want to leave them out for months after the holidays!
Those are just a few of the pretty Hanukkah decorations at Crate and Barrel, and most are available both in stores and online! Which of these pieces of Hanukkah décor do you like best, and why? Where and how would you display them? Please let me know!
---
Popular
Related
Recent