Boys will be boys, even when they're technically men. They'll always love silly, crude novelties, and can you blame them? They are pretty entertaining, and having a boyfriend is the perfect excuse to buy some of them. Here are 8 goofy novelty toys and goodies your boyfriend will love… and that you can play with, too!
---
1

Sound Machine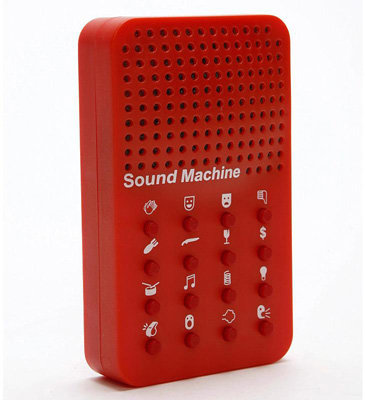 Price: $15.00 at urbanoutfitters.com
This tiny plastic sound effects machine is a great way to applaud everyone's small accomplishments… or to laugh at them… the speaker comes with 16 sounds, and even includes the batteries. So much fun! What boy (of any age) wouldn't love this?
---
2

Schwetty Balls 2 Pack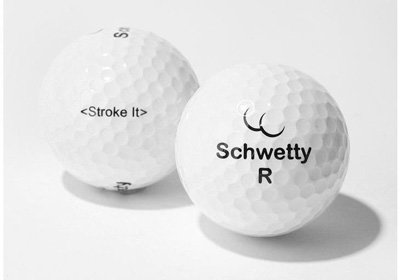 Price: $10.00 at urbanoutfitters.com
This two pack of golf balls, clearly inspired by the hilarious SNL skit with Alec Baldwin, is sure to be a hit with anyone, male or female, who plays the game and happens to have a sense of humor. The box alone is enough to inspire laughter of all kinds, from giggles to guffaws.
3

Marshmallow Stryker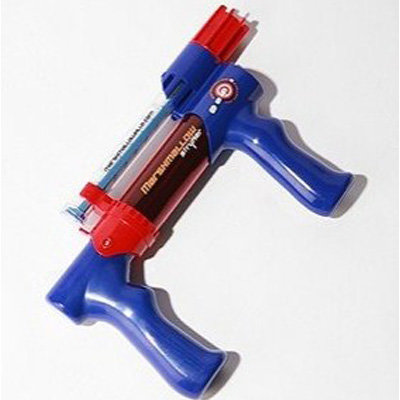 Price: $20.00 aturbanoutfitters.com
I'm not normally a proponent of toy guns, but this one's awesome. It can rapid-fire mini-marshmallows up to 20 feet, into a cup of hot cocoa or just into a buddy's mouth. The magazine holds up to 15 mini-marshmallows, and is dishwasher safe for easy clean-up.
---
4

Frank and Beans Gum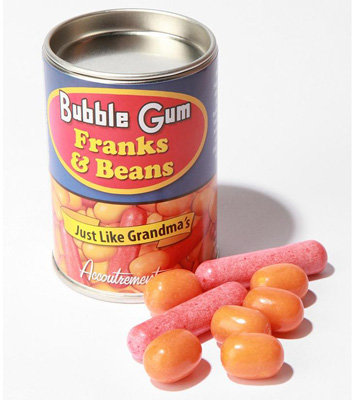 Price: $8.00 at urbanoutfitters.com
This yummy gummy is shaped like beans and weenies, packed inside a vintage-inspired can. The cute can measures 2" by 3", so it's a perfect stocking stuffer or just-because gift… fun!
---
5

Toddland Cheeseburger Wallet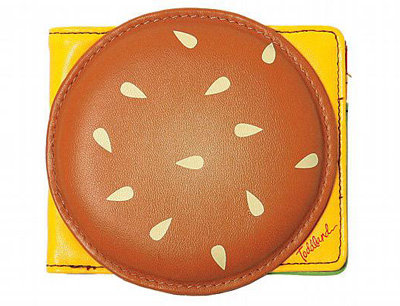 Price: $24.00 at urbanoutfitters.com
This clever polyurethane wallet is the perfect place for your boyfriend to keep his green stuff (lettuce or cash). It features sesame-seed buns on the outside, with cheese and condiments inside. It's vegan-friendly (ironic!) and has card slots, a cash compartment and a clear ID window.
---
6

Why I Must… Note Pad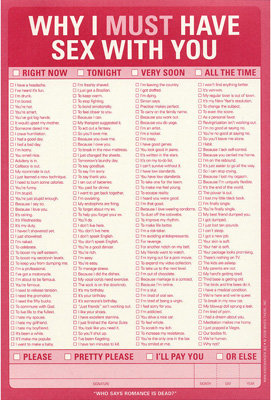 Price: $7.00 at urbanoutfitters.com
Because… I'm drunk. I'm horny. I've learned a new technique. I like your shoes. You're the only one in the bar. These are just a handful of the reasons I must have sex with you. This clever notepad has dozens of them, with handy checkboxes, for on-the-go, convenient indecent proposals.
---
7

Audiobot Speaker

Price: $16.00 at urbanoutfitters.com

This tin speaker-bot is so hot, he's cold! That's why he comes with a cute knit beanie. He's small, but he's loud, plugging in to your iPod (or other MP3 player) and providing lots of 2000 milliwatts of output. Not bad for a little dude who's only 3 inches tall, right?
---
8

Astronaut Ice Cream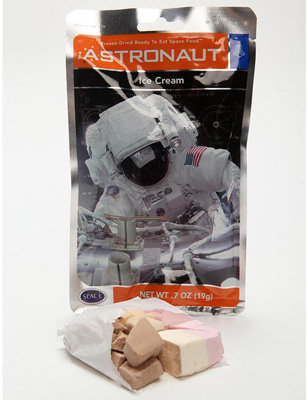 Price: $6.00 at urbanoutfitters.com
Boys like science, they like food, and at one time or another, they've all dreamt of being an astronaut. This ice cream, dried, rehydrates as it's chewed, which is, at the same time, cool and gross. It keeps for years at room temperature… again, cool, but kinds gross. I want to try it! But I'm afraid to try it.
I know my boyfriend (who's 40) or kids boys (who are 10 and 13) would love any of these novelty toys… as would any other man-child on this earth. Which of these novelties do you think the boys and men in your life would like, and why? Would you try the ice cream?
---
Comments
Popular
Related
Recent